Sadie Sink Shows No Mercy
The 20-year-old actress opens up about her cruel character in The Whale and saying goodbye to Stranger Things.
Interview by Lynn Hirschberg
Photographs by Jamie Hawkesworth
---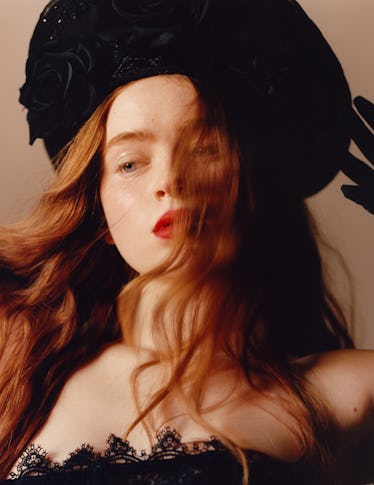 Sink wears a Dior dress; Heather Huey headpiece; stylist's own gloves.
Sadie Sink has always had a theatrical streak. Growing up as one of five children, she had a built-in cast of characters to enlist in creating her own musicals and plays. "My brother and I were partners in crime," she says. "We were so annoying and loud and constantly demanding attention. Eventually my mom just wanted to get us out of the house." After stints in community and regional theater, Sink would eventually land on Broadway before making the jump to the small screen as Max Mayfield in Stranger Things—a role that garnered the New Jersey native countless fans (and countless streams of Kate Bush's "Running Up That Hill"). With 2022's The Whale, the now 20-year-old has captured film critics' attention for her portrayal of Ellie, the estranged and merciless daughter of a morbidly obese housebound teacher (Brendan Fraser). Here, Sink discusses the Darren Aronofsky-directed film and how she feels about the end of the Netflix sci-fi series that made her famous.
How did The Whale come into your life?
The Whale came into my life in February of 2020, right before the pandemic. I was asked to come in and read for an untitled Darren Aronofsky project. After we read it, I just felt like, "Oh my god, I have to do this. I'd be devastated if this didn't happen or for some reason I wasn't the right fit." And then Covid came along and nobody did anything for that whole year. It was around February of 2021 when Darren called and asked me to hop on a Zoom with him and Brendan [Fraser]. We read some of the scenes, and he offered me the role.
Your character has to be so angry toward her father.
Nobody wants to be rude to Brendan Fraser, of all people. That was the challenge. Also it was not seeing her as evil but as someone who's incredibly lonely and in an immense amount of pain.
What was your first red carpet look?
The season 2 premiere of Stranger Things. I was 15, and it was this Chanel black and white little minidress. It was a good first red carpet.
Was Stranger Things your first big job?
No, I was on Broadway. I played Annie in Annie. I can't listen to any of the songs from that show anymore—they trigger something. I was 10 when I was cast in Annie, and I was in the show for 18 months. You do get too old—there's a specific height requirement for each orphan. When it was time to get measured, everyone was saying, "Oh god. I hope I don't grow an inch."
Stranger Things is coming up on its final season. How are you feeling about its conclusion?
I'm excited. I think it's ending at the exact right time—but it'll be emotional.
Where was your first kiss?
On set for Stranger Things. It was with Caleb McLaughlin, who plays Lucas. We were filming. You can see it on Netflix! We were both awkward, but it was also funny because all our friends were there and all these extras and lights and music. It was nerve-wracking at the time, but I look back now and can laugh about it.
What's your sign?
I'm an Aries. Aries are natural born leaders. They're very passionate, slightly aggressive sometimes. That doesn't really resonate with me. [But they are also] very determined, very driven. That resonates with me.
Hair for portfolio by Anthony Turner at Streeters; makeup for portfolio by Lucia Pica for Byredo at Art Partner. Senior style editor Allia Alliata di Montereale; senior fashion market editor Jenna Wojciechowski. Manicure for portfolio by Michelle Saunders. Set Design by Gille Mills at 11th House.
Produced by Connect the Dots; executive producer: Wes Olson; producer: Zack Higginbottom; production manager: Nicole Morra; photo assistants: Cecilia Byrne, Jack Buster, David Gurzhiev; retouching: Simon Thistle; fashion assistants: Julia McClatchy, Tori López, Jacqueline Chen, India Reed, Nycole Sariol, Derek Ezra Brown, Karla Garcia, Rosa Schorr; production assistants: Khari Cousins, Tchad Cousins, Kelsey Swope Romero, Mateo Calvo, Juan Calvo, Rayon Pollard, Gina York, Peter Ditzler, Nico Robledo; hair assistants: John Allan, Dylan Michael, Ramdasha Bikceem, Malika Palmer; makeup assistants: Kate O'Reilly, Lilly Pollan, Bailee Wolfson; manicure assistants: Pilar Lafargue and Victoria Valenzuela, Jolene Brodeur; set assistants: Cory Bailey, Dirk Knibbe, Joel Garcia, Matt Day; tailors: Irina Tshartaryan, Ripsime Vartanyan at Susie's Custom Designs, Inc.