Salma Hayek Says Channing Tatum "Nearly Killed" Her With a Lap Dance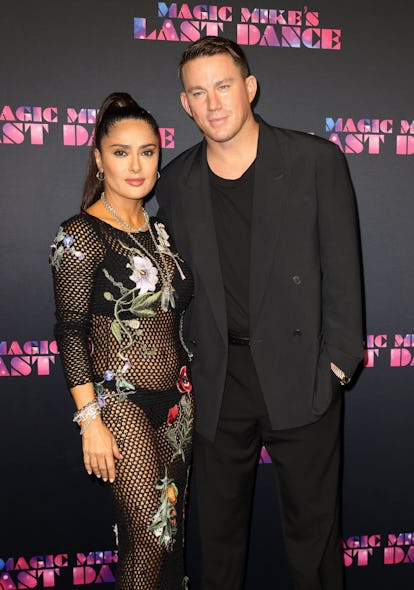 Alexander Tamargo/Getty Images Entertainment/Getty Images
Salma Hayek has paid her dues, playing an exotic dancer in a handful of films in the '90s, so when she signed up for Magic Mike's Last Dance, she thought it was her time to sit back and enjoy Channing's Tatum's musclebound show. Little did she know, being the passive receiver of a lap dance could be so dangerous. On Jimmy Kimmel Live on Monday night, the actress revealed the scary moment when Tatum "nearly killed" her while practicing for their big scene together.
The actress explained to Kimmel, that though filming the lap dance was "somewhat" exciting, it was also very "challenging" and "technical." She specifically referenced one part when she was completely flipped upside down, with Tatum holding on to her.
"Upside down, one loses sense of direction, and I didn't do what I was supposed to do," she said. She continued, explaining that at one point, she moved her head down and almost hit it. Luckily, Tatum was there to help. "He held on to my pants, but I was really concerned because my pants were going away, and I couldn't remember if I had underwear or not." The actress made the quick decision to hold onto her pants instead of putting her hands down to protect her head. "He was like, 'Put your hands up,' and I'm like, 'No, no, no, no.'"
Eventually, others came in and helped Hayek out, but Tatum remained frustrated with how Hayek handled the situation. "He said, 'What's wrong with you?' I said, 'What's wrong with me? You nearly killed me!'"
It's possible that Hayek just wasn't prepared for the lap dance, as she'd never had one before. "I mean, if you're going to start somewhere, why not Channing?" the actress asked, making a very good point. "You know what, I deserve it," she continued. "I deserve that it was the best because I had to play the stripper in so many movies before and now I just get to sit down and enjoy. I don't take my clothes off." Of course, Hayek proved at the film's premiere last week that if she did have to strip down for a part these days, she's fully prepared.