What to See During Salone del Mobile
The standouts of Milan Design Week include a fabric cave by Gaetano Pesce, the experimental energy at Alcovo, and Loewe's celebration of an unsung design icon.
---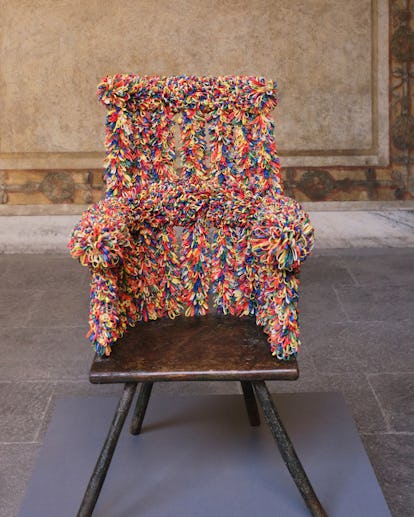 Courtesy of Loewe
Salone del Mobile, the world's premier design event, is peaking again. As Los Angeles rushes to Coachella, the whole of New York has flown to Milan to drown in a river of Campari spritzes. Bar Basso, once the low-key catchall for a certain subset of booth-worn design critics, furniture sales reps and designers, is now a permanent throbbing knot of thirsty bodies looking to see and be seen through the curlicues of orange slices. Cafe Sisi rings with English accents. What is behind the sudden rush of American enthusiasm for the sixty two year old fair? A little bit of everything. The return to regular travel. New satellite fairs to explore. Fashion's fixation on the lifestyle game. And, last but not least, a new generation of online-saturated appreciators and art history seeking designers who seem just as eager to see their own bleeding edge work on display as they are to attend a retrospective by a respected elder.
So when someone asks you about Salone this year, remind them that it's bigger than just the fair itself: it's Milan, darling. Because while the fair offers an unseeable amount of content on site — hours, days, weeks of faucets, lamps and even the details god forgot, on view through April 23 — it is really just one part of what is a citywide transformation. Like a high religious holiday, design week shuts down Milan, stuffing its maze of walled gardens to the gills with pop-ups, open studios, symposiums, stunts and parties, all of which hang casually under the shorthanded susurration of Salone. Here is what not to miss in your ambulations around a storied design capital in full bloom.
Bottega Veneta x Gaetano Pesce
If you hadn't noticed, everything's coming up Gaetano Pesce these days. The radical Italian designer has been on such a hot streak lately that one might pull out the term renaissance. Some of this attention that is being shone on his long and storied career comes by way of a recent retrospective in Los Angeles, at the design gallery The Future Perfect, and a primary place in a rehung MoMA collection room. But a lot of the youthful attention streaming his way has to be the result of his most recent fashion collaboration with Bottega Veneta's Matthieu Blazy, for whom the radical Italian designer cast an entire runway show's worth of chairs last season. For Salone, Pesce was commissioned by the brand to construct a fabric grotto inside their via Montenapoleone shop that lands somewhere between Colette Lumiere and Lascaux. Hold your breath and your claustrophobia and spelunk inside for a glimpse at Pesce's limited edition mountain inspired bag, which is embedded among his rocks. It can be easily dislodged from the cliff face, but only for a hammer price.
The Prada Frames Symposium
In 2022, Prada debuted the Frames symposium, a multi day event curated by design's most adamant research fanatics. And while almost impossible to Google thanks to the brand's brisk optical business, the first edition of Prada Frames struck a chord, revealing an unmet craving for discussions about design and its relationship to the natural environment. The second edition features world class speakers flown in from all over, including anthropologist Sophie Chao and art world sage Hans Ulrich Obrist. Reserve your seat before it's too late.
Grace Prince at Oxilia Gallery
Traditionally, bright young things are minted at Salone di Mobile with a trial by fire. The fire being that a landscape is so oversaturated with options that the eye begins to invent filters of its own accord — ones that simplify homogeneity into one uninterrupted bite to save room for a glimpse of the exceptional. Up-and-coming British designer Grace Prince is blessed with an aesthetic language all her own. Her streamlined debut at Oxilia Gallery is triumphant and notable for its ability to serve up something we have never seen before: furniture with the tenuous and twiggy economy of sculptors like Lee Bontecu and Gego. Alexander Calder's spirit is lurking in there too, if only because of the attention Prince pays to gravity and the impact it has on how one line treats another.
Loewe Chairs
​​Jonathan Anderson has established himself not only as one of fashion's most outspoken arts and crafts advocates but also the most knowledgeable. The deep cuts from Loewe's archive and the worthy practitioners the designer has shined a light on over the last decade have continually surprised and educated not only the sybarite masses but even industry know-it-alls. His touch has made the Spanish house synonymous with an elevated sense of reverence. Loewe's design week presentation, Loewe Chairs, benefits from all the polish of such a reputation, with an exhibition that hones in on a relatively well known but unsung and certainly never glamorized world of stick chairs. Of course, in Anderon's world, the simple wooden chair (whose design dates back to the tenth century) is no longer relegated to its job as household staple, but instead is celebrated for its aesthetic economy and the way it crystallizes and collapses centuries of expertise into a singular object. To encourage this more galaxy-brained way of looking, Anderson tapped craftsmen from all parts of his global network to embellish thirty such stick chairs. Assembled together, the resulting creations invite images of a garden rioting with wild new species.
Dozie Kanu x Byredo
Smell is a sense not normally considered at design week, and it's a shame, because a miasmatic gust or sweetness in the air can so radically alter one's impression of a space or object. The perfumer Byredo's Salone del Mobile presentation, with the artist Dozie Kanu, reminds us that scent and design are always intertwined and that their relationship is tied up somewhere in how memories get made. Part of the 10th anniversary celebration for one of Byredo's most beloved scents, Bal d'Afrique, the project elaborates on that intimate connection. Kanu, perhaps taking a page from another famous annual Italian art event, decided to create a Bal d'Afrique pavilion with triangular doors that lead to a small intimate gallery, where his artworks are placed in dialogue with images from the Saman Archive, a heritage preservation project initiated by Adjoa Armah to collect and protect negative strips from across Ghana. The magical effect of all those authorless snapshots of nightclubs, festivals, and sunsets mingling together in an enigmatic woodsy haze is that of a rudimentary time machine, in which past and present stop fighting long enough to look at the traits they share.
Louis Vuitton's Various Installations
Louis Vuitton's installation at the Palazzo Serbelloni is a tale of two Marcs: Newsom and Fornes. Both designers were commissioned to make temporary follies, the former's being functional enough to hold a bar and the second aesthetic enough, with its bulbous, otherworldly aluminum volumes, to make everyone pause to take a requisite photo. We suggest you start with your Fornes snap, but then plan to sally around Newsom's walkable kunstkammer, which contains the latest edition to Louis Vuitton's archive of trunks designed by creative visionaries. For his variation, Newson turned the iconic steamer into a library, with shelves and cabinets that break up the classic luggage shape into a bento box for treasures. Its pretty compartments conjure the image of a creative director packing for their own contemporary Grand Tour, shelving away their most treasured art catalogs, their effects, the box of letters they love but never open, the souvenirs they are going to tuck in along the way until it's so full they have to go home. It seems the cabinet of curiosities is calling again.
Alcova
Alcova is to Salone di Mobile what Liste is to Art Basel: an incubator and a playful younger sibling that takes its role seriously by embracing an adolescent resistance towards the standards and customs its elders subscribe to. This trait comes through especially in the young design fair's rugged and evolving choice of venue. After last year's edition, in an abandoned ivy-covered military hospital, Alcova respawns this time at a former slaughterhouse, where the rough surroundings allow even the most experimental work to take on an air of professional polish—the kind that isn't normally afforded to young, evolving work, especially when it is thrust head first into the white cube. It is this irreverent upside down that makes Alcova so appealing. We gravitated towards Nicolò Castellini Baldissera's tripped out vanity and Umut Yamac's site-specific string lights, but there is something for everyone, and the whole event is electrified by that feeling.
Sofia Zevi
Some of Milan's best shops are run by women who like to blur the lines between art and life. Sofia Zevi's namesake space in Brera quite literally brings the street into her home—or her office, at least. If her stunning new show, Una Stanza, is any indication of what the future holds for the young gallerist, then look forward to someone who installs with art history in mind and an affection for the drama of places like the Victoria and Albert Museum in London and the Metropolitan Museum of Art in New York. Expect cross pollinations of the kind that lead to new hybrids, as is the case of architect Edgar Jayet and textile designer Chiarastella Cattana's first creative offspring, Unheimlichkeit, a collection of wooden and fabric furniture. Akira Hara's idiosyncratic glass vases provide the counterweight to these dreamy wooden line drawings, while adding fragile heft to Zevi's cabinet of curiosities.
Tod's The Art of Craftsmanship With Tim Walker
Photographer and frequent W contributor Tim Walker's expertise for storytelling with pictures finds its love match in a project for Tod's honoring the house's dedication to leather through an Edward Scissorhands-nodding campaign of photographs and videos that illustrate the steps behind creating the house's most iconic bags. Brought to life at the Cavallerizze of the Museo Nazionale della Scienza e della Tecnologia Leonardo Da Vincion, the exhibition, "The Art of Craftsmanship," winks at Walker's signature irreverence. Craft is a game of consistency, one that Walker and Tod's have played in order to master their medium. But what becomes clear at the museum is that leather and light are not the only standards Walker and Todd hold their work to. They consider pleasure, a worthy pursuit of its own, one that must be attended to as seriously as any F-Stop or needle puncture. Upon the end of Salone del Mobile the exhibit is set to travel the world.