With Eyes of Glass, Stella Rose Gahan Strikes Out on Her Own
The singer (and daughter of Depeche Mode frontman Dave Gahan) has a musical style that embraces New York City's rock and roll history.
---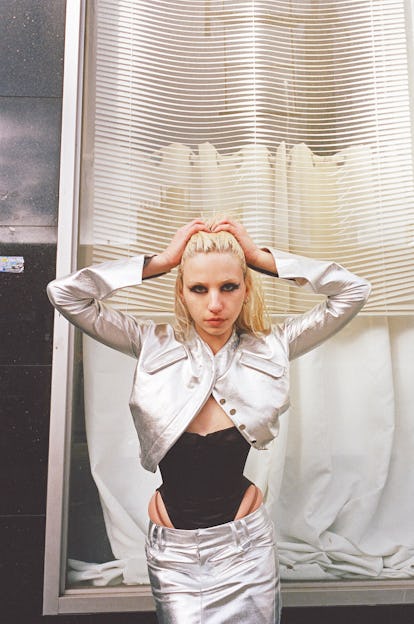 Stella Rose Gahan wears Saint Sintra. Photograph by Morgan Maher
Stella Rose Gahan believes deeply in standing on the shoulders of the artists who came before her. There was Patti Smith, the ultimate downtown beatnik: "I read all of her books, I dressed like her, I sat in cafés and wrote for hours, the whole thing," Gahan, a New York City native herself, tells me on a recent afternoon from her apartment in Manhattan. And there was Nick Cave, the English Goth-rock singer with the baritone voice whose 2016 album with the Bad Seeds, Skeleton Tree, made her "sob."
"I've processed a lot of things in my life through music," she adds. "I followed the lead of those musicians and artists who I looked up to, and then I found my own self within."
Gahan, 23, has plenty of creative folks to revere—her father, Dave Gahan, is the frontman for the 1980s and '90s electronic band Depeche Mode; her mother, Jennifer Sklias-Gahan, is a filmmaker and the founder of the production company 18 Bleecker Films. But the musician is on her own sonic journey. She's set to release her debut album, Eyes of Glass, in April, and has put out two singles, "Angel" and "Muddled Man" with her band, The Dead Language, after years of playing in coffee shops, dive bars, and local venues across the city. This week, she's coming out with a new single, "Faithful," a track which speaks to the range of her musical abilities. Where "Angel" is a quiet, vulnerable ballad and "Muddled Man" contains hints of electronica beneath punk rock guitar licks, "Faithful" is a dark, heavy metal song through and through.
Gahan has always drifted through genres. Growing up, her mother played Billie Holiday in the house; her father favored punk. "But my way into singing was definitely through jazz," Gahan says. "I started out playing the saxophone in my high school band. But that didn't last very long. I wouldn't say I was bad, but I wasn't great." She'd always sang in her bedroom, writing lyrics to songs she'd dreamed up, but had never performed in front of an audience—much less any member of her family—until a recital. "I was very secretive about singing, and only sang on this little karaoke machine," she recalls. "But then I sang a Nina Simone song on stage, and we came to a turning point where my parents were like, 'What are we gonna do with this?'"
It wasn't until the end of high school, when Gahan embarked on the daunting task of college applications, that she realized she wanted to pursue a career in singing. She initially moved to Los Angeles for school, but the city didn't agree with her ("I'm definitely a New Yorker at heart," she says emphatically). For two years, she traveled back and forth between coasts, feeling lost. But when Covid hit in 2020, she holed up in her apartment, dedicating herself to writing music each day. "It showed me that what people say is true: if you show up every single day and do at least 30 minutes of the thing that you want to pursue, you really get somewhere." She made "a lot of shit," for about a month, but assembled stanzas of lyrics with pieces from other demos to construct the songs that would constitute Eyes of Glass over the course of a couple years, working alongside the producer Yves Rothman.
Gahan's first official show with The Dead Language was at Mercury Lounge in 2021. Since then, she's added a new drummer to the mix and zeroed in on perfecting her songwriting. There is no question Gahan, who has a self-assured and laid-back nature to match her gravelly, slow manner of speaking, is willing to put in the work. "I'm definitely playing a long game," Gahan says. "I'm not expecting to have one song that's gonna blow up. I want this to be a career that I can grow into."
It's clear that Gahan's musical work is all her own. "But music was always a way that my family and I communicated together," she says. And the process is still shared among her closest kin. Her boyfriend, the artist Miles Mullin, helps Gahan work on the visuals for her music (they recently took a road trip all the way to Nashville to purchase LED lights for an upcoming show). Her father will, at times, serve as mentor—or share some deep cuts with his daughter. "I'm doing a DJ set next month, and he's been helping me find some old school, punk, art house songs to include," she says. "Music is a nice way to get to know people, and it's made our relationship really close." She credits her mother for instilling within her an almost militaristic sense of discipline: "She's done morning pages every single day since the '90s," Gahan says.
"I'm a little bit obsessed with documenting everything, too," Gahan says, pointing to a bookshelf behind her lined with notebooks. She tucks her fist underneath her chin and a piece of her bright-white blonde hair falls onto her shoulder. "I'm telling my story, my perspective in this lifetime, for my sake, but also for other people—maybe reaching out to someone or saying something that someone else doesn't know how to say."