Suki Waterhouse Is "Obsessed" With Her Sister Imogen, Who Is Also Debuting a Film at the Tribeca Film Festival
The teen flick costars Bella Thorne, Hari Nef, and Maude Apatow.
---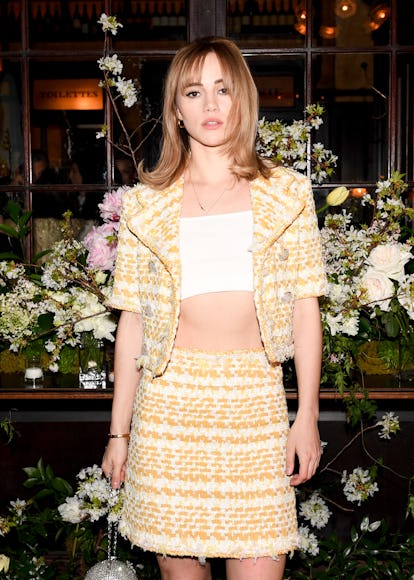 Billy Farrell/BFA.com
Suki Waterhouse was all about her family at the Tribeca Film Festival's Chanel Tribeca Artists dinner in New York on Monday night.
"It's incredible! I'm having the best time. I've brought both my parents here and my sister has a movie here as well. So it's been an incredibly heartwarming, lovely family weekend," the actress said of her experience at the dinner, where artists from Jeff Koons to Julia Wachtel were celebrated for their contribution of artwork in film. "It's really hard to get tickets to other people's things," Waterhouse admitted. "Hard enough to get a ticket for your family to your own movie!"
In Jonathan, an existential science fiction drama premiering at the festival, Waterhouse plays the sister of Ansel Elgort's titular character. "I was excited to do something where all of the characters are deciding if their lives are enough or if they need more, and that was a theme that I think is prevalent with all of us. 'Is what I have good enough? Or do I need more?' And also the sibling element really attracted me," Waterhouse told W. "There's that coming away from your siblings, and making your own way. You come across that a lot with friends or whatever relationship, where you kind of have to stop inserting yourself in someone's life when you're so close, and giving people space to grow," the actress continued.
Most sisters might vie for their parents' attention if each premiered her respective film at the same time during the same festival, but between the Waterhouses there is no sibling rivalry. "I'm just, like, obsessed with my sister. I'm seeing her do well and I just burst with joy!" she told W on the red carpet for the Chanel Tribeca event. Her sister Imogen Waterhouse's film, Braid, is the festival's Saw-like psychological thriller about a sadistic, manipulative game of make-believe.
"Braid is wonderfully executed and it's got a really specific point of view. And incredible cinematography that stays with you throughout," Waterhouse said. "My sister's amazing, and all of those girls are, actually. They're really awesome. These movies are quite dark," she continued.
As for her own cinematic walk on the dark side, Waterhouse will shock audiences alongside costars Bella Thorne, Hari Nef, and Maude Apatow in the upcoming Assassination Nation, the Salem witch trial revenge fantasy for the social media age that received rave reviews at its premiere at Sundance Film Festival in January. "In Assassination Nation, we really got to play around a lot. That was really fun; we got to sort of go in a Mean Girls direction," the actress said of the film and its intense interpretation of high school style.
"For each of us there was a big Tumblr page for inspiration, before we even got started. I got to dye my hair pink, which I've just done again," she continued. This second round of pink hair, it turns out, was not just for fun, but for her yet-to-be-disclosed role in the upcoming Detective Pikachu, the live-action Pokémon film in which Waterhouse will play "a character that's pink," naturally, she told W with a wink.
Related: Suki Waterhouse and Her Mini-Me Sister Maddi On Why They Are Both Obsessed with Clueless and '90s Back to School Style