Suki Waterhouse and Her Mini-Me Sister Maddi On Why They Are Both Obsessed with Clueless and '90s Back to School Style
See Maddi star in the back-to-school campaign for Pop & Suki.
---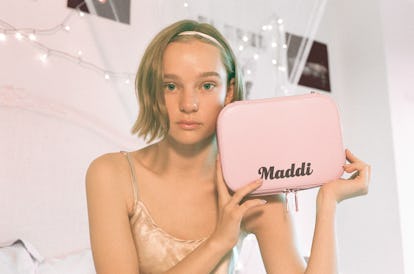 When your baby sister is an on-the-rise model who also happens to be a real life teenager, it's a bit of a no-brainer to cast her in your insanely popular accessories line's back to school campaign. And that's how 18-year-old Maddi Waterhouse ended up starring in the new Back to School Collection campaign for Pop & Suki, an Instagram-beloved line of customizable accessories that her sister Suki Waterhouse launched with BFF Poppy Jamie last year. Shot by photographer Chloe Sheppard, the images of see Maddi lounging in her Millenial pink bedroom, which Suki shares was inspired by the film Clueless. Here, the sisters talk working together, summer vacations, and back-to-school fashion.
Describe the vibe behind this new collection
Suki Waterhouse: Before we release our Fall collection in September (which is definitely a slightly more mature and elevated development for us design-wise), we really wanted to fulfill our nostalgic Clueless dream of doing a '90s-inspired Back-To-School style collection, with custom leather notebooks, fluffy pink leather pencils, pink leather pens and cute paper notebooks. I take work very seriously but my work wear has to have sass. There's nothing wrong with whipping out your pink fluffy pencil in the classroom or the boardroom.
How did the idea to include Maddi in the campaign come about?
S.W.: I'm very close to both my sisters, and when we came up with the idea of shooting a nostalgic '90s schoolgirl-style campaign, it was a no brainer to shoot my 18-year-old sister. Maddi naturally has an insane sense of style and styled herself with her own clothes for the shoot, giving it an extra sense of authenticity. I've been waiting for her awkward phase to arrive and it just never has—unlike her sister..!
Maddi, what was your reaction when Suki asked you to be in the campaign?
Maddi Waterhouse: I've watched the conception of Pop & Suki and seen it grow, so it's nice to be part of the journey. It's cool to be involved in a brand that I believe in. I love the aesthetic of it. Plus, it's fun working with friends and family and I loved the freedom I had to style myself for the shoot.
What are some of your favorite back-to-school memories?
S.W.: The last-minute back to school rush for me usually involved trying to find a pair of kitten heels I could get away with to strut down the hallways. Oh, and the clear pencil case! Getting up extra early to actually brush my hair and make that all important first day of the school year impression.
M.W.: I secretly love organization and I would get most excited about getting fresh stationary in a new pencil case and a new year diary, and labeling everything! I loved starting the new school year neat and pristine, although it never lasted for long. I dream of Cher's computerized clothes organizer…
What was your favorite subject in school, and why?
S.W.: English and sports. I was captain of the netball team and quite the karate master back in the day!
M.W.: History of Art. I've always been fascinated by it, especially symbolism within art. It's cool being able to look at a painting and decipher it to try and understand what the artist was trying to say.
What was the highlight of your summer vacation this year?
S.W.: Skydiving in the morning onto a beach of friends, quad-biking in the afternoon through the jungle, and taking dips in the ocean after an all-night dance party. Couldn't have dreamed up a better day than that.
M.W.: 'Round the clock freedom!
What fashion are you most looking forward to come fall?
S.W.: Power reds. And chunky turtlenecks with a bell sleeve—Khaite is doing a perfect one for Fall.
M.W.: I love a hat and I look forward to being able to wear my berets once again. I have a small collection which is slowly growing into an obsession.
Related: Suki Waterhouse & Poppy Jamie Wanted the Coolest Bag Ever — So They Designed It
Bradley Cooper & Seth Rogen Audition for the Role of Cher in "Clueless"
Brit It Girls Suki Waterhouse and Poppy Jamie Love Pink