The '90s Comeback Continues, Thanks to Shoppable Instagram Sensation @BabeMania
The creator of the popular Instagram account @BabeMania launched her vintage online store today. Here, she shares her favorite style moments from the '90s and early 2000s.
---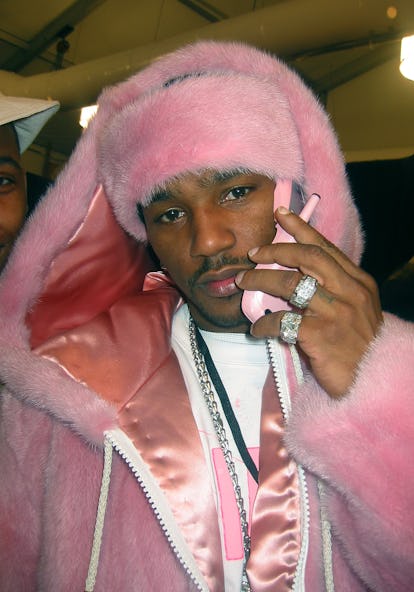 Djamilla Rosa Cochran/Getty Images
In the age of social media, nostalgia is everywhere and instantaneous, allowing us to relive moments we've maybe only just put behind us. So it's no wonder that throwback Instagram accounts like @PopCultureDiedIn2009, @RememberThisHappened and @BabeMania have gained popularity.
28-year-old Krickie Pisaturo, who launched @BabeMania in 2013 as an archive of '90s and early 2000s style icons like Britney Spears, Mariah Carey, and Leonardo DiCaprio, describes the account as a "feeling that reminds people of a time before blogs and Instagram." But it's also thanks to the internet and social media that she's gained a following of over 14,000 for her posts, many of which are just as relevant today. Take Cam'ron's iconic head-to-toe pink fur moment, for example, which now serves as the perfect Millennial Pink outfit inspiration.
There's currently an noticable hunger for '90s and early-aughts style on and off the runway: Juicy Couture collaborating with Vetements, Kendall Jenner copying Paris Hilton's nightlife looks, and Kylie Jenner flaunting Von Dutch trucker hats. History always repeats itself when it comes to fashion trends, but no one anticipated such a rapid recycling. "It really felt like I time-traveled back to Y2K," said Pisaturo of her experience at fashion week last season.
Since everyone now wants a piece of '90s and 2000s nostalgia, Pisaturo—who is also the store manager at Soho's American Two Shot—decided to launch Babe Mania as her own online destination. Starting today, you can get your hands on vintage Britney Spears t-shirts and Juicy Couture bags on her new website, which is meant to resemble the automated Clueless closet.
But what of babes in 2017? Pisaturo offers a master class in modern babe mania.
When did you start Babe Mania? What was its first iteration, (Instagram or store or both?) and most importantly, what inspired you?
I started @Babemania in 2013 as an inspiration Instagram for my eyes only. I had been collecting tons of images on my desktop that either made me laugh or reminded me of something from my childhood and gave me that nostalgic feeling. Putting everything on Instagram was the perfect way to take these photos with me—literally, in my pocket—and be able to look at them and feel inspired wherever I went.
What exactly does "babe mania" mean?
"Babe mania" started as a code word that my roommate and I would use whenever we saw a cute boy. Now, it's so much more than that. It describes a very specific look from the '90s slash early 2000s. It's a feeling that reminds people of a time before blogs and Instagram when music and fashion really went hand in hand; when the music video was everything; when everyone would tune into TRL after school to see Destiny's Child debut their new video in incredible matching outfits.
Growing up, who were the first "babes" you were obsessed with?
I mean…obviously Britney Spears because there's no other pop star like her. But also Derek Jeter. He was dating Mariah Carey at the time and I hated it. I always love a good pop star/athlete dating combo and this one was an important one.
Who are some of the best male babes in history?
This list goes on forever! So many '90s babes. But some of the most babelicious ones are Uncle Jesse, The Fresh Prince, Justin Timberlake, Jared Leto, Tupac, Leonardo DiCaprio, and just boybands in general.
Most prized possessions in your closet:
Very hard to answer this, but I recently scored this amazing ombre beige-to-pink Versace puffer coat.
Your personal style icons:
'90s Gwen Stefani, Aaliyah, and current Rihanna.
Pieces you've sold that were really hard to let go:
Every single thing! No but really, I had an amazing Dennis Rodman shirt that was very hard to sell, but the girl who bought it was super excited and cool so that made me feel better.
Have you had any memorable interactions with customers who are also mega-fans?
Yes, one time a friend of mine had no idea @Babemania was me.
Favorite trends from the '90s:
Anything Tommy Hilfiger or Cross Colours, baggy and oversized.
Favorite trends from the early 2000s:
The pink Motorola Razr Flip Phone, Lip Glass from Mac, and J'adore Dior shirts.
Trends that you don't think should ever come back:
Uggs.
Why do you think these trends are suddenly back again (so soon!) on the runways?
I think that people really enjoy feeling nostalgic about something. There are so many new cool things popping up all the time, that it's nice to have a trend that feels familiar and makes you think, "Omg I used to wear those!"
From your viewpoint, how do you see these trends resurfacing in popular culture?
Nostalgia as a trend is everywhere. Certain brands and big stores are definitely playing off that idea and by teaming up with influencers, it makes the trend "cool" again. For example, A$AP Rocky for Guess and Lil Yachty for Nautica. Just look at Juicy Couture—it's an entire section of Urban Outfitters now. Last fashion week, I went to an Ed Hardy presentation and Sisqo and Trina performed. It really felt like I time-traveled back to Y2K.
Who are some new babes in 2017? Do they still exist?
They do exist, and they're mostly girls. Personally, I feel like guys lately aren't fulfilling the babe legacy like they used to. I love Princess Nokia, Jaden and Willow Smith, Rihanna, Zoe Kravitz, Tinashe, A$AP Rocky, Jorja Smith, and Mabel. They all have this confident, cool vibe about themselves that re-defines the word "babe". Yes, they're obviously babes, but they're also inspiring artists and musicians with effortless style and personality that goes way beyond just being hot.
Top three most iconic babe looks of all time:
Gwen Stefani in the fuzzy blue bikini top at the 1998 MTV VMAs.
Cam'ron in all pink.
Britney Spears on her first cover of Rolling Stone (April 1999).
Related: 25 Reasons Why We're So Obsessed With Mariah Carey's Style
25 Reasons Why We're So Obsessed With Mariah Carey's Style
Mariah Carey attends the 33rd Annual Grammy Awards circa 1991 in New York City wearing a little black dress with rhinestone trim and long diamond earrings.

Images Press/Getty Images
Mariah Carey attends the 19th Annual American Music Awards on January 27, 1992 at the Shrine Auditorium in Los Angeles, California wearing a sequin dress and shimmering tights.

Ron Galella, Ltd./Getty Images
Mariah Carey wears a black slit skirt paired with a black bandeau crop top out in New York City, a look she paired with simple strappy heels.

KMazur/Getty Images
Mariah Carey was the queen of a good pair of jeans. Here, she sits in the recording studio in a worn pair of Levi's and a button-up sweater.

Getty Images
Singer Mariah Carey attends the Fall 1994 Fashion Week: Calvin Klein Fashion Show on April 13, 1994 at Bryan Park in New York City in a classic '90s "Clueless" look.

Ron Galella, Ltd./Getty Images
Singer Mariah Carey attends the 23rd Annual American Music Awards on January 29, 1996 at the Shrine Auditorium in Los Angeles, California wearing leather pants.

Ron Galella, Ltd./Getty Images
Singer Mariah Carey attends the "Seven Years in Tibet" Century City Premiere on October 6, 1997 at the Cineplex Odeon Century Plaza Cinemas in Century City, California.

Ron Galella, Ltd./Getty Images
Singer Mariah Carey attends Sean Combs' Party to Celebrate the Grand Opening of Justin's Bar & Restaurant on September 30, 1997 in New York City.

Ron Galella, Ltd./Getty Images
Mariah Carey lets her curly hair down and wears a shimmering gold dress for a night out at the Beacon Theatre in New York City in 1998.

KMazur/Getty Images
Mariah Carey poses in a pink Chanel houndstooth two-piece with a small dog at a Chanel-hosted lunch at Lincoln Center in New York in 2000.

Rose Hartman/Getty Images
Karl Lagerfeld poses with Mariah Carey circa 2000. The singer wears a mesh little black dress and the two perfectly match, making us realize they're actually quite similar.

Rose Hartman/Getty Images
Mariah Carey wears a sequin butterfly bustier to the 'VH-1 Divas 2000: A Tribute To Diana Ross' at Madison Square Garden in New York City.

Evan Agostini/Getty Images
Mariah Carey wears a pink slip dress to receive her award at the The 6th Annual Blockbuster Awards in the Shrine Auditorium in Los Angeles, California.

Gregg DeGuire/Getty Images
Singer Mariah Carey poses for paparazzi photographers July 11, 2001 wearing a "Delicious" tank top as she leaves the Mandarin Oriental Hotel in Knightsbridge, London.

Getty Images
Mariah Carey wears a crochet bustier crop top and a maxi denim skirt to the The 17th Annual Soul Train Music Awards in Los Angeles.

Jeffrey Mayer/Getty Images
Mariah Carey attends a party to promote her new single "Loverboy" and new album "Glitter" in London wearing a bandana top, denim separates, and a "Glitter" belt.

UK Press/Getty Images
Mariah Carey poses in a denim mini skirt, "Glitter" tank top, and sunglasses while holding a pink boom box on tour promoting her new album.

RJ Capak/Getty Images
Mariah Carey steps out in a pink Juicy Couture velour jumpsuit top, which she paired with jeans, sunglasses, and a rhinestone belt to sign autographs.

Ferdaus Shamim/Getty Images
Mariah Carey arrives in London wearing a "Honey B. Fly" pink top, denim separates, a diamond chain necklace, and an "Automatic princess" diamond chain belt.

Stuart Mostyn/Getty Images
Mariah Carey attended her album launch and birthday party at Tantra in London, Great Britain wearing a fur-trimmed white shawl, a white maxi dress, and lots of jewels.

Ferdaus Shamim/Getty Images
Mariah Carey steps out to walk her dog in New York City wearing high heels, a yellow bandage dress, and sunglasses. Is this her version of casual?

James Devaney
Singer Mariah Carey throws the ceremonial first pitch before Japanese professional baseball match between Yomiuri Giants and Rakuten Golden Eagles at Tokyo Dome on May 28, 2008 in Tokyo, Japan.

Koichi Kamoshida/Getty Images
Singer Mariah Carey leaves MTV Studios July 22, 2008 in New York City wearing a rainbow mini skirt and diamond belt and a blue button-up shirt.

James Devaney/Getty Images
Mariah Carey didn't even let a broken arm get in the way of her glamour. Here she is seen leaving the Ritz-Carlton on July 12, 2013 in New York City with a bedazzled sling.

James Devaney/Getty Images
Mariah Carey didn't even let a broken arm get in the way of her glamour. Here she is at "The Butler" New York Premiere in a studded sling.

Daniel Zuchnik
Adam Driver, Andrew Garfield, and More Deliver Cher's Iconic 'Clueless' Speech