SZA Says She's 'Mad As Hell' She Didn't Win Any Grammys
"This is something much bigger than me and a f---ing trophy."
---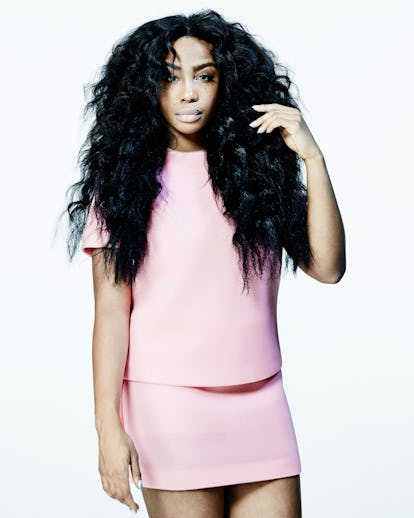 Courtesy of SSENSE
Even now, nearly nine months after its release, SZA's CTRL is still impossible to miss. The standout, "The Weekend," for example, is still climbing Billboard's Hot 100 chart. But this past Grammy Awards didn't reflect that — as it's glaringly failed to adequately reflect culture for quite some time now, with the Recording Academy president Neil Portnow dismissing the show's lack of female representation as the fault of women. "[They need] to step up because I think they would be welcome," he told Variety after the 2018 Grammys. SZA, for one, isn't having it.
The artist addressed this year's Grammys, and her experience with them — she was nominated for five but took home none — in two separate interviews. Speaking to GQ, she revealed that didn't speak out after the show because she was "mad as hell." "I just didn't know how to take it. I didn't say anything, I didn't post [online] because I've never had to deal with anything I really believed in wholeheartedly, or invested in, and went through something that publicly before," she said. "I wanted to be honest as f—, and if today I'm just mad as hell, I don't want to say something that reflects me being mad as hell. But I definitely feel blessed now. I also don't feel compelled to explain myself… You feel like you're really falling short and you f—ing failed [your fans]. This is something much bigger than me and a f—ing trophy."
At the same time, though, SZA brushed off her loss at the Grammys in a recent cover story for The FADER. "I'm not as mad as I thought I would be, she said. "I didn't have any expectations, actually. That's why I wasn't super upset." She was similarly zen when responding to a question about Portnow's offensive comment. "Perhaps folks place too much importance on the entire situation in general," she said. "And place too much importance on the institution."
SZA had every right to be "mad as hell" at her loss, which is part of the Grammys' larger issue of representation, and she's also entitled to shrug it off if she doesn't feel like making herself vulnerable while fielding questions about a raw moment. That didn't stop her, however, from issuing a subtle snub to the Grammys. "The United States f—s with my songs," she told GQ. "We're changing little girls' lives across the world, and we didn't even know what we were doing when we started. This is something much bigger than me and a f—ing trophy. I'm appreciative of the opportunity. But s—happens."
Related: Everybody Loves SZA, Including the Obamas. The Grammy Nominee Loves Them Even More Back.
The Most Glamorous Grammy Awards Looks of All Time
Diana Ross during 30th Annual Grammy Awards.

Ron Galella/Getty Images.
Whitney Houston attends the 30th Annual Grammy Awards.

Ron Galella/Getty Images.
Christina Aguilera at the 2000 Grammy Awards.

Sam Levi/Getty Images
Britney Spears at the 2000 Grammy Awards.

KMazur/Getty Images
Jennifer Lopez arrives at The 53rd Annual GRAMMY Awards.

Steve Granitz/Getty Images
Janelle Monae attends the 55th Annual GRAMMY Awards.

Steve Granitz/Getty Images
Rihanna arrives at the 55th Annual GRAMMY Awards.

Jason Merritt/Getty Images
Florence Welch arrives at the The 55th Annual GRAMMY Awards.

Steve Granitz/Getty Images
Beyonce on the red carpet at The 55th Annual Grammy Awards.

CBS Photo Archive
Gwen Stefani arrives on the red carpet for the 57th Annual Grammy Awards.

VALERIE MACON/Getty Images
Nicole Kidman attends The 57th Annual GRAMMY Awards.

Jason Merritt/Getty Images
Annie Lennox attends The 57th Annual GRAMMY Awards.

Dan MacMedan/Getty Images
Madonna attends the 56th GRAMMY Awards.

Kevin Mazur/Getty Images
Taylor Swift attends the 56th GRAMMY Awards.

Jeff Vespa/Getty Images
Katy Perry arrives at the 56th GRAMMY Awards.

Jon Kopaloff/Getty Images
Alicia Keys arrivals at the 56th GRAMMY Awards.

Steve Granitz/Getty Images
Christine Teigen arrives at the 56th Annual GRAMMY Awards.

Dan MacMedan/Getty Images
Lady Gaga arrives at the 57th GRAMMY Awards.

Jon Kopaloff/Getty Images
Kim Kardashian arrives at the 57th GRAMMY Awards.

Jon Kopaloff/Getty Images
Miley Cyrus arrives at the 57th GRAMMY Awards.

Jon Kopaloff/Getty Images
Rita Ora arrives at the 56th GRAMMY Awards.

Axelle/Bauer-Griffin
Ariana Grande arrives on the red carpet during the 58th Annual Grammy Music Awards.

VALERIE MACON/Getty Images
Ciara arrives at the The 58th GRAMMY Awards.

Steve Granitz/Getty Images
Bella Hadid attends The 58th GRAMMY Awards.

Dan MacMedan/Getty Images
Demi Lovato arrives at The 58th GRAMMY Awards.

Jon Kopaloff/Getty Images
Selena Gomez arrives at The 58th GRAMMY Awards.

Axelle/Bauer-Griffin
Solange attends the Grammy Awards on February 12, 2017 in Los Angeles, California

Alberto E. Rodriguez/Getty Images