Despite Her Album CTRL's Success, SZA Still Hasn't Forgiven Susan Miller For Throwing Her Vibe Off
After finally releasing her album CTRL, SZA talks about dealing with her "crippling" anxiety, holding a grudge against Susan Miller, and checking her mentions to make sure she hasn't been "crucified."
---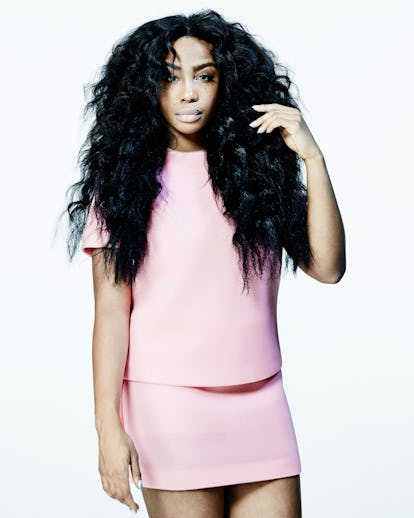 Courtesy of SSENSE
"Many delays!" said SZA on the phone from California, where she was, while washing her face, telling me about the years-long process it took to release her debut album CTRL, which came out last week. Since its release, the album has become a critical success—much to the singer's surprise. "I should have just trusted myself, that as long as I was honest people would f— with me," she added. "I wish I wasn't so afraid, and I wish I had pushed myself even more. But I'm just really grateful right now, I don't even care."
After all, it was just a few years ago that SZA, or Solána Rowe, was bartending and working at Sephora, before becoming the first woman to be signed to Top Dawg Entertainment, Kendrick Lamar's record label. Now, Lamar is turning up on SZA's tracks—along with Travis Scott; James Fauntleroy, the super producer who's written hits for Rihanna and Justin Timberlake; and RZA, whom she said she first met on a speed boat. Find up what else she's been up to lately with her culture diet, here.
First thing you read in the morning:
I don't know if I read anything. I think I get up and pee first thing—that's it. Then I try to figure out what I've missed and look at my phone to see how many hours I've overslept.
Books on your bedside table right now:
A New Earth and The Power of Now by Eckhart Tolle. But I don't really read unless I want to, or unless I feel like I need to. Like, I don't read fiction because I feel like if I'm reading fiction, that just can't help me—which isn't necessarily the smartest way of thinking, but I just kind of like to get to the point. I don't know, Eckhart Tolle is mixing sociality and space with logical factuals and inspirational information. And I f— with that.
The TV shows keeping you up at night:
I definitely binge-watched Insecure three times in a row. The first season of Narcos is f—ing cold. And what was that show, Pretty Little Liars? There's like, white women in it and it's awesome. Wait no, Big Little Lies! That show is amazing. I found it by accident, and I was not expecting it to be so fire. I had to text Zoë [Kravitz] and be like, "B—-, you did that!"
Favorite Drew Barrymore movie:
Either Never Been Kissed or Poison Ivy.
Last movie you saw in theaters:
Split.
Last thing you saw at the theater:
I wanted to go see Daniel Arsham's exhibit when he had a dance exhibit. I booked it for my birthday but I couldn't go. But I did buy the tickets, so I feel like I was there. [Laughs.]
Last piece of art you bought, or ogled:
Yesterday I had this fire-ass meet and greet, and there were the most beautiful, smart people there. I met this fire-ass girl and her art was amazing. It was really inspiring and really f—ing crazy—sort of abstract with sociopolitical vibes. Her name's Sarah Walsh.
Exclusive: SZA Brings a Camera Backstage at Panorama
TK Wonder and Cipriana Quann

Photo by SZA.
SZA and her bass player, Carter Lang.

Solána Rowe
Last museum exhibition that you loved:
Man, I wish I had time to go to museums. But now I'm definitely about to get all my museum-ing in. I'm gonna go look at s— and think about stuff and be in the world and acknowledge it. [Laughs.] Before, my anxiety was so crippling, I was just like, What? What is a brush? What is everything? But I'm definitely trying to check the Whitney, always. I want to go to the African American History museum because I heard that s— was crazy, and it was designed by a fire-ass architect [David Adjaye].
Release you're most eagerly anticipating:
I'm gonna be releasing a lot of stuff—I have to release all these videos, which is scary, because I've never even really shot videos. I don't know, there's a different side to me in them, so I'm very anxious.
Last song you had on repeat:
Playboi Carti's "Woke Up Like This."
Last concert you saw live:
21 Savage, in New York.
How you get your news:
I guess on the internet, but I'm also anti-news right now. I get it, the world is ending, we all know. I'd rather just not. [Laughs.]
Thoughts on horoscopes:
I don't really follow them, because I feel like that s— is kind of crazy. My home girl did put me onto this lady Susan Miller and she's kind of crazy—kind of on point, kind of creepy. But she pissed me off one month and f—ed my whole vibe off. I got some bad news and was anticipating it all month. I was like, B, you did this to me. So I don't look at her anymore.
Favorite social media accounts to follow:
On Instagram, probably Sage, Bella Hadid… The Shade Room is a good laugh. I just love Twitter to like, look at my most recent five mentions and make sure I haven't been crucified or dragged.
Last thing you do before you go to bed:
Wash my face and smoke a joint. [Laughs.] Oh, and I take my vitamin C before smoking weed.
Related: ****SZA's New Video "Love Galore" Features Travis Scott and a Little Light Bondage
See How Lion Babe's Jillian Hervey Made Her Mom Vanessa Williams' Silver Sequined Leotard Her Own: