She's Just SZA
The R&B singer shares a page from her style notes
---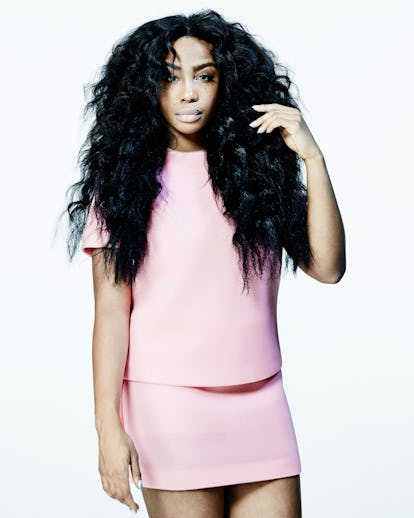 Courtesy of SSENSE
A year ago, New York native SZA was working at Sephora. Today, the 23-year-old singer has solidified her place on the social circuit; counts Kendrick Lamar, Chance, and Toro y Moi amongst her collaborators; and has released her first album, "Z."
Here, the rising R&B star explains why she loves arts and crafts, monochromatic outfits, and Wes Anderson's characters.
Define your style in four words: Girl next door chic.
Daily uniform: Dirty chucks (white or black, assorted high top and low tops) with a pair of overalls and an over-sized vintage jersey; or a super soft enzyme-washed tee with ripped denim jeans.
Greatest hits: Definitely the floor-length white rabbit and fox fur coat my great-grandmother passed down to me.
Finishing touches: My Tiffany Infinity ring and gold Tiffany studs. Clean. Simple. Timeless.
Nighttime look: I don't really like going out too much, but if I do I wear an over-sized shirt made into a mock dress of some sort or a super clingy, long-sleeved, solid-color pant suit with bright heels.
Best recent discovery: Copper cookware! It's super rustic but ultra high gloss and conducts heat like a dream! I am an excessive chef'er upper, so I'm all about anything reminiscent of advanced log cabin beach house vibes.
Favorite stores: Any local beauty supply store I can spend hours in! I also love any Michael's Arts and Crafts store. I like to think of myself as an extreme DIY'ist so anything I can sculpt, mold, alter or distress I'm really into!
Style pet peeve: Heavy trend following is by far my style pet peeve. I didn't care for the "all leather everything" trend, but I don't mind much as long as your style represents you. I believe people look best when they allow themselves to interpret the way they would like to look. If you go too much against your own grain you will end up with an ill-fitted outfit and feel uncomfortable in your own skin.
Style icons: Most of my style inspiration comes from movies. Wes Anderson uses the best Pantone color palette and wardrobe in all of his films and I would love to dress like a character from Moonrise Kingdom. Or perhaps Bill Murray in The Life Aquatic.
Last purchase: Herbalife products that I have yet to even pretend to put to use. Looking at them on the shelf just makes me feel thinner.
Lusting after: Djimon Hounsou is the finest man in all the land.
Favorite haunts: Sage cafe in LA, and The Hat in NYC are my favorites.
Spring must-haves: I MUST stock up on some good gladiator sandals.
What's always in your bag: My homemade, raw, organic Chapstick!
Portrait. Photo courtesy of SSENSE.
SZA's Jesus/Gladiator Givenchy sandals worn with socks.
"One of my favorite fur coats at the TELFAR FW14 Runway Show during February New York Fashion Week"
SZA's daily uniform. Photo courtesy of Instagram @JustSZA.
Image from Moonrise Kingdom.