Teyana Taylor Knew That A Thousand and One Would Change Her Career
The singer and actress on getting rave reviews for her breakout performance as a single mother in Harlem.
---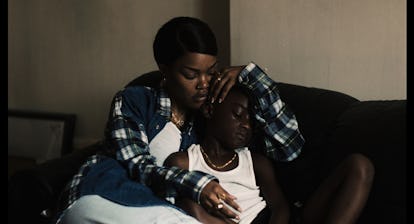 Focus Features
When Teyana Taylor first read the script for A Thousand and One, she immediately knew she had to be involved. Directed by A.V. Rockwell, the powerful drama stars Taylor as Harlem native Inez de la Paz, who is released from Rikers in 1994 and thrust back into a society ill-equipped to help her transition. Though she wants nothing more than to reunite with her son, the quiet Terry, Inez instead finds herself butting against the unjust bureaucracy of the foster care system. Left with few other options, Inez kidnaps the six-year-old and raises him under a different name—all while dodging the authorities who could presumably track him down any day.
Like Inez, Taylor is also a native of Harlem, and though she was closer to Terry's age than to Inez's during the period depicted in the film, the singer, dancer, and rising actress felt a calling to the material. Harlem connection aside, Taylor saw a parallel between Inez's struggles and her own. This is a woman who had been repeatedly denied opportunities. As an actor known more for "lighthearted" fare than for drama, Taylor could relate to that feeling of being underestimated. It was a challenge, but one she felt more than ready for.
In the end, Taylor delivers a career-making performance, skillfully toggling between Inez's unmistakable bravado and her vulnerable core. It's no wonder the film won the Grand Jury Prize when it premiered at Sundance, and even less of a surprise that Taylor is already being singled out for awards consideration. As she says, "This [film] was like a proper, real introduction and debut for me."
You've acted in a few different projects, but never as the lead in a drama. How did it feel to step into the role of Inez?
It was definitely a lot to step into. Because like you said, I had done a lot of different projects, but never to this extent. Never number one on the call sheet, never on this level. It's what I prayed for, honestly. I prayed to just have that moment where people could finally really see me and see what I could do. I knew that this would be challenging, but I was on to take that challenge.
It's also a dramatic part, and a lot of what you've done in the past has been more comedic.
Yeah, it's been funny, or dancing, or sexy, or you know, the homegirl. Just lighthearted kind of stuff. Never really something this deep and this heavy.
Was that shift difficult? Were you scared to switch into that style of acting?
Honestly, I'm not even going to front. I had a whole bunch of different levels of emotions. I was excited, scared, anxious, and nervous, but I knew that I had a point to prove. I knew that this would turn a lot of the no's that I used to get into a lot of the yes's that I'm getting now. I knew what this role would do for me. I knew what Inez meant to me. It was something that I felt was mine. So when it was time to audition, I didn't treat it as an audition. I treated it as already being mine to lose. You get what I'm saying? It's mine to lose at this point, so you do what you want to do with that.
I'm picking up on this meta connection to the material, because you're saying that, as an actor, you'd had a lot of no's in the past and wanted this role to be your yes — and in the film, Inez is someone who's had a lot of no's in the past and is fighting for just one yes.
Of course I didn't think about it before [filming], but I think that's what drew me to Inez. We may not have dealt with the same exact struggles, but we were alike in so many different ways. That's what made reading the script so beautiful. I see a lot of myself in Inez, and vice versa.
You grew up in Harlem around the same time the events in this film are happening. What do you remember about that time, and how did that impact your performance?
You know what's crazy? This movie was a big eye-opener for me, especially as a mother now. In this movie, playing Inez, I was able to be an adult and see what was happening in the '90s. In 1996, I was Terry's age. I was six. So I was not maybe even understanding the environment around me, because my mom's job was to keep me protected at all times. There's probably stuff that I didn't even all the way peep, because I was being protected. It's the same thing Inez is doing with Terry.
The director, A.V. Rockwell, was also born in New York during that time. Did you bond over this shared upbringing?
It was like a sisterhood. It was a comfort, and there was a trust there. I'm a music video director, so I understood A.V. in ways that maybe another person would not have. I understood that she had a story to tell, and that she had a vision in how she wanted [to tell] it. So my job was to make sure I could be that wide-receiver for her, to catch that ball and take us to the touchdown. That's what it was all about. Also, for us to be two young Black girls doing it, was amazing. This was like a proper, real introduction and debut for me, and a real introduction and debut for her as a feature film director.
A Thousand and One is ultimately a story about a mother's love for her son and everything she's willing to do in order to protect him. As a mother of two children yourself, did you tap into that part of the story on a more intimate level?
Absolutely. I feel like I probably would not have even handled Inez the way I handled Inez if I didn't have kids. It made it easier for me on set to be able to bond with my three Terry's and just have that natural nurturing [instinct].
Terry is changing over time, being played by three different actors as he ages. Did you feel your own performance style shifting depending on which actor you were acting opposite?
Oh yeah, absolutely. If anything, that was the most challenging part of the film, dealing with the different emotions of Inez. Especially because we didn't shoot in order. One day, I'm 22-year-old Inez, and maybe the day after tomorrow, I'm 33. Then, it was having to deal with the different stages of Inez's life with her sons. One day, I have this little, innocent six-year-old, and the next day, I've got a 17-year-old who's talking back to me. It's a lot of different things that Inez had to endure emotionally and mentally, and how much she had aged from just 22 to 34. It was just having the balance of the highs and the lows of Inez.
More specifically, this is a film about a Black mother, and I'm glad that A.V. leaves space for interrogation about the ways Black women often show up for the Black men in their life, but sometimes fail to get that loyalty in return. I just love that scene where you're telling Lucky (William Catlett) to show up for you.
That was heavy and deep because I also had reached a point in my life where I felt like I needed people to show up for me. I had done so much for everybody, but shit always got quiet when it was time to be reciprocated. Especially just within the industry—you know, it's a dirty game. I come from a family of love and affection and just uplifting one another. I come from a family of a lot of women, so that's really all I know. So to step into a world where women support other women even as shit gets messy, that's real.
The film has been getting amazing reviews ever since it premiered at Sundance (where it very deservedly won the prestigious Grand Jury Prize for Drama). Moreover, your performance has been singled out as the film's heart. How does that feel?
Oh my god. Honestly, it feels good. Before Sundance, before a trailer, my name would be thrown in the bucket, and it would be like, "Well, maybe she can look the part, but does she have the chops?" And of course, at some point, you start to feel like, Well damn, do I? You start to doubt yourself. To go to Sundance and be singled out, and even to have Oscar buzz and all those kinds of things, that means a lot to me. I didn't go to Sundance expecting to win. I was just grateful that I had gotten an opportunity to show people what I can do. So I was more in shock than anything.
A Thousand and One is playing in theaters now.