The Weeknd's Dawn FM is the Perfect Soundtrack for a Disco in Purgatory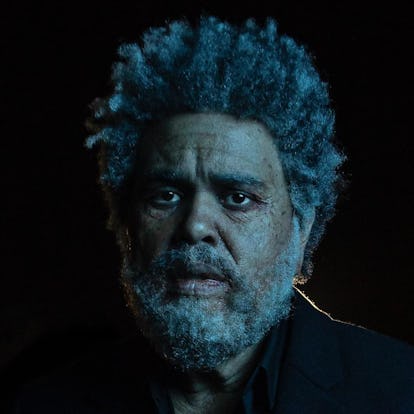 Instagram/@theweeknd
No, The Weeknd didn't get stuck on M. Night Shyamalan's rapidly aging beach, he's simply donning another set of his beloved facial prosthetics for his latest album. After some faux plastic surgery in the "Save Your Tears" music video, and a broken nose at the 2020 Video Music Awards, this time, Abel Tesfaye is going Old. Sporting graying hair, pockmarked skin, and sad eyes, The Weeknd is continuing the facial journey he began with his 2020 album, After Hours, making his aged face the star of his fifth studio album, Dawn FM.
The cover is a fitting first impression for the synth-heavy album that opens up with Jim Carrey encouraging you to "walk into the light and accept your fate with open arms." Quickly, Tesfaye welcomes you into another one of his highly-conceptual worlds, filled with deep beats and some macabre pleas of love. Want to know more about Tesfaye's latest piece of work? Here's everything you need to know.
Is Dawn FM available to stream?
The Weeknd's fifth album dropped on Friday, January 7th, meaning all 16 tracks, are available now to stream.
Who is featured on Dawn FM?
Tesfaye called upon many friends to help with this album, including, Quincy Jones, Lil Wayne, Oneohtrix Point Never, Tyler, The Creator, Swedish House Mafia, Max Martin, Calvin Harris, and Uncut Gems co-director Josh Safdie. The singer also worked with Carrey after befriending him a few years back. In a recent interview with GQ, Tesfaye revealed he and fellow-Canadian Carrey started texting prior to his 30th birthday in February 2020. Then, on his actual birthday, Carrey surprised the singer at his house and took him out to breakfast. "He lived literally like two buildings down from me," Tesfaye explained. "He had a telescope, and I had a telescope. He was like, 'Where do you live? What floor do you live on?' I was like, Blah, blah, blah. And we looked out the windows on our telescopes and we could see each other." Following the album's announcement, Carrey tweeted out his thoughts after listening to the work with Tesfaye. "It was deep and elegant and it danced me around the room," he wrote. "I'm thrilled to play a part in his symphony."
Who Is The Weeknd's "Movie Star" Girlfriend?
In the past, fans have speculated that Tesfaye has gained inspiration for his music from his past relationships with exes like Bella Hadid and Selena Gomez. Now that there are rumors the singer is dating famed actress Angelina Jolie, it makes sense that listeners are combing through the lyrics for references to the alleged couple. Enter "Here We Go...Again," the eighth track on the album, featuring Tyler, The Creator. The song includes lyrics like, "My new girl, she a movie star," causing many to assume he is singing about Jolie.
Of course, this is speculation, as there is no confirmation that anything romantic is going on between the two United Nation ambassadors. And while they were spotted getting dinner twice last year, they haven't been seen publicly together since late September.
This article was originally published on