The White Lotus Season 2 is Taking Us on Another 'Dream' Vacation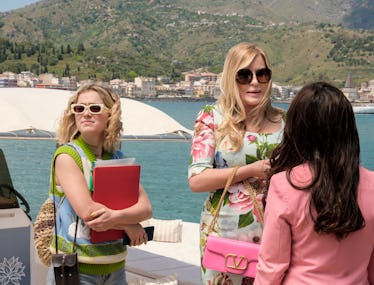 Photograph by Fabio Lovino/HBO
The White Lotus was the perfect quarantine show. When you were sitting at home, wishing more than anything that you could be somewhere else, maybe even at a tropical resort, The White Lotus came along to remind you that, actually, your very own home is very nice (and, hopefully, free of snarky Gen Z mean girls). With an all star cast of Jennifer Coolidge, Connie Britton, and Sydney Sweeney, every week writer, creator, and director Mike White left us laughing while simultaneously gripping the edge of our seat. Since then, nothing has come along to truly fill the pineapple suit-sized hole in our heart, but that's OK, because The White Lotus is coming back for a second round and there are enough rooms for all of us. Here's what we know so far about season two of the show.
What will The White Lotus season two be about?
While season one of the hit HBO show focused a lot on money's role in power dynamics, season two will be heavily influenced by its Italian setting, and the cultural differences that propel the actions of the new cast of characters. According to Theo James, who plays alpha bro Cameron, season two will more so explore "how gender and sex play in roles of class, play in roles of friendship, how wealth and capitalism are linked to sex." For that reason, a lot of the focus will be on two couples this season, Cameron and his wife, Daphne, as well as their travel partners, Harper (played by Aubrey Plaza) and her more quiet husband, Ethan. "There's a fascinating nature to Ethan and Cameron's friendship, how they became friends, how they interact with each other," Will Sharpe, who plays Ethan, told Entertainment Weekly. "And there's interesting stuff between Daphne and Ethan, and Harper and Daphne, and Harper and Cameron too—there's a whole spider diagram between these four, these two pairs, to look forward to."
Of course, Coolidge's return means Tanya McQuoid's storyline will continue. Entering season two, she and Greg are now married, but that doesn't mean the pair is necessarily living happily ever after. "She's married to Greg and they've been married long enough now that the honeymoon is definitely over," White said. "She's going to be contending with that."
And finally, season two will feature yet another murder mystery, introduced in the first scene of the premiere. White said that last year, the mystery element wasn't his "priority as a writer," but it caused so much talk online. So, he decided to bring it back as a way to connect the two stories.
"I was like, everything is so different this season—the characters are different, the location is different—we need some kind of architecture that is similar to last season," he said. "Starting with the mystery and the body and who is it and what happened, carrying that over might lure people in. Because this is like an operatic season, it's a little wilder as far as the plot, so I felt like, we might as well go there. Come for the murder, stay for something else, hopefully."
When will The White Lotus season two premiere?
We finally have a premiere date and luckily, it's not too far in the future. The White Lotus will begin its seven-episode run on October 30th at 9 PM ET on HBO.
Where will The White Lotus season two be set?
We're going international this year, baby. The second season of The White Lotus will take place in Sicily, specifically it was filmed at the Four Seasons San Domenico Palace in the resort town Taormina. This is the second time the show will shoot at a Four Seasons property, as season one was set at the luxury chain's Maui resort.
In a new teaser for the upcoming season, Jennifer Coolidge's Tanya welcomes us to the Italian hotel, and wow, is it gorgeous. "So few brands have meaning anymore," she says as the camera shows off the hotel's pools and beautiful views. "But whenever I stay at any of the White Lotus properties, it's always a memorable experience." Yeah Tanya, you can say that again.
Who will be in The White Lotus season two?
Season two is going to be filled with newcomers, as the majority of guests who stayed at the White Lotus last season will probably not be returning to any of the hotel's other properties any time soon. There will be one familiar face, however, and that's Jennifer Coolidge's Tanya McQuoid. HBO just confirmed Coolidge will be back for another round. Hopefully, she brings Belinda with her.
A teaser from HBO showed Tanya heading to the new White Lotus property with Jon Greiss' Greg, the man she met in Hawaii last season, confirming their relationship prevailed. We see Tanya on the back of Greg's motorcycle, liking heading to the Sicilian hotel.
Other than that, it looks like the cast is going to be made up of newcomers. F. Murray Abraham, Adam DiMarco, Tom Hollander, and Haley Lu Richardson are all joining the cast as regulars for season two, along with Aubrey Plaza, Will Sharpe, Theo James, Meghann Fahy, and Sabrina Impacciatore. The Grand Budapest Hotel star Abraham is set to play Bert Di Grasso, an old man traveling with his son and grandson. Adam DiMarco will play Albie Di Grasso, Bert's grandson, and a recent college graduate, while Sopranos star, Michael Imperioli, who was recently announced as part of the cast, will play Albie's father and Bert's son, Dominic.
Hollander, meanwhile, is playing Quentin, an expat on vacation with his friends and nephew, while Five Feet Apart star Richardson will take on the role of Portia, who is traveling with her boss. Plaza plays Harper Spiller, "a woman on vacation with her husband and his friends," according to The Hollywood Reporter. In HBO's sneak peek, we see Plaza's character arrive to the hotel along with Sharpe, James, and Fahy. The foursome is greeted by Impacciatore, who seems to be taking over Murray Bartlett's role as the hotel's hostess this season.
Are there any photos from The White Lotus season two?
Another teaser from HBO has provided fans with more shots of the new season of The White Lotus. In a sizzle reel for the streaming platform's upcoming content, we see Coolidge's Tanya doing her makeup, Plaza walking around Sicily, and Imperioli seemingly entertaining a woman. In the background Coolidge can be heard saying, "It's very intoxicating. I feel like I'm in a dream." Despite Tanya's positive words, the montage still has an eery undertone to it.
In addition to those clips, we also have a few new photos from the show. In the shots, Impacciatore's Valentina is greeting the incoming guests as they arrive on boat to the Sicilian hotel. Everything seems pleasant and relaxing as the guests toast to their upcoming vacation, but if we know the White Lotus, that feeling won't last too long.
This article was originally published on