The White Lotus Season Two is Taking Us on Another 'Dream' Vacation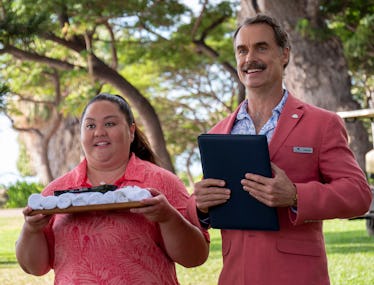 Mario Perez/HBO
The White Lotus was the perfect quarantine show. When you were sitting at home, wishing more than anything that you could be somewhere else, maybe even at a tropical resort, The White Lotus came along to remind you that, actually, your very own home is very nice (and, hopefully, free of snarky Gen Z mean girls). With an all star cast of Jennifer Coolidge, Connie Britton, and Sydney Sweeney, every week writer, creator, and director Mike White left us laughing while simultaneously gripping the edge of our seat. Since then, nothing has come along to truly fill the pineapple suit-sized hole in our heart, but that's OK, because The White Lotus is coming back for a second round and there are enough rooms for all of us. Here's what we know so far about season two of the show.
Who will be in The White Lotus season two?
Season two is going to be filled with newcomers, as the majority of guests who stayed at the White Lotus last season will probably not be returning to any of the hotel's other properties any time soon. There will be one familiar face, however, and that's Jennifer Coolidge's Tanya McQuoid. HBO just confirmed Coolidge will be back for another round. Hopefully, she brings Belinda with her.
Other than that, it looks like the cast is going to be made up of newcomers. The Hollywood Reporter revealed F. Murray Abraham, Adam DiMarco, Tom Hollander, and Haley Lu Richardson are all joining the cast as regulars for season two. The Grand Budapest Hotel star Abraham is set to play Bert Di Grasso, an old man traveling with his son and grandson. Adam DiMarco will play Albie Di Grasso, Bert's grandson, and a recent college graduate, while Sopranos star, Michael Imperioli, who was recently announced as part of the cast, will play Albie's father and Bert's son, Dominic.
Hollander, meanwhile, is playing Quentin, an expat on vacation with his friends and nephew, while Five Feet Apart star Richardson will take on the role of Portia, who is traveling with her boss.
Parks and Recreation fans will be happy to hear that that Aubrey Plaza is the second actor to sign on to The White Lotus' second installment. The Hollywood Reporter just announced Plaza will be joining the cast as Harper Spiller, "a woman on vacation with her husband and his friends," which is a situation that never turns out well.
Where will The White Lotus season two be set?
We're going international this year, baby. Variety just confirmed the second season of White Lotus will take place in Sicily, specifically at the Four Seasons San Domenico Palace in the resort town Taormina. This is the second time the show will shoot at a Four Seasons property, as season one was set at the luxury chain's Maui resort.
What will The White Lotus season two be about?
As of now, we don't have any info on the plot of this upcoming season, but as character descriptions come in, it's easy to imagine what antics White has in store for the guests this year. With three generations of the Di Grassos traveling together, it seems like there could be some more family drama in store, as well as some marital issues between Plaza's character and her husband. Of course, if Tanya gets involved, it's hard to know what to expect.
This article was originally published on