Step Into Tim Walker's Fantastical World of Renaissance Photography
A new exhibition at The Getty in Los Angeles captures the magic of the photographer's artistic work.
---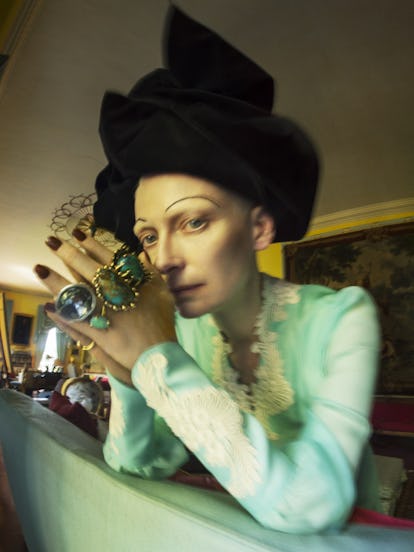 Tim Walker, 'Why Not Be Oneself?,' 2018. © Tim Walker Studio
Tim Walker's images can feel more like elaborate, otherworldly Renaissance paintings than pictures snapped through a fish eye lens. The photographer has honed a Baroque photographic style that sets him apart from any other shooter working today—and he constantly creates work that toes the line between fine art and fashion photography. That singular approach to image-making has made Walker stand apart, and has cemented his legacy—prompting the Victoria & Albert Museum in London to open a retrospective dedicated to the photographer's work (many of which have run in the pages of this very magazine) from 2019 to 2020.
Now, a slightly different version of "Tim Walker: Wonderful Things" is on view at The Getty Museum in Los Angeles. "Walker brings something real to elaborately staged compositions that are all about artifice," Paul Martineau, curator of photographs at The Getty, told W in an e-mail. "That something is hard to define: sometimes it's intellectual, at other times, it's emotional—it is the essence, I think, of what makes people want to study the image." This iteration of "Wonderful Things," which will be mounted at The Getty through August 2023, features greater clarity on the conceptual aspects of the exhibition, taking note of the inspirations Walker gleaned while combing through the V&A archives and paying homage to the photographer's team of collaborators, without whom none of these images would come to light. Along with a team of curators, Martineau selected 10 brand-new sections from nine photo shoots to accompany the mini retrospective that introduces the show.
The range of work on view is vast—and includes a handful of shoots from the pages of W. When asked which image from the exhibition is his favorite, Martineau admitted it was "a difficult question to answer. At this moment, I am drawn to the picture scrolls found in Soldiers of Tomorrow," he said. "With multiple images collaged together on a long clear support, they remind me of looking at a reel of old fashioned motion picture film. But next week, I will be turning over a different set of photographs in my mind." Below, a look at some of the most eye-catching and brilliant works featured in "Wonderful Things."