TRIBECA FILM FESTIVAL 2017
The 8 Must-See Art and Fashion Films of the 2017 Tribeca Film Festival
From a Zac Posen doc to the forgotten "Godfather of Street Art" to 13 different Cate Blanchetts.
---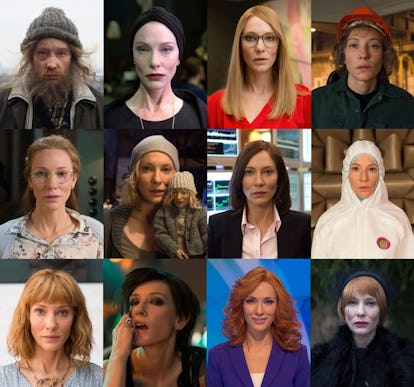 © Julian Rosefeldt and VG Bild-Kunst, Bonn
This year's Tribeca Film Festival kicks off on Wednesday, bringing with it over a week of over 100 features, from up-close looks at legends like Clive Davis and Whitney Houston to a look back at classic films like The Godfather, Bowling for Columbine, and Reservoir Dogs. As always, though, there's also a heavy showing from the art and fashion worlds, too: Zac Posen steals last year's fashion documentary spotlight from the Met Ball, and Laurie Simmons, Julian Schnabel, and Tom of Finland are just some of the artists to follow in Banksy and Maurizio Cattelan's footsteps. Here are the 8 best fashion and art films to see this week.
Having conquered the Park Avenue Armory, no less than 13 Cate Blanchetts, ranging from a tatted punk to a homeless man, are now taking over Tribeca Film Festival thanks to Manifesto, Julian Rosefeldt's film composed of vignettes that draw on 50 different artist statements, with some memorable catchphrases ("all current art is fake").
Girls may have ended, but the rest of Lena Dunham's family is just getting started onscreen: Laurie Simmons is following in the footsteps of her daughter by stepping away from photography and into feature films. Simmons, though, is no amateur, and not just because her 2006 debut short, The Music of Regret, was led by Meryl Streep: she wrote, directed, and stars in her first feature My Art, which follows a middle-aged New York artist on her trip upstate, where she transplants her artistic practice to a barn with a little help from some small-town locals, among them Parker Posey.
Before Touko Laaksonen became celebrated for his homoerotic drawings of gay men—and started going by the name of Tom of Finland—the cult Finnish artist dealt with not only the trauma of World War II, but having to hide his own homosexuality. It's a story Finnish director Dome Karukoski has brought to life in this biopic that follows the artist from his European beginnings to his move to Los Angeles—where the sexual revolution taking place meant Laaksonen's fleshy fancies made him fit right in.
Blurred Lines: Inside the Art World
The director Barry Avrich is best known for his films following Hollywood moguls like Harvey Weinstein, but for his latest, he's instead spotlighting the art world's tycoons. Blurred Lines: Inside the Art World features everyone from Marina Abramovic and Julian Schnabel to Sterling Ruby and Damien Hirst, and breaks down the multibillion-dollar industry with an inside look at what auction houses, curators, collectors, donors, all do behind closed doors.
Julian Schnabel: A Private Portrait
Julian Schnabel shows up again at Tribeca in the home movies and studio footage that make up Pappi Cosicato's A Private Portrait, a documentary that tracks how the artist went from a Texan newbie to a New York fixture—not just because of his clan of artsy children like Vito, Lola, and Stella and their towering home base, the pepto bismal-pink Palazzo Chupi, but Schnabel's large-scale paintings and films like Basquiat and the Oscar-nominated The Diving Bell and the Butterfly.
At the same time Jean-Michel Basquiat was running around graffitiing the streets of New York, the artist Richard Hambleton—aka the Godfather of Street Art—was also making his mark on downtown with paintings like his signature towering black silhouettes, aka "shadow men." Shadowman, Oren Jacoby's documentary, sheds some much needed light on the still-lesser known artist with more than a little help from archival footage of the streets of '80s New York.
Fresh off celebrating his house's 15th anniversary, the designer Zac Posen now stars in House of Z, a documentary (and directorial debut) by Sandy Chronopoulos that also features Naomi Campbell, Sean Combs, Karen Elson, and André Leon Talley—just some of the names who've been there as Posen forged his red carpet-friendly career.
Around the same time David Neville left Marcus Wainwright to helm Rag & Bone on his own last year, the beloved New York brand launched the Rag & Bone Men's Project, which gives an up-close look at an actor (who also happens to be decked out in the label, of course). The latest edition, Hair, stars John Turturro and Bobby Cannavale, who can be found improvising an argument about their hair-related tendencies, fittingly inside a barber shop.
See W's most popular videos: