6 Breakout Stars From the Tribeca Film Festival You Should Be Following Now
This year's top films at the Tribeca Film Festival are bursting with performances from up-and-comers you need to know.
---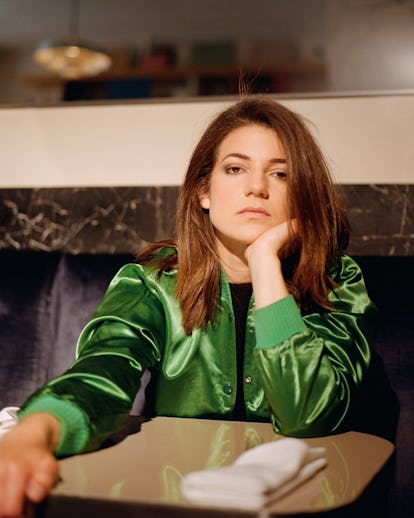 Michael Beckert for W.
The 2018 Tribeca Film Festival is coming to an end, but there are a few newcomers who gave stunning performances that could shake up even the toughest of film critics. Biopics, experimental filmmaking frameworks, and heart-wrenching coming-of-age tales complete the makeup of this year's crop of films, bursting with powerful performances from familiar faces, like Bel Powley and Suki Waterhouse, as well as up-and-comers you need to know.
Bel Powley in Mary Shelley
Bel Powley returns to the screen to dazzle audiences in Mary Shelley, the biopic about the teen years of the Frankenstein creator. As Shelley's lively stepsister, Claire Clairmont, Powley fearlessly brings to life one of the lesser-known, but equally compelling, elements of the science fiction writer's family history.
Esther Garrel in The Great Pretender
A love quadrangle unfurls in The Great Pretender, with Esther Garrel playing the character of an aloof French actress named Thérèse who gets a little bit more than she bargained for when she falls for a fellow actor. Audiences may recognize Garrel as Marzia, the unlucky-in-love summer fling of Elio in Call Me by Your Name, but in The Great Pretender, her character is cast by a playwright named Mona (Maëlle Poésy) to play a younger, ingenue version of herself, and act out her relationship with a married American man. "When I ask myself if I want to be a part of a project, the first thing I find is if I like [the director's] energy, or if I feel a link between us," Garrel said of her relationship to The Great Pretender's director, Nathan Silver. "I was super, super excited to film a movie in New York, and also excited to work with Nathan Silver again because I really like his energy, and his way of directing actors, and his way of directing the sets."
Harley Quinn Smith in All These Small Moments
In Melissa Miller Costanzo's All These Small Moments, Harley Quinn Smith plays Lindsay, an asthmatic outsider with an unrequited crush on the film's main character. Until three years ago, all Smith wanted was to play the bass guitar in a punk band, but she was bit by the acting bug after appearing in her dad's film Tusk. Now, between acting full time, performing with her punk band, writing her first feature-length film, and advocating for animal rights, the 18-year-old daughter of the indie film auteur extraordinaire Kevin Smith is on her way to becoming an indie darling on her own.
Sandor Funtek in Nico, 1988
Previously seen in Blue Is the Warmest Color, Sandor Funtek returns to the screen as Ari in Nico, 1988. The biopic about the Velvet Underground singer and Andy Warhol muse takes place as the icon nears the end of her life, and Funtek stuns as her young-adult son, who struggled with heroin addiction as well.
Suki Waterhouse in Jonathan
You may know her from The Bad Batch, and are likely going to be impressed by her performance in the upcoming revenge-fantasy film Assassination Nation, but at the Tribeca Film Festival, Suki Waterhouse is a principal player in Jonathan. In the sci-fi thriller, she plays the sister of Ansel Elgort's titular character. Her real-life sibling Immy Waterhouse starred in Braid, the psychological thriller about a sadistic party host and the games she plays with her guests. It is not every day that the Waterhouse sisters can say they both premiered a film at the Tribeca Film Festival, but rest assured there is no competition between the two; they are "obsessed" with each other, according to Suki.
Forrest Goodluck in The Miseducation of Cameron Post
In The Miseducation of Cameron Post (a Sundance Film Festival Grand Jury Prize winner), Forrest Goodluck gives a stoic performance as Adam Red Eagle, a two-spirit teen whose father ships him away to a religious gay conversion therapy camp called God's Promise in the middle of nowhere. Along with Jane Fonda (played by Sasha Lane), Adam Red Eagle welcomes Cameron (played by Chloë Grace Moretz) to the camp, and the misfits form a bond that not even the camp's most wicked "counselors" can break.
Related: Why Harley Quinn Smith Convinced Her Dad, Indie Auteur Kevin Smith, to Go Vegan