Elle Fanning Plays the Author of "Frankenstein" in the First Trailer for "Mary Shelley"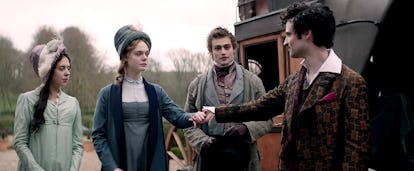 IFC Films/Youtube
Elle Fanning has played a Star Trek super fan, a brooding boarding school student, and a punk alien, and now, she's going to be stepping into the shoes of one of history's most celebrated writers. On Thursday, the trailer for the upcoming Mary Shelley biopic dropped, and it shows Fanning slips into the role of the Frankenstein writer who basically invented the sci-fi genre.
In the trailer, which dropped first on People, we get a look behind the scenes of one of horror's most iconic monsters. The clip opens on 16-year-old Mary Shelley sitting in a graveyard and scribbling in her notebook. "It is a frustration, a constant whisper that I'm no closer to achieving my dreams," she says in a voice-over. We then jump to a party, where Mary catches the eye of a handsome young man. "Who's that?" Mary asks her friend Isabel Baxter (Game of Thrones's Maisie Williams), who identifies him as Percy Shelley (Noah's Douglas Booth). They meet, they hit it off, and then Percy leaves his first wife, Harriet (Ciara Charteris), to be with Mary. "I have a fire in my soul, and I will no longer allow you or anyone else to contain it," says Mary, as her friends and family appear to advise her not to get involved with Percy.
After that, Mary starts developing an obsession with reanimation, and one dark, stormy night in a castle with her husband and Lord Byron (Tom Sturridge), she starts writing what would later become Frankenstein. But for a woman in the 19th century, it's not that easy to become a professional author, and when she tries to get her story published, she has to deal with people thinking it was written by Percy instead. "It is my story!" she says to a publisher. "You dare question a woman's ability to experience loss, betrayal, death."
Although we all know what happens in the end, this dramatized version of Mary Shelley's life (affairs! anguish! patriarchy!) definitely seems like it has some twists and turns. Watch the full trailer below.
Related: Elle Fanning Made Her Runway Debut at Miu Miu's Paris Fashion Week Show
Elle Fanning Has a Bold, Grown-Up Wardrobe to Match Her New Role in The Beguiled
For a brief moment, Fanning, in Vivienne Westwood, seems to have pondered wearing a bit of color. It didn't last long, though it made a splash at the Hollywood Foreign Press dinner in Beverly Hills, California, August 2014. Photo by Getty Images.
The baby-faced, temporarily brunette actress was already in the know at 16, wearing insider favorite label Rochas to a screening of Low Down at the Mill Valley Film Festival in San Rafael, California, October 2014. Photo by Miikka Skaffari/WireImage.
In Marchesa, Fanning demonstrates her penchant for dressing beyond her years (and somehow making it work). Here, she promotes her film Low Down at its premiere in Hollywood, California, October 2014. Photo by Tibrina Hobson/FilmMagic.
Like any good baby style star, Fanning puts in the requisite Rodarte appearance, at a dinner for the Rodarte x Superga collaboration with Gia Coppola in Los Angeles, California, January 2015. Photo by Stephanie Keenan/WireImage.
This Valentino is a quintessentially Fanning look — pastels, ruffles, chiffon, almost-but-not-quite too much dress for a then-16-year-old. She deserves a place at the grown-ups' table at the Women in Film pre-Oscar party in West Hollywood, California, February 2015. Photo by Getty Images.
At Outfest Los Angeles, Fanning proves that she's not tied to any label — here, in a cute Prada dress at the opening night gala for Tig in Los Angeles, California, July 2015. Photo by Jason LaVeris/FilmMagic.
Fanning rarely opts for a dark palette, but this black, ruffled Emilio Pucci dress stayed within her comfort zone of princess silhouettes at the Toronto Film Festival in Toronto, Ontario, September 2015. Photo by Getty Images.
And when she does go for a color, it's sure to pop. Here, she wears Gucci for the premiere of Trumbo at the Toronto International Film Festival in Toronto, Ontario, September 2015. Photo by Getty Images.
attends the premiere of "Trumbo" at Samuel Goldwyn Theater on October 27, 2015 in Beverly Hills, California.
While the stars around her opted for silver statements, Fanning kept it simple in Thakoon, her milky complexion allowing her to pull off ivory tones that others wouldn't dare — here, at the Metropolitan Museum of Art Costume Institute Gala in New York, New York, May 2016. Photo by Getty Images.
Over the past few months, Fanning has developed her own style aesthetic — this Valentino Couture gown is ethereal, yet with quirky details like a body chain. It's a definite style statement from a girl who's making her name working with Nicolas Winding Refn on a movie about models.
Elle Fanning at the amfAR Gala in Cannes, France, May 2016. Photo by Kevin Tachman/amfAR/WireImage.
Fanning joins the legions of cute young stars (Kristen Stewart chief among them) wearing Karl Lagerfeld's designs — here, a short, frilly Chanel dress for the Neon Demon photocall in Cannes, France, May 2016. Photo by Getty Images.
She's definitely got a color palette, and she's sticking to it — here, she wears Alexander McQueen to the afterparty for Neon Demon's Cannes premiere in Cannes, France, May 2016. Photo by Getty Images.
Alternate title: Elie Saab and Elle Fanning, a love story. Fanning wore a couture design by Saab to the U.K. premiere of The Neon Demon in London, England, May 2016. Photo by Karwai Tang.
During a quick hiatus from promoting her new film, Fanning stopped in at Alessandro Michele's Gucci Cruise 2017 presentation — in Gucci, naturally. She and director Nicolas Winding Refn sat front row at the presentation in London, England, June 2016. Photo by Getty Images.
Fanning's latest designer ensemble was a sharp turn from her previous looks, and a welcome change: Her Gucci tracksuit proves she's not getting fashion-stagnant. Photo by Getty Images.
Elle Fanning in Lanvin at the premiere of The Neon Demon in Paris, France, June 2016.

Marc Piasecki/Getty Images
Elle Fanning in Marc Jacobs at Variety's Power of Young Hollywood event in Los Angeles, California, August 2016.

Steve Granitz/Getty Images
Elle Fanning in Dolce & Gabbana at the premiere of The Neon Demon in Hollywood, California, June 2016.

Axelle/Bauer-Griffin/Getty Images
Elle Fanning in Creatures of the Wind at the Just One Eye x Creatures of the Wind collaboration dinner in Los Angeles, California, August 2016.

Stefanie Keenan/Getty Images
Elle Fanning in Rodarte with Jimmy Choo shoes and Tiffany & Co. jewelry at the premiere of 20th Century Women at the New York Film Festival in New York, New York, October 2016.

Gilbert Carrasquillo/Getty Images
Elle Fanning wore a pink Max Mara coat at the Sundance Film Festival in Park City, Utah, January 2017.

Vivien Killilea/Getty Images
Elle Fanning in Rodarte at the Harper's Bazaar 150 Most Fashionable Women party in West Hollywood, California, January 2017.

Steve Granitz/Getty Images
Elle Fanning in Oscar de la Renta at the premiere of Live by Night in Hollywood, California, January 2017.

Steve Granitz/Getty Images
Elle Fanning in Prada at the Fondazione Prada dinner during the Cannes Film Festival in Cannes, France, May 2017.

Jacopo Raule/Getty Images
Elle Fanning in Miu Miu at the Metropolitan Museum of Art Costume Institute Gala in New York, New York, May 2017.

Karwai Tang/Getty Images
Elle Fanning in custom Vivienne Westwood at the premiere of Ismael's Ghosts during the Cannes Film Festival in Cannes, France, May 2017.

Tony Barson/Getty Images
Elle Fanning in Marc Jacobs at the afterparty for the Metropolitan Museum of Art Costume Institute Gala in New York, New York, May 2017.

Daniel Zuchnik/Getty Images
Elle Fanning in Prada at the photocall for How to Talk to Girls at Parties during the Cannes Film Festival in Cannes, France, May 2017.

Tony Barson/Getty Images
Elle Fanning in Gucci at the premiere of How to Talk to Girls at Parties during the Cannes Film Festival in Cannes, France, May 2017.

Anthony Harvey/Getty Images