Elle Fanning Made Her Runway Debut at Miu Miu's Paris Fashion Week Show
And stole the spotlight from Fashion Week queen (and fellow teen) Kaia Gerber.
---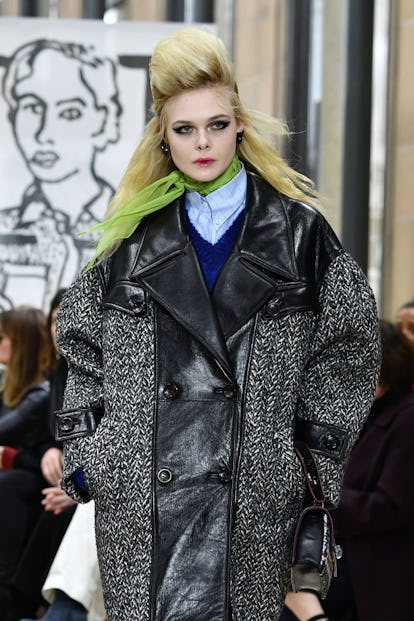 Pascal Le Segretain/Getty Images
Last season, Naomi Campbell, Cindy Crawford, and more '90s supermodels dominated fashion week with a jaw-dropping reunion on Versace's runway, so it seems appropriate that the fall 2018 shows have in turn seen the teens swoop in—particularly since the season began to come to its end at Paris Fashion Week. Just a few days ago, 15-year-old Stranger Things star Sadie Sink opened and closed Undercover, and now, on Tuesday, the shows' finale, 19-year-old Elle Fanning closed out the season with a bang by opening and closing Miu Miu.
Fanning may still be a teen, but she's been in the brand's family for quite a bit; she was just 15 when she starred in her first campaign for the brand, for spring 2014. It wasn't until this year, though, that her modeling for the brand extended over to the runway, a move that definitely wasn't downplayed: she kicked things off at Paris' Palais d'Iéna by stepping out in an oversized camel-colored coat, a blue neckerchief, and an unmissable giant bouffant—notably managing to beat out Kaia Gerber, the 16-year-old queen of Fashion Week, who followed immediately in her stride.
After models like Slick Woods, Edie Campbell, Hanne Gaby Odiele, and Adwoa Aboah also took their turn on the catwalk, Fanning returned to lead the finale, swapping out her oversized coat for a tweed and leather one, and her blue neckerchief for another in lime green. By then, she was smiling and giggling—no doubt in part because her fellow actors in the front row couldn't stop themselves from whooping when she strode past.
Elle Fanning Secretly Watches (and Cries Over) Dakota's Old Talk Show Videos:
Fanning's sister Dakota has also gotten in on the Miu Miu love as of late; eight years after attending her first fashion show—which was Miu Miu, of course—she's now also the latest to direct a short film for the brand's series Women's Tales, following names like Ava DuVernay and Chloë Sevigny. She strangely wasn't present in the front row alongside actors like Rowan Blanchard and Zoe Kazan, but they definitely made up for her absence with their resounding cheers.
Related: Dakota Fanning Made a Movie About Her (Maybe) Leaving New York
The Best and Most Breathtaking Backstage Moments from Paris Fashion Week
Backstage at the Jacquemus Fall 2018 show during Paris Fashion Week at Petit Palais in Paris, France on February 26th. Photo by Cleo Glover for W Magazine.

CLEO GLOVER
Backstage at the Jacquemus Fall 2018 show during Paris Fashion Week at Petit Palais in Paris, France on February 26th. Photo by Cleo Glover for W Magazine.

CLEO GLOVER
Backstage at the Jacquemus Fall 2018 show during Paris Fashion Week at Petit Palais in Paris, France on February 26th. Photo by Cleo Glover for W Magazine.

CLEO GLOVER
Backstage at the Jacquemus Fall 2018 show during Paris Fashion Week at Petit Palais in Paris, France on February 26th. Photo by Cleo Glover for W Magazine.

CLEO GLOVER
Backstage at the Jacquemus Fall 2018 show during Paris Fashion Week at Petit Palais in Paris, France on February 26th. Photo by Cleo Glover for W Magazine.

CLEO GLOVER
Backstage at the Jacquemus Fall 2018 show during Paris Fashion Week at Petit Palais in Paris, France on February 26th. Photo by Cleo Glover for W Magazine.

CLEO GLOVER
Backstage at the Jacquemus Fall 2018 show during Paris Fashion Week at Petit Palais in Paris, France on February 26th. Photo by Cleo Glover for W Magazine.

CLEO GLOVER
Backstage at the Jacquemus Fall 2018 show during Paris Fashion Week at Petit Palais in Paris, France on February 26th. Photo by Cleo Glover for W Magazine.

CLEO GLOVER
Backstage at the Jacquemus Fall 2018 show during Paris Fashion Week at Petit Palais in Paris, France on February 26th. Photo by Cleo Glover for W Magazine.

CLEO GLOVER
Backstage at the Jacquemus Fall 2018 show during Paris Fashion Week at Petit Palais in Paris, France on February 26th. Photo by Cleo Glover for W Magazine.

CLEO GLOVER
Backstage at the Dior Fall 2018 show during Paris Fashion Week at Musée Rodin in Paris, France on February 27th. Photo by Cleo Glover for W Magazine.

CLEO GLOVER
Backstage at the Dior Fall 2018 show during Paris Fashion Week at Musée Rodin in Paris, France on February 27th. Photo by Cleo Glover for W Magazine.

CLEO GLOVER
Backstage at the Dior Fall 2018 show during Paris Fashion Week at Musée Rodin in Paris, France on February 27th. Photo by Cleo Glover for W Magazine.

CLEO GLOVER
Backstage at the Dior Fall 2018 show during Paris Fashion Week at Musée Rodin in Paris, France on February 27th. Photo by Cleo Glover for W Magazine.

CLEO GLOVER
Backstage at the Dior Fall 2018 show during Paris Fashion Week at Musée Rodin in Paris, France on February 27th. Photo by Cleo Glover for W Magazine.

CLEO GLOVER
Backstage at the Dior Fall 2018 show during Paris Fashion Week at Musée Rodin in Paris, France on February 27th. Photo by Cleo Glover for W Magazine.

CLEO GLOVER
Backstage at the Dior Fall 2018 show during Paris Fashion Week at Musée Rodin in Paris, France on February 27th. Photo by Cleo Glover for W Magazine.

CLEO GLOVER
Backstage at the Dior Fall 2018 show during Paris Fashion Week at Musée Rodin in Paris, France on February 27th. Photo by Cleo Glover for W Magazine.

CLEO GLOVER
Backstage at the Dior Fall 2018 show during Paris Fashion Week at Musée Rodin in Paris, France on February 27th. Photo by Cleo Glover for W Magazine.

CLEO GLOVER
Backstage at the Dior Fall 2018 show during Paris Fashion Week at Musée Rodin in Paris, France on February 27th. Photo by Cleo Glover for W Magazine.

CLEO GLOVER
Backstage at the Dior Fall 2018 show during Paris Fashion Week at Musée Rodin in Paris, France on February 27th. Photo by Cleo Glover for W Magazine.

CLEO GLOVER
On the runway at the YSL Fall 2018 show during Paris Fashion Week at Place De Varsovie in Paris, France on February 27th. Photo by Cleo Glover for W Magazine.

CLEO GLOVER
On the runway at the YSL Fall 2018 show during Paris Fashion Week at Place De Varsovie in Paris, France on February 27th. Photo by Cleo Glover for W Magazine.

CLEO GLOVER
On the runway at the YSL Fall 2018 show during Paris Fashion Week at Place De Varsovie in Paris, France on February 27th. Photo by Cleo Glover for W Magazine.

CLEO GLOVER
On the runway at the YSL Fall 2018 show during Paris Fashion Week at Place De Varsovie in Paris, France on February 27th. Photo by Cleo Glover for W Magazine.

CLEO GLOVER
On the runway at the YSL Fall 2018 show during Paris Fashion Week at Place De Varsovie in Paris, France on February 27th. Photo by Cleo Glover for W Magazine.

CLEO GLOVER
On the runway at the YSL Fall 2018 show during Paris Fashion Week at Place De Varsovie in Paris, France on February 27th. Photo by Cleo Glover for W Magazine.

CLEO GLOVER
On the runway at the YSL Fall 2018 show during Paris Fashion Week at Place De Varsovie in Paris, France on February 27th. Photo by Cleo Glover for W Magazine.

CLEO GLOVER
On the runway at the YSL Fall 2018 show during Paris Fashion Week at Place De Varsovie in Paris, France on February 27th. Photo by Cleo Glover for W Magazine.

CLEO GLOVER
On the runway at the YSL Fall 2018 show during Paris Fashion Week at Place De Varsovie in Paris, France on February 27th. Photo by Cleo Glover for W Magazine.

CLEO GLOVER