Dakota Fanning Made a Movie About Her (Maybe) Leaving New York
For the latest installment of Miu Miu's Women's Tales series, Fanning directed a movie that says goodbye to all that.
---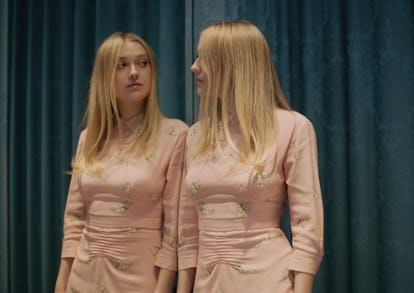 It was nearly eight years ago that actress Dakota Fanning, then just 16 years old, attended her first fashion show, Miu Miu's Spring 2011 collection during Paris Fashion Week. "I was so excited to be there. It was very surreal that I was getting to sit in the front row and I was in Paris," she recalled. "At the dinner afterwards, Rihanna was there. I wore a pink leather dress that they made for me and a pink cardigan that I still have. I got to meet Mrs. Prada and have had this relationship with Miu Miu ever since."
Now 23 and a fashion staple, Fanning is officially taking that relationship with Miu Miu to the next level, directing the latest installment of Women's Tales, the brand's ongoing short film series. Fanning's 10-minute feature is called "The Apartment," and officially premiered last night during London Fashion Week.
A few hours before the debut, Fanning was posted up in the brand's towering store on New Bond Street in eager anticipation of the evening's premiere. "I've known about Women's Tales for awhile and I've been to the Venice Film Festival when they've premiered the films there for two different years," she said." It was said that if I wanted to do one and when I wanted to do one, there would sort of be a spot for me… The timing was right and I was very excited to do it with Miu Miu and the people I felt I had a real friendship with. I'm somebody who thrives on personal connection."
Of course, it was Fanning's chance to fulfill her lingering desire to get behind the camera, which she's held since she was acting on sets at five years old. "I've always had such a great, important relationship with the directors that I've worked with, and so many of them have stayed in my life over the years and have become really good friends," she said. "That relationship is everything when you are working on a film because that person is someone you go to with all of your questions and that you rely on… I had been talking about doing it for so long, and eventually you have to do what you are constantly talking about."
The timing of her debut as a director, at a time when so much focus is on women's empowerment in the film industry, has not eluded her. "I think it is always important to tell women's stories and have women tell women's stories," she said. "Ultimately you hire the best person for the job, but I wanted to surround myself with females and they also happened to be the best person for the job. It was a great experience getting to assemble a cool group of women and also some really cool guys who support women."
The Women's Tales series of shorts, which has previously been directed by the likes of Ava DuVernay, Miranda July, and Zoe Cassavetes, allows filmmakers to create whatever they want with simply one rule: the wardrobe must be Miu Miu. For her directorial debut, Fanning worked with co-writer Liz Hannah to create an intimate view of one's life through the relationship with their apartment—something deeply personal to Fanning. "This idea stems from my own nostalgia and sentimentality. When I look through my home or my closet or my stuff, I see the memories that I have attached to certain things or rooms in my own apartment. That is such a big part of who I am and something that I wanted to explore in some way. I really wanted the film to be a love affair with the space. The spaces in our lives are kind of our constant relationships. Friendships come and go and relationships come and go, but ultimately they are the keepers of our memories."
To play the star of the film, Fanning asked her friend the actress Eve Hewson to step into the role. "It was literally communicated over text messages. I was like, 'You wanna do it?' And she said, 'Sure I'll be there.' I'm sure there were other conversations with other people, but she was super down. She really showed up for me."
While the film has an anonymous tone, in the sense that it could take at any time, in any city—a conscious effort on Fanning's part—the shoot took place in Brooklyn, New York. It was a personal choice, as Fanning has lived in New York herself for many years, and has recently been thinking about moving.
"I love New York," she said. "I wanted to be able to say that I lived there. But now I think I might want to be able to go on a hike on a Saturday or go to the beach. There's something appealing about that to me right now… I've been in my apartment for six years, which is a long time, and it's coming to an end soon-ish, so maybe this [film] was a way with dealing with that."
But yet, as she noted, "nothing is very permanent."
Related: How Elle Fanning, the Red Carpet's Most Delightful Young Star, Has Cultivated Her Own Fashion Fairytale