Stranger Things' Sadie Sink Made Her Runway Debut at Paris Fashion Week in a Sweatsuit
Mad Max opened and closed Undercover's fall 2018 show, unfortunately sans skateboard.
---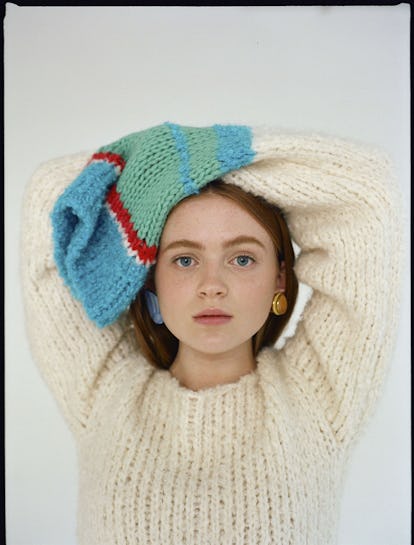 Photographed by Katie McCurdy, styled by Caroline Grosso
Never mind that she's just 15 years old and much closer to five feet tall than six: Sadie Sink was the standout model at Undercover's fall 2018 show at Paris Fashion Week, which she walked in three times, including opening the show and leading its finale. If Sink remotely cared about standing out from the cast, though, just like the mysterious, devil-may-care skater Mad Max that made her the breakout star of the second season of Stranger Things, she most definitely didn't show it. ("I don't really give a crap what you say about me, and Max doesn't either," she told W matter-of-factly last year.)
As evidenced by the word "youth" emblazoned across one of the jackets she wore, the collection seemed to be something of a homage to "back to school" time, featuring backpacks, sneakers, university-style logos, and much more inventive takes on your usual school uniforms. Sadly, she did not skate down the actual runway.
Fittingly enough, the flamed-haired actress also got to get cozy in a bright-red sweatsuit.
While Friday's show may have marked her runway debut, Sink has been becoming increasingly welcomed into the fashion world. Alongside well established names like Dakota Fanning and Chloë Sevigny, Sink became a Miu Miu girl late last year, joining them and Elle Fanning in a campaign where she proved herself an expert at wearing an on-trend high-fashion fanny pack. (She also recently appeared in a campaign for Nike.)
Stranger Things Star Sadie Sink Explains the Biggest Trends of the '80s:
It's easy to see why Jun Takahashi, Undercover's designer, would be drawn to someone as brazen as Sink: he grew up listening to punk, and has referenced names like Vivienne Westwood and Malcolm McLaren in his past collections. He's also a big fan of genre references in his collections. His last men's show was a homage to 2001: A Space Odyssey, while his spring show had references to the spooky twins from The Shining. According to the Japanese site Ring of Colour, Takahashi is most definitely a Stranger Things fan, and had been eagerly anticipating season 2. Like Raf Simons at Calvin Klein and Sink's costar Millie Bobby Brown, he now seems to have found his match—though other brands will no doubt soon be clamoring to have Sink serve as their muse, too.
Related: Unraveling the Mystery of Sadie Sink, Stranger Things' Infatuating Skater Girl Max In Season 2