Sadie Sink, Stranger Things Season 2's Breakout Star, Is Now a Miu Miu Girl
The Stranger Things skater girl makes her debut in the new Miu Miu holiday campaign and gears up for a starring role in a new horror film.
---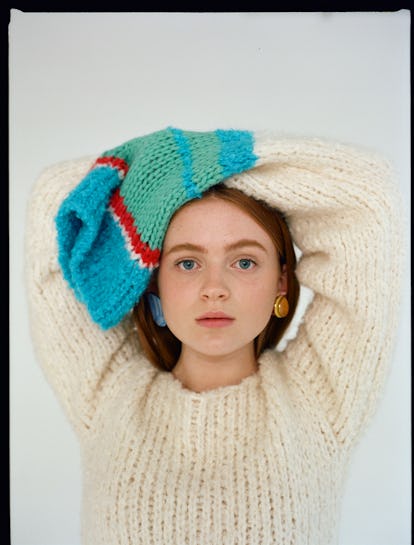 Photographed by Katie Mccurdy, styled by Caroline Grosso
By now, you should be more than familiar with Sadie Sink—whether that's from her standout performance as the effortlessly cool Max Mayfield in season two of Netflix's Stranger Things or her stint on Broadway as the redheaded orphan Annie. Now, the breakout star has been cast in the brand new Miu Miu "Whispers" ad, showing off her ASMR performance skills for the label's holiday campaign alongside Chloë Sevigny, Elle Fanning, Dakota Fanning and Julia Garner.
Sink—who was one of the best parts of of Stranger Things season two, adept at both skateboarding and beating the rest of the boys at arcade games—showcases a softer side in her new fashion campaign. She unzips her fanny pack, lights a candle, and gently whispers her way through Miu Miu's campaign about the "unique mix of familiarity and surprises" that come with the territory of going home for the holidays.
Not only is the actress appearing in fashion campaigns, but she has also been cast alongside Kelly Reilly and Charlie Shotwell to appear in Eli, a new Paramount Pictures horror film. The thriller focuses on a young boy with an autoimmune disease who is imprisoned in a home with an evil doctor, and Sink will play a curious new friend of the title character. There is no doubt that Sink's character will be just as mysterious as Max in Stranger Things. Eli does not mark the young actresses' first appearance on film, either—earlier this year Sink starred in the big screen adaptation of The Glass Castle, with Woody Harrelson, Naomi Watts and Brie Larson. According to The Hollywood Reporter, Eli will begin production in early 2018 for a 2019 release date. If the success of Sink's appearance in Stranger Things and the delightfully wistful holiday ad with Miu Miu are any indication, Sink is about to be everywhere in 2018.
Related: Unraveling the Mystery of Sadie Sink, Stranger Things' Infatuating Skater Girl Max In Season 2
Stranger Things Star Sadie Sink Explains the Biggest Trends of the '80s