Chloë Sevigny's Baton-Wielding Appearance in Pussy Riot's New Music Video Might Be Her Most Disturbing Role Yet
"Police State" stars Sevigny as a brutally violent authority figure, just in time for the anniversary of both Trump's election and the Russian Revolution.
---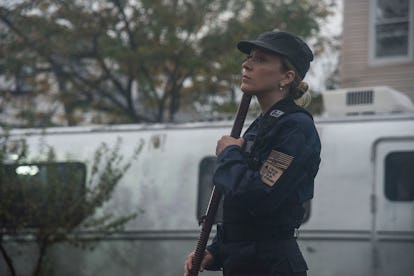 Sacha Lecca
Between their acts of protests ranging from anti-Vladimir Putin prayers that resulted in two members being sent to a penal colony in Russia to their recent takeover of Trump Tower in Midtown Manhattan, it can be easy to forget that in addition to being a famed Russian feminist activist group, Pussy Riot is also actually a band. In fact, it's quite a testament to the effectiveness of their activism that their discography could be forgotten in the first place, seeing as it's on the whole quite memorable: recent songs include "Straight Outta Vagina" and "Make America Great Again," the latter of which was released with a unfortunately prescient video that imagined Donald Trump's presidency and pictured policemen with Trump-like coifs brutally abusing Pussy Riot's cofounder, Nadya Tolokonnikova.
As election season has rolled around once again, however, Tolokonnikova and her gang have reminded us of their musical talents with another video that shines a light on police brutality—except that this time, it's a stony-faced Chloë Sevigny who's swinging the police baton. And while the actress has had plenty shocking roles over the years—see: the still controversial Brown Bunny and the still all too timely Boys Don't Cry, which won her an Oscar nomination—her role in the less than three-minute video for Pussy Riot's latest single, "Police State," just might take the cake.
Released on Wednesday—aka the anniversary of both Trump's election and the Russian Revolution—the video takes "Make America Great Again"'s dystopia further—that is to say, bleaker—beginning with a uniformed Sevigny raising her riot control baton while running at several members of Pussy Riot, recognizable by their signature multicolored balaclavas. She does fortunately spare Tolokonnikova after she unmasks her as the one in pink, though a harmless stuffed dog is not so lucky when it becomes just one of several toys that become the outlet for her outrage.
Sevigny is wearing an American flag on her uniform—one that's partially covered with an assault rifle, and seen atop a patch that reads "IF YOU CAN READ THIS, YOU ARE WITHIN RANGE"—but it's not just Trump, or even Putin, whom Pussy Riot are targeting with the song and video, the latter of which also shows children strapped down to watch footage of both violently controlled riots and the two world leaders shaking hands. "Pro-authoritarian trends and autocratic, conservative, right-wing leaders are spreading around the world like a sexually transmitted disease," Tolokonnikova said in a statement, in which she added that Pussy Riot's greatest enemy is simply "apathy."
"Actions are more important that opinions and comments," Tolokonnikova continued. "Putin will not disappear tomorrow, but we can show our fellow Russians how corrupted, damaging and ineffective his rule is. If everybody who denounced Trump on social media showed up on the streets and refuse to leave until he's gone, he'd be out of office in a week. What it takes is just to abandon our learned helplessness."
That goes for everything from raising your fist like the purple balaclava-clad youth in the video who does so even after witnessing Sevigny's brutality—and for simply staying put in the country and protesting, as Sevigny's now clearly doing after she'd previously joined the scores of celebrities who said that if Trump won, she'd be moving to Canada.
Related: Here's One Simple Protest on the Anniversary of Trump's Election: Let Out a Primal Scream Like Yoko Ono
Meet the Women Who Made History as the Organizers of the Women's March on Washington: