Chloë Sevigny is at Peace With That Brown Bunny Controversy
Some thought Brown Bunny would ruin Chloë Sevigny's career, but the actress persisted and is totally over the controversy.
---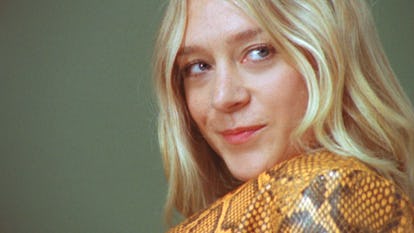 The year was 2003 and people thought Chloë Sevigny's acting career was over almost as soon as it had begun. The former downtown it girl and Sassy magazine intern rose to wider fame thanks to 1996's Kids, picked up an Oscar nomination in 2000 for Boys Don't Cry, gained status as a queen of indie cinema, and then took a part in 2003's Brown Bunny.
The film required her to perform "unsimulated" fellatio on director, costar, and former boyfriend Vincent Gallo and the world absolutely lost it.
Before the film's premiere at the Cannes Film Festival, there were false reports that her then-representatives at William Morris Agency dropped her. (The agency still represents her.) It was a different time. Paris Hilton's sex tape wasn't even out then, and it really seemed like Sevigny's career would be forever tarnished by one scene.
Of course, the actress was kind of 'whatever' about it then, and is even more so now. Especially because, well, as it turns out her career wasn't ruined by the incident. In fact, she recently explained that part of her reason she decided to do it was to push back against her growing fame at the time, and, ironically, it might have helped her in the long run.
"I think it was a way of kind of reclaiming myself, which sounds odd, but after the celebrity and stuff, being like: 'No, that's not who I am, I'm this other thing, and this is what I stand for.' Or wanting to push the envelope," she told IndieWire co-founder Eugene Hernandez in conversation at the Provincetown Film Festival this week where she's promoting her directorial debut, Kitty.
As it turned out director John Waters whose 1972 film Pink Flamingo also featured unsimulated fellatio happened to be in the audience, and Sevigny gave him a shout out. "Like John, who's here," she said.
"I loved the 'The Brown Bunny'! The insects on the windshield…" Waters shouted back.
Sevigny explained that she didn't think the part really affected her career, but it may have affected some of her personal relationships.
"I got my first studio film after that. I'd never been offered a studio film. It was Zodiac. I don't think it really hurt me, necessarily. I mean, it hurt me, in a lot of ways…Some relationships have had trouble with it. Of course, my mom and I don't talk about it."
Of course.
Not only did Sevingy's career not totally die, it hardly even slowed down. Her indie film career continued to flourish, she popped up on mainstream network television in 2004 with a memorable guest part on Will & Grace, and just three years after the controversy she landed the role on Big Love that would win her a Golden Globe.
Indeed, Sevigny seems more hurt by a series of other infamous videos: comedian Drew Droege's long running YouTube spoofs of the actresses' perceived persona.
"Ugh, I have a really complicated relationship with those," she said. "I don't want to say I'm offended, 'cause that's such a strong word. But I don't enjoy them. I think because he's a comedian. If he was more of a drag performer, I would feel like less–they hurt my feelings. Maybe I should be tougher, I don't know. But they do."
Do you hear that drag performers of the world? Someone start working on a proper Sevigny drag homage. The woman deserves it after all the world put her through for that Brown Bunny scene.
Related: Chloë Sevigny on the Films and Filmmakers That Defined Her Style
Chloë Sevigny and Kate Beckinsale on Whit Stillman's "Love & Friendship":