Don't Look Like Vladimir Putin: When Powerful Men's Obsession with Injectables and Fillers Goes Wrong
Powerful men are increasingly seeking out cosmetic procedures like military-grade Botox and fillers, but not everyone has to get Vlad's "windswept look." Here's how.
---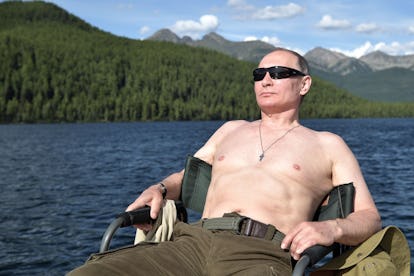 Alexey Nikolsky/Getty Images
Vladimir Putin is an unlikely trendsetter. While the elevator heels scream wannabe Tom Cruise circa 1990 and his ties look like they're from the Donald Trump Collection, let's give the man his propskis. Since at least 2010, when he attended trade negotiations in Kiev with what appeared to be bruises on his cheekbones and under-eye area, it seems the Russian president has been an early booster of men's injectables.
As a result, his permanently puffy face—the anaphylaxis of evil?—has attracted as much scrutiny as Margaret Thatcher's handbags once did. Judging from Putin's media ubiquity this year (the attention-grabbing appearance at the G20, the Showtime interviews by Oliver Stone, his recurring role in the soap opera that is the Trump presidency, not to mention his early August fishing trip in Siberia), the intrigue is unlikely to abate anytime soon. Nor will the digs about the changing face of Russian politics, at least not as long as Putin's cheekbones resemble rising blinis.
But what's a famously competitive dictator to do? His totalitarian forebears set a high bar for self-preservation. Mobutu Sese Seko, the shape-shifting late former president of the Congo (which he renamed Zaire), had his last facelift at 94. And Col. Muammar el-Qaddafi of Lybia was notoriously enamored of late night plastic surgery, which he endured without anesthetic for fear of being assassinated while he was under. In the immortal words of Silvio Berlusconi, the authoritarian-adjacent Italian pol whose obsession with plastic surgery allegedly extended below the belt, "[Plastic surgery] shows respect to those who expect you to represent them on an international and national stage."
Duty aside, now that Putin is divorced and toying with the idea of staying in his job for life, the 64-year-old is simply keeping up with on-trend potentates of all stripes.
"More and more men in positions of power are coming in for procedures," said Patricia Wexler, New York pre-eminent plastic surgeon to the stars, who estimates that over 30 percent of her cashed-up clientele is now men. "They are working later in life and are afraid of being aged out."
For the record: Dr. Wexler, who has not treated Putin, suspects that, in addition to the liberal amounts of military-grade Botox and fillers in his face, his "windswept look" might be the result of an eye lift and a fat draft to remove bags from under his formerly sunken eyes.
Wexler is not alone in noticing the embrace of injectables among masters of the universe and their aspirants. Said Diane Walder, a Miami-based surgeon who tends to the frown lines, sagging necks and spare tires of chief executives, NFL players and Latin American politicians, among others: "It's definitely not just gays and celebrities any more. With the emergence of a new breed of tech CEOs about 15 years ago, the fear among men is that if they haven't made it by 28 they're obsolete. In that competitive climate, no one wants to look tired or stressed."
The gateway procedure for most men remains Botox, a muscle-relaxing neurotoxin that was originally developed to treat eye problems but is now injected directly into muscle to help with worrisome expression lines like "puppet mouth" and "the 11's" that form between the eyebrows.
"They see that a little goes a long way," explained Jennifer Leebow, director of national education for Botox Labb, a national company with locations in Miami Beach and Los Angeles. "Once they have Botox and realize how confident it makes them feel, and they find out that if I inject a little bit of hyaluronic acid under their eyes it will get rid of those bags that have been bugging them, it's not a big leap to get them to try something new."
Among the newfangled, non-ablative treatments that are currently in favor with men seeking a competitive edge are injectable gel fillers such as Juvéderm, Restylane and Bellafill, which are used on wrinkles and folds, as well as to plump cheeks and lips, and to build up sagging jawlines. Ultherapy, a tightening procedure, also known as "the lunchtime lift" uses ultrasound to work on the neck, under the chin and or eyebrow areas over the course of two to three months. And, fractional lasers such as Icon and Fraxel DUAL are precise resurfacing technologies that treat specific areas of the skin while sparing others, and are especially effective on age spots, acne scares and fine wrinkles.
"The biggest concern for all men, regardless of age or skin condition, is downtime," Walder said. "They can't cover up any bruising or redness with makeup, and most men don't have the time to recover away from the office so they will opt for Ultherapy, INFINI"—a controlled-wound-healing procedure that works on fine lines and sagging skin by delivering radio frequency energy to the skin through gold-plated needles— "and similar easy-peasy treatments with little to no recovery time."
For those men who aren't prisoners of time, and want to raise their profile (literally), Kybella is quickly gaining cult-like veneration among men with moderate to severe double chins—including, perhaps, Putin, whose submental area looks suspiciously tauter than it did before. (For the uninitiated, Kybella is a relatively pain-free procedure which involves fat-burning deoxycholic acid being injected below the chin.) Unless you're Mitch McConnell, most men only need two or three treatments, but acute swelling is a common side effect and there is the very real chance that for up to two weeks you might be walking around looking like, well, Mitch McConnell.
The key to men getting discreet work done is to crib from what women with a high beauty IQ have known for years. "Whatever you do, don't get anything done just before a big event in your life," Walder cautioned. "That's the mistake John Kerry made when he got Botox and filler right before he hit the campaign trail when he ran for president. The point is for people to tell you that you never change, not for them to look at you and say, 'What did you do?'"
Her Manhattan counterpart concurs. "You don't see the good work," Wexler noted, "you only see the bad work. You can't or should not look like you did 20 or even 10 years ago. Women know that it's about maintenance and not about going from sunken to full—from 0-60, or 60-to zero, as the case may be. Otherwise you can look like Putin."
Vlad, you've been warned.
10 Celebrities Who've Quit Botox and Fillers Throughout the Years
Watch: Jane Fonda, a Proud Example of 'Good Work,' Loved Turning 75—Thanks to Her Ex Husbands
Jane Fonda Loved Turning 75—Thanks to Her Ex Husbands