Melania Trump Spent All Day Trapped Inside by Protesters, But Still Made It Out in Time for Dinner with Vladimir Putin
Protesters and the Hamburg police forced the first lady to spend the day cooped up inside in Hamburg, meaning she missed out on a valuable lesson in climate change.
---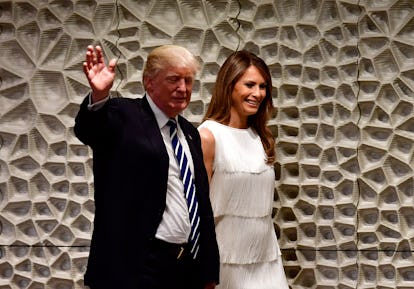 Tobias Schwarz/Getty Images
While her husband, Donald Trump, was busy hanging with Vladmir Putin and pressing him on whether Russia played any role in the outcome of the 2016 U.S. election, Melania Trump passed a much less eventful morning today in Hamburg, where she and her husband are in town for the G20 summit. Not that she'd intended to sit out on the action: Melania had in fact been planning to tour a German climate research center at the behest of Angela Merkel's husband amongst other activities with the spouses of world leaders, but couldn't make it thanks to the mass of 10,000 protestors who've gathered in the city for the conference, some of whom have been throwing rocks and molotov cocktails at police, who've since armed themselves with pepper spray and water cannons.
While the protests raged throughout the city, Melania seemed to be caught up in some of the worst of it, perhaps because of her less than ideal lodging situation. The trouble began before she and her husband were even in town: Trump's team reportedly waited too long to book rooms for the president and his staff, and, given that there are no Trump hotels in Hamburg, Trump was turned away from the Four Seasons, Park Hyatt, and every other luxury hotel in town, all of which were allegedly full.
The pair eventually found a place to stay—the Hamburg Senate House is hosting the Trumps in a state-owned guesthouse—but that doesn't seem to mean that Melania will be getting to see the city. "Hamburg police couldn't provide clearance for us to leave," her spokesperson, Stephanie Grisham, told press, giving renewed relevance to the inauguration-era refrain, "Free Melania."
That morning's activities, which would have also included a river cruise, no doubt would have proved a welcome break from the calamity for Melania, along with the rest of the leaders's spouses, but no one more than the first lady could have benefited from a tour of the climate science facility tour, given that her husband recently made the landmark decision to withdraw the United States from the Paris Climate Accord. Instead of educating herself on the earth's impending doom, though, Melania spent the morning tweeting about the protests (and keeping with the family tradition of making Twitter typos).
Still, don't feel too bad for the first lady: After the water cannons arrived, Melania was eventually able to make it outside and in fact spent a perfectly wonderful evening, first catching a concert of Beethoven's Ninth symphony at the Elbphilharmonie concert hall, and then feasting at a banquet, where she managed to snag a seat next to none other than Putin.
Related: Melania Trump Might Actually Wield More Power in the White House Than Anyone Thought
See W's most popular videos: