Leonardo DiCaprio, Katy Perry, and More Celebrities React to Trump's Withdrawal from Paris Climate Agreement
Everyone from world leaders to Leonardo DiCaprio and Bette Midler swiftly took to Twitter to denounce Trump's potentially catastrophic decision.
---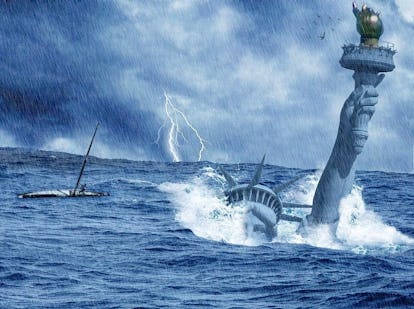 Courtesy of @KlausBiesenbach
On Thursday afternoon, President Donald Trump made the long expected (and long hyped) announcement that he would be defying the wishes of leaders around the world and withdrawing the United States from the Paris Climate Agreement, a landmark accord nearly 200 countries have used to hold themselves accountable to confronting climate change since 2015. And while it'll take another four years to go through the withdrawal process, meaning the decision could potentially be reversed with the results of the next U.S. election, the results are still potentially catastrophic, further slowing the already dire attempts to prevent average global temperatures from rising.
Former President Barack Obama, who originally signed the agreement, quickly decried Trump's decision, and he's hardly been alone in speaking out on Trump's latest moves, which have been particularly mind-blowing as of late. The decision was also enough to make Elon Musk appear to give up hope on the president by deciding to leave the presidential advisory council, at the same time sending a fittingly doomsday message to his 9 million followers.
It was also enough to draw even the ever reclusive (and also post-breakup) Leonardo DiCaprio out of the woodwork—an actor whose climate change activism is perhaps second only to the increasingly political Mark Ruffalo, who got ahead with speaking out on the accord the day before by warning that Trump's decision to withdrawal would mean "the death of the whole nation on his hands." (If those sound like strong words, remember that Ruffalo has hardly been shy of speaking up lately: "This is fascism. This is authoritarianism. This is a corporate takeover of our democracy," he said at the Turtle Ball in April.)
DiCaprio also recommended supporting grounds like Stand Up America and Natural Resources Defense Council, while others, like Broad City's Ilana Glazer, simply tweeted at five of the Trumps—Donald, Melania, Ivanka, Donald Jr., and Eric—directly to express their discontent. (Even in times of strife, it seems, Tiffany is left out.) Cher, for her part, characteristically turned to emojis, including one of a bee, a species whose numbers are set to further dwindle with rising temperatures, while Chelsea Hander joked about the irony of Trump making his doomsday announcement about the Paris Climate Agreement while surrounded by greenery. See their reactions in full, plus those of Bill Nye, Bette Midler, Katy Perry, and John Legend, here.
Related: 8 Luxury Hot Spots to Visit Before They're Ruined by Climate Change
See W's most popular videos: