Everything You've Ever Wanted to Ask a Top New York Dermatologist
Fasten your seatbelt, you're about to get an audience with the Queen of Fillers, the indomitable Pat Wexler. When is too young for botox? What to do about those pesky pores? How do you get the face you had? Pat knows all.
---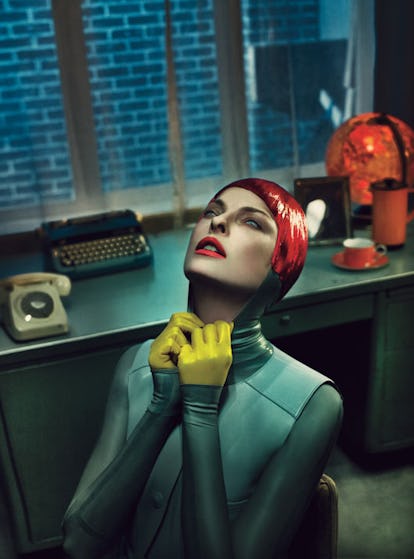 Cosmetic dermatologist Patricia Wexler is a New York institution. W first covered her in 1993, and we've been following her ever since—not only for being at the forefront of every new professional injectable, laser and formula, but as a known fashion plate. She is so synonymous with the cream of the crop of New York dermatology that she has her own line of creams! And serums and ointments and all manner of unctions. Once upon a time, she even inspired a Sex and the City episode. No less a duo than the Olsen twins named a skirt after her for The Row, the Patricia! So, is it fair to call Patricia Wexler—Pat to her friends—the queen of fillers? I think so, and then some. Opinionated, smart, no holds barred, sit back and enjoy the live Wexler experience. Here's one to get you started: Asked if she thinks most people's perceptions of themselves are warped, Wexler goes, "I think most people forget what they used to look like. That's part of the problem."
You've always been a front-row fixture at fashion shows. How are you feeling about what's going on in fashion these days? Designer clothing is very disappointing now. I don't think people understand that a brand is about the designer. And unless the designer has a history of the brand, there is no brand.
Because the DNA isn't there. Because the DNA isn't there. I don't get it.
When you were still really psyched about your favorite designers, who were they? The Row, which I still love. Love. There's almost nobody that I love anymore, but I do still love The Row. In fact, years back, they named a skirt after me. The Patricia, because I was one of their early devotees. Long ago, I loved Balenciaga, but I haven't gone back to look. I think Prada has made a comeback. I think there are pieces [I'm interested in] every season now. But for a while, I didn't even look. I didn't want tribal. I didn't want it from Prada, I didn't want it from Donna. I want something I can wear all the time. Why would I buy something that I wasn't going to cherish?
Do you have a uniform or mandates for what you will wear? I have to be comfortable. I'm wearing it ten hours a day, and I need to be able to wear it with a different shoe. Most of the time, I want to be able to carry it to the evening. I like to dress for work. Occasionally, I'll wear jeans, but not that often. I've loved to dress up since I was five. There's a photograph of me in my camp uniform. Of 750 people, everyone was wearing white sneakers with their green shorts and green and white t-shirts, except me. I wore red velvet slippers. I was in the front row because I was always the smallest one. It looked like a Mary Ellen Marks photograph. I have the picture at home.
So fashion's always mattered to you. I've always been a little bit bold.
To whom do you attribute this? My mother. When Barney's had one floor on 17th Street, that's where she took me to shop. We lived in the Village, and I wore Miyake and Comme des Garçons and Geni. My mother wore Halston and [Pauline] Trigère. She didn't have to work at it; it was always effortless. People would stop us on the street and ask where she had her haircut. When every woman was wearing a beehive, she wore hers short. Just mascara and brows and lipstick. Her skin was flawless. Later, when most women looked like Joan Collins, she was Hepburn. She looked like a Ralph Lauren ad.
Was medicine in your family? No! I was pre-med at the age of five. I told my mother I was going to be a doctor. And she never told me to be a nurse [vs. a doctor]. She didn't discourage me. She'd give me her old pillowcases to create an operating room theatre and I'd operate on Barbie. I'd cut her up. But I also studied music with three instruments, and I loved to paint. Turns out the part of the brain that controls science controls music.
It all makes sense, then. So, were you ever tempted to pursue the arts instead? Being a doctor was my goal and I never deviated from it. When I applied to high school, I applied to music and art and Bronx Science. I chose science, then I did undergrad at New York University, which was where I met my husband, Gene. We didn't get into the same medical school, so we went to medical school in Belgium, where we didn't know the language.
And it was during the Vietnam War, correct? Yes. Everyone was going to medical school for deferments [from the draft], which was why we didn't get into the same med school. I applied after three years of college—I had enough credits—so we could go at the same time. I did things eccentrically. It was a very bold move. NYU tried to talk me out of it. "What if you get divorced and end up without a diploma?" I said, "I don't plan on getting divorced." We went the day we got married. We signed up for Berlitz courses the same day that we signed up for medical school classes.
Have you ever talked about this? You should write a book! No. It's almost cliché. It's just sort of corny. It's a little too sweet, you know? Because of the Vietnam War, Europeans hated Americans. Every day, they said they were going to kick the Americans out, so we never knew. We started with 1,250 Americans and 250 made it to the second year. In Europe, they don't have a limit on how many they'll accept, but they do have a very difficult criteria. At the end, only 25 Americans graduated. There was attrition every single year.
When did you know you'd choose dermatology? That was interesting. I went into internal medicine, then I went into infectious diseases. I was in the first group to study HIV. It was 1980. It wasn't called AIDS back then. It was called gay-related immune deficiency. I was involved with the first paper involving HIV and blood transfusion. I used to go in on biopsies of the brain because they didn't know which infections were infecting what. At that time I had a 3-year-old and a newborn, and my parents were both at the end of their illnesses. My patients were dying, my parents were dying and I had two small children at home. I hated getting up in the morning because everything around me was just falling apart.I loved dermatology and there's a lot of dermatology in infectious diseases because you can diagnose from the skin. The head of dermatology asked me if I was interested in dermatology, and I said yes. So I did a third residency for another three years.
Is that uncommon? It's not rare, but it's not common to do three. When I did dermatology, I became fascinated with cosmetic dermatology. No one was doing it. Just Dr. Norman Orentriech [who created Clinique with Carol Philips of Estée Lauder], who was doing silicone and dermabrasion. But there were no fillers, other than silicone. And silicone was controversial, to say the least.
How did your path lead you to it? I had gone to many lectures about filling and about contouring.
Contouring. It had a very different meaning back then. Contouring meant physically contouring via procedures. There was a procedure called liposuction in France. Two gynecologists were doing it with their abortion machines. I was watching all of this evolving, and because I had been an art minor at NYU and I loved faces and contouring and art, I was fascinated by it. So I traveled to different doctors, in California mostly, and watched them do liposuction with different techniques. Richard Glogau, a Los Angeles doctor, let me do all his cases for three days.
With the abortion machine? No! Actually, I did them all by hand, with syringes and cannulas. By learning to do it by hand, it was slow and methodical, using the suction from the syringe to pull it out, then I used another sterile syringe to transfer the fat to the face. Because, remember, there weren't any Restylanes then.
Is that technique still practiced? It is. And my technique was written up in dermatology journals. I wasn't the first [to do this]. It was done 100 years ago, but not a sterile-closed technique like this where the fat was never exposed to air, straight from the body to the face. There [are] articles written in German about fat grafts. They would take a piece of skin, then take the fat off the skin and emulsify it. There were many techniques of fat grafting, but not how we're doing it now. So it wasn't truly foreign…
Were you working for another dermatologist's practice at the time? No. Ten days after finishing my residency, and seven months pregnant, I rented office space from a breast surgeon in the West Village, on twelfth between 5th and 6th. Basement office, one window. I had one secretary. If I needed an assistant in a service, my secretary did it. They were also injecting fat it in the naso-labial folds, but I didn't think that went with the anatomy of the face – we don't lose anything there. I wrote articles on it.
How were your findings received? When I lectured, I was ridiculed. 'This is anecdotal!' 'What science do you have behind it?' Blah blah blah. And now of course, everybody claims to have invented it. But I didn't care. When they would question my work, I'd say, 'I can give you hundreds of happy patients. You're an academic doctor with a full-time hospital staff. I'm working alone. Why don't you write the papers?' My patients were happy. I could show [my peers] picture after picture of my patients' fat three years after. I didn't need to show biopsies of their faces to say what I see clinically. And how many private patients are going to let you biopsy their face to prove a point? Not mine! They barely want me to give them a bruise!
What fillers are your favorites? I use all the hyaluronic acids, but my favorites are Restylane and Voluma, and I love Sculptra.
You were the first one to tell me about Sculptra way back when. I always inject on the level of the bone, because all of the fat we like in a woman's face is in the pockets, whereas most doctors are injecting in the dermis and giving patients round faces. You, for instance, have a sculpted face. You don't want a round face and you certainly don't want to give muscle faces. A lot of women end up with Jay Leno chins. I had a patient who complained about getting jowly, so her doctor gave her a square chin to camouflage it. She showed me a picture of herself when she was 20 and she had a heart shaped face. Why would you give a square jaw to someone who had a heart shaped face? I always ask to see my patient's driver's license, or wedding picture. I give them back the face they had. That's what's fun about what I do. It's about the patient who looks in the mirror after and says, 'That's what I missed.'
Do you think most people's perceptions of themselves are warped? I think most people forget what they used to look like. That's part of the problem.
Or they see filler as a panacea? Sometimes people are just in a funk and they want to do something. It's not going to fix grieving or getting a divorce, although it is a nice 'Screw you!' to your husband in court. But it can help you fight better when you're feeling beaten up. It's not superficial.
Are patients coming in younger and younger? They're coming in younger, but that doesn't mean that they're being treated. They also need to understand that if they're coming in to get Botox before they have wrinkles, they're going to end up with thinner skin, which will start hanging if they live a long life.
What is the appropriate age to start Botox? When you see wrinkles at rest. It's not a number.
Let's talk about your product development CV. You did a lot with Donna Karan? I did Donna Karan's skin care, and Cashmere Mist.
Wait. You created the fragrance? Oh yeah. It was the first one I did. And it's still in the top five. It's the only fragrance I've ever worn.
Cashmere Mist deodorant has a huge cult following still. I made that, too. Calvin Klein hired me right after to do his skin care and makeup lines. They lasted a few years, but then Lever discontinued it. I also developed Almay's Kinetin line, then my own line, Patricia Wexler M.D. The line doesn't have a huge distribution anymore, but it's the only skin care I use. I use my Acne Overnight Repair every single day.
Do you still get acne? No, but it makes my large pores invisible. That's my primer, then I use my 3-in-1 day cream, then Elta MD SPF and foundation. I was using Armani Designer Lift, but they stopped making it. I'm on my last bottle.
So, I guess you just answered our next question, which is what discontinued product do you mourn? Armani, but I have another one. Shiseido used to make this sheer lipstick, shade #RS628. [Holds up one worn tube, with a tiny leftover nub] This is what I'm down to.
I'll talk to Shiseido. Would you? I mourn this. I once asked Chanel and they made some for me. But I wish Shiseido came back with these sheers. They were so amazing. And they're better than gloss. Gloss is so sticky.
So sticky! If I hear one more PR or marketing person show me their gloss and say, "See? It's not sticky!" I'm like, "You're lying! How can you say this isn't sticky with a straight face?!" The trick is to apply the gloss under the lipstick. To make a lipstick more sheer, I'll put a gloss on underneath. Then it's not sticky and it makes the lipstick less heavy.
Whose gloss will you use? Chantecaille.
Do you have a favorite lip balm? Usually Shiseido or Kiehl's.
Favorite mascara? Right now I'm using the classic Armani, sometimes Charlotte Tilbury's. I only have one eyeshadow: Stila Kitten. I have 50 of them. I stocked up years ago. And when I go black tie, I wear it. And I wear YSL Baby Doll liquid liner in Rose Baby Doll. It's sort of a merlot brown. It's very hard to get the brow color I want because I have red hair but I don't want my brows to be that red. I used to love Kevyn Aucoin's, but they don't make it anymore. Now I use Vincent Longo's in Blonde.
Who cuts your hair? Rebekah Forecast [at Serge Normant for John Frieda] cuts and colors my hair. I'm hair insecure; I'm at the hairdresser all the time, getting cuts, blowouts, keratin treatments.
If we pulled back shower curtain, what would we find? Kerastase Bain Chromo Riche shampoo, Terax conditioner and Dove unscented bar soap. I also like Kiehl's Cucumber shower gel. There's a pumice for my feet. I pumice my heels and my soles every day, and a brush so I can brush my conditioner through my hair.
If we opened your medicine cabinet, what would we find? Flonase nasal spray.
Sexy! Systane Balance eye drops, Afrin Sinus spray for when I need it, and my nail polish. Essie. The shade is Macks.
Do you always wear red on your nails? No. I always wore clear until two months ago. For the first time in 40 years, I've started wearing color. I just needed a change. I use Dove dry deodorant. That's great. Then I have hair products I use after it's washed. Sally Hershberger has something called Shape Up that just makes your hair sort of more firm. I sometimes use Shu Uemura Fibrolift or Phytodéfrisant and PhytoSept, depending on how I'm styling my hair.
What's your first beauty memory? My mother always thought expensive was better. I'm the opposite. I've never bought La Prairie or anything like that. So when I was 13 or 14, she took me to the Erno Laszlo counter at Bloomingdale's to get my makeup done. Half of the foundation was oil. You could see it floating in the bottle. She wanted me to get the best makeup, but this was makeup for older women, not a 13-year-old. I broke out with about eight cysts. I had to go to NYU Skin and Cancer Center.
What did they give you? Liquid retinol, which burned off my skin. She meant well…
What was your worst beauty blunder? I was a picker. I couldn't look at any flaw until I eviscerated it.
But I see no scars. I have one right in the middle of my forehead. I'm very self-conscious about it. That's why I wear bangs. It looks like a Bindi. I did it in medical school when I was having a very stressful moment.
Is there a beauty trend you don't get? Tattooing eyeliner and eyebrows. I understand people not being great at makeup application, but permanent is permanent, and half the time it looks purple. I hate anything permanent that can deform you. And I hate multiple piercings, especially in the nose, because the cartilage doesn't heal.
What is your biggest beauty peeve? When people try the newest trendy procedures without thinking about the potential problems they could be stuck with. Like non-surgical fat removal. I'm seeing a lot of hills and valleys coming in to my office.
Really? You know the old expression, if it sounds too good to be true, it is? I'm sure there are some good results from it, but think before you leap. When a new procedure comes out, let it live for a while, and check out the doctor you're going to instead of price shopping. Ask if the befores and afters they're showing you are from the company of the doctor herself? And ask how long she's been doing it. Too many people are being fooled, and then they're stuck. Just do your homework.
Watch W's most popular videos here:
Not Just Another Pretty Face: Breaking Down Fall 2016's Extreme Beauty Looks
A good Burgundy + Mary Todd Lincoln + Jim Carrey in Dumb and Dumber = Rodarte's formidable flower child
Burgundy, Todd Lincoln, Rodarte: Getty Images; Dumb and Dumber: Courtesy of New Line Cinema.
A Margaret Keane painting + Cassius Clay, 1964 + Shaving cream = Fenty x Puma's whitewashed waif
Keane's Thank You, 2006: Courtesy of Keane Eyes Gallery, San Francisco; Clay, shaving cream, Fenty x Puma: Getty Images.
A Gene Simmons Kiss Pez dispenser + Bebe Daniels in The Maltese Falcon + Tammy Faye Bakker = Marc Jacobs's damsel of darkness
Pez dispenser: Courtesy of pez.com; Daniels, Bakker, Marc Jacobs: Getty Images.
A matryoshka doll + Edie Beale + Alfalfa from The Little Rascals = Mary Katrantzou's driving dame
Russian Doll, Alfalfa, Katrantzou: Getty Images; Beale/Grey Gardens: Courtesy of Everett Collection.
Donald Trump's comb-over + A paintball splotch + A crown of thorns = A.F. Vandevorst's zonked zombie
Trump, paintball, crown of thorns: Getty Images; A.F. Vandevorst: Indigital.