The Trouble with Pussy Riot's Protest Inside Trump Tower
The members of the Russian collective called attention to political prisoners with a daring demonstration—but they also diminished the seriousness of sexism.
---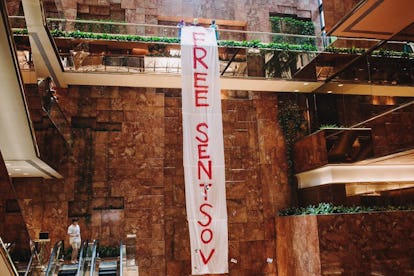 Courtesy of @pussyrrriot
Just a few months ago, in August, two members of the Russian collective Pussy Riot, Olga Borisova and Maria Alyokhina, were detained for protesting against the imprisonment of the Ukrainian filmmaker Oleg Sentsov, whom many, including Johnny Depp, believe the Russian government unrightfully sentenced to 20 years on charges of terrorism. After unfurling a banner that read "Free Sentsov" over a bridge—and drawing attention to it with red and blue smoke—they were, unsurprisingly, also arrested, though let go much, much quicker than Sentsov.
And, perhaps because imprisonment is old hat to the collective—Alyokhina and two more from Pussy Riot were famously sentenced to two years in jail in 2012 for "hooliganism," turning the group into a cause célèbre—three more members decided to pull the same move this Monday, though turning away from Siberia and towards New York's Trump Tower. This version of the protest was sans smoke, but just as showy with the backdrop of the tower's gilded interiors, especially when the activists, who were decked out in their signature wooly balaclavas, unfurled another giant banner reading "Free Sentsov."
They succeeded in shutting down the tower for 30 minutes, and this time around, they didn't even get arrested, given that parts of Trump Tower are technically open open to the public—even the public that's looking "to call attention to political prisoners," as Pussy Riot later explained of their actions on their Facebook page. "We're calling on you today to raise attention to two guys from Ukraine: film director Oleg Sentsov and anarchist Olexandr Kolchenko, who are in Russian prison right now. Sentsov got 20 years in prison, Kolchenko got 10 years."
The group added that after their last protest, Sentsov, who had already been tortured, had apparently been transported to a penal colony with "some of the cruelest conditions in Russia," which is why they decided to work with activists in New York. "Defending political prisoners is an issue that transcends borders," the post continued. "We are acting in solidarity against leaders like Putin, who has exercised authoritarian force and Trump, who is displaying authoritarian tendencies—because we all need to be fighting together on behalf of dissidents everywhere."
It's an important, inspiring message, but also one that contradicts an earlier, equally important part of their statement, especially as stories of sexual assault are currently dominating the news cycle in America: "We believe that political prisoners and their protection are more important than the sexist bulls— that people have been focused on," Pussy Riot wrote in a statement. These words seem to diverge from their feminist roots; the group originally banded together to protest limitations on abortions.
But aren't those who speak out against Trump and his administration's sexist behavior also dissidents? They are, after all, accusing the President of the United States, a figure with ties to another figure Pussy Riot is all too familiar with, Vladimir Putin, for discrimination, harassment, and abuse.
Pussy Riot didn't get specific about the "sexist bulls—" they were referring to—it could have been those who've added to the list of over a dozen women that have accused Trump of sexual misconduct, or the million-plus women in 85 countries that have come forward this month about their experiences with sexual assault and harassment in the wake of the Harvey Weinstein scandal. Or it could have been the still serious but comparatively minor offenses that women wearing sleeveless shirts have been barred from parts of the U.S. capitol, and Trump has continued to make unsolicited comments on women's appearances while in office, including about that of France's first lady, Brigitte Macron.
Each offense, however, is nonetheless relevant to Pussy Riot's cause, because each is also evidence of how the world is run by men allowed to do what they please, to the point that they can boldly conduct their offensive and illegal behavior in public—which is also often where those who criticize them, including members of Pussy Riot, are then belittled.
In fact, calling out "sexist bulls—" actually goes right along with Pussy Riot's ultimate call to action: "We, Pussy Riot, invite you to join our fabulous and bold path: ask questions of your politicians who shake hands with Putin in international forums, support advocacy, go out into the streets. And put on your own political, public actions too."
* Update 10/27/17: Elly Brinkley, the woman in the red balaclava who took part in the protest, which she called "one of [her] proudest moments as a feminist," has posted a lengthy statement on Facebook explaining that the "sexist buls—" portion of Pussy Riot's statement was, she wrote, "a poor choice of words. We did not intend to suggest that drawing attention to the plight of political prisoners around the world should come at the expense of the attention that has been drawn to sexism and violence against women and queer people, much of which has been advanced by Trump's sensationalist messaging. The point was instead to suggest that human rights abuses and the plight of political prisoners—and the threat of political imprisonment here in the United States—can often be drowned out, and that someone in Trump's position should be using his political platform to advocate for people's rights and talk about real issues instead of denigrating women and other historically marginalized groups. Our words were not meant to criticize or downplay the importance the #MeToo campaign or any of the conversations that stemmed from the despicable stories that have been emerging about Harvey Weinstein."
You can read Brinkley's full statement here, along with Pussy Riot's clarification: "Trump is known for his horrible comments about women and queer people. We will always be against this. The words that fly out of his mouth are sexist bulls—. It is unacceptable. We made an action to remind everyone who see and hear us that we have to overcome fear and fight together."
How Celebrities Protest in the Streets: A Visual History of George Clooney Getting Arrested, Kanye Occupying Wall Street, and More
Related: Inside Donald Trump's Unwelcome Homecoming to Trump Tower
See W's most popular videos: