Women in Sleeveless Shirts are Now Being Barred From Parts of the US Capitol
House Speaker Paul Ryan has been enforcing the House's longtime vague dress code calling for "appropriate attire" by kicking out women in sleeveless dresses and blouses.
---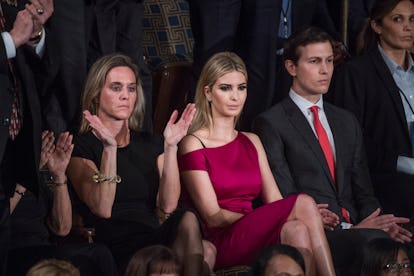 Tom Williams/Getty Images
A few weeks ago, on the heels of the women who've been protesting in government buildings like the Texas Senate, a group of Planned Parenthood supporters turned up outside the White House outfitted in red robes and white bonnets, silently calling attention to the similarities between today's political climate and the dystopia where women have lost all rights described in Margaret Atwood's 1985 novel, The Handmaid's Tale. Their protest went undisturbed, but just a month or so earlier—the day that Republicans passed their healthcare bill in the House—an Independent Journal Review journalist named Haley Byrd, who had no intention of making any sort of statement with her outfit, had not been so lucky. She was kicked out of the Speaker's lobby, the room next to the House chamber where lawmakers often grant quick interviews to reporters, for wearing something much less innocuous: a sleeveless dress.
Sleeveless designs may be commonplace, but they've also recently been deemed inappropriate under the House's long-existing dress code vaguely calling for "appropriate attire," which has also long been open to interpretation. Now that House Speaker Paul Ryan is in charge, he's taking care to make sure lawmakers and reporters—and particularly those who are women—have both their toes and shoulders covered. While the dress code is a bit looser in certain parts of the Capitol Building, it is now being strictly enforced in that Speaker's lobby, even, it seems, as the summer months settle it. (It's also still being interpreted quite traditionally: CBS reports that when a another female reporter who was just trying to do her job attempted to stuff her dress with paper to form makeshift sleeves, she was still denied entry. Though, Byrd added that she was offered a random sweater to put on to meet the requirements.)
To be fair, this isn't the first time a House Speaker has gotten particular about the dress code. John Boehner frequently reminded lawmakers and reporters to dress appropriately—more so than any other speaker in the past. And this is, of course, not the first time that restrictions have more than seemed to target women in particular: It wasn't until 1993 that women were allowed to wear pants on the Senate floor, after two women senators protested the rule by wearing them anyway, and the rest followed suit in protest.
The latter, though, is thankfully decades in the past, which makes it even odder that our most contemporary House has now taken an objection to bare shoulders. Then again, the man who sits atop the executive branch and Ryan's party has a long history of criticizing women's appearances—something that also seems to mean that President Donald Trump and his dearest, at least, seem to be protected from the rules. Ivanka Trump, for one, was definitely not kicked out when she showed up to the House Chamber in an off the shoulder dress in February—around the same time it was reported that Trump prefers "the women who work for him 'to dress like women.'" That reportedly meant that "women who worked in Trump's campaign field offices—folks who spend more time knocking on doors than attending glitzy events—felt pressure to wear dresses to impress Trump."
But even under the rule, men have fallen victim to the House decorum, too. Long before women reporters began tweeting about their recent sleeveless evictions, some tie-less men posted about being forced to wear ties in the House, which were handed to them courtesy of the government. Already super-sized, the hand-outs are perfect hand-me-downs for the current administration—as long as they also start handing out scotch tape.
Related: Why the New Senate Health Care Bill Is Just As Grim As Its "Mean" Predecessor
See W's most popular videos: