Donald Trump Wanted to Host a Show Where He Interviewed Supermodels
Donald Trump, fashion journalist? The candidate once pitched a television special that would see him interview supermodels.
---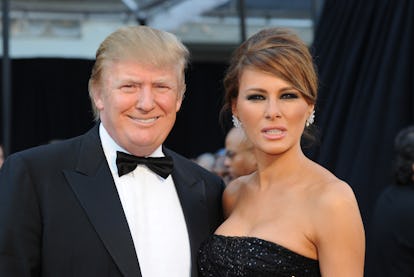 AFP/Getty Images
It's become apparent that Donald Trump considers himself the world's foremost expert on women's looks. If there was any lingering doubt, consider the newly unearthed fact that Trump once wanted to create a yearly television special in which he anointed the top 10 most beautiful women in the world and then awkwardly chatted with them. His personal list at the time included some of the world's foremost supermodels, including Claudia Schiffer, Linda Evangelista and Christy Turlington.
The revelation comes from a rediscovered letter Trump wrote in 1993 to then-ABC News president Roone Arledge
"I am going to do a one to one and a half hour special entitled 'Donald Trump Presents the Most Beautiful Women in the World,'" Trump wrote. "This show will consist of a series of shorts and interviews with ten of the most beautiful women in the world, including Lady Di (who I know and I think will speak to me), Claudia Schiffer, Linda Evangelista, Christy Turlington, Michelle Pfeiffer, etc… This program will be done on a yearly basis and will get huge ratings. I will promote it heavily—along with everything else I do."
Trump goes on to boast that a rival network was already very interested in the concept, but Trump wanted to offer it to Arledge as well. He concluded the letter by amending, "P.S. I'll bet it gets one of the top five highest ratings of the year!"
Travis Vogan, a University of Iowa research, randomly came across the letter why browsing Arledge's letters, which are kept at Columbia University. Vogan shared a snapshot of the letter with Slate.
As it turns out, neither ABC nor the unnamed other network were interested enough in the program to actually produce it. Everyone – not least of all Claudia, Linda and Christy – is probably better off that the special never took place. It seems clear Trump hadn't actually conferred with the woman he was offering up for the special, and its likely he might not have gotten the supers to participate anyway. Would Linda Evangelista bother to even get out of bed for Trump's TV special.
Though, we all know what happens when Donald Trump does get a chance to speak to models. It usually doesn't go well.
Mind you, 1993 was the same year that editor Graydon Carter invited Trump to be Vanity Fair's "novelty guest" at the White House Correspondence Dinner. Carter sat Trump next to Vendela Kirsebom, a model of the moment. Less than 45 minutes into the event, Kirsebom came to Carter in tears, pleading to have her seating reassigned.
"It seems that Trump had spent his entire time with her assaying the 'tits' and legs of the other female guests and asking how they measured up to those of other women, including his wife," wrote Carter. "'He is,' she told me, in words that seemed familiar, 'the most vulgar man I have ever met.'"
Then, of course, there are those Access Hollywood tapes that revealed new dimensions to Trump's interactions with a soap star.