Donald Trump Takes It Upon Himself to Tell France's First Lady Brigitte Macron She's "In Such Good Shape"
The president is taking care to stick to his habit of judging women's appearances, even while in Paris.
---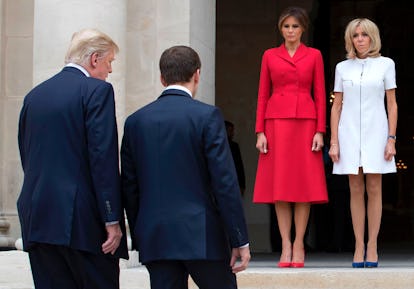 Ian Langsdon/Getty Images
At home in the U.S., Donald Trump has already built quite the reputation for considering himself an expert on women's looks, but on Thursday, the president made that self-anointed status known around the world when he met with the recently elected French president Emmanuel Macron—and kept much of the focus on his wife, the first lady Brigitte Macron.
That was true from the start of his 24 hours in Paris as a guest while the city celebrates Bastille Day, which started with Trump providing the latest in his long history of weird handshakes—particularly with world leaders—by going in for a half hug and kiss, and steering Brigitte's hand toward him, as his wife Melania followed the usual, respectfully distanced protocol with Emmanuel.
As it turned out, though, that was just the beginning of Trump's special attention to France's first lady. After a day that included touring the museums at Les Invalides, the two first couples bid their goodbyes, which, according to an Agence France-Presse correspondent, for Trump, included pointedly looking Brigitte up and down. After apparently sizing her up, Trump vocalized his assessment: "You know, you're in such great shape," he told the first lady, turning to her husband to add, "beautiful." (The exchange was conveniently captured on the French government's live stream.)
Perhaps Trump felt a connection to Brigitte because she, like Trump, is also 24 years older than her partner, or perhaps he intended to make amends with Macron, who's been vocally criticizing his withdrawal the from the Paris Climate Accord. But somehow, Trump's comments come across as much, much creepier than when, say, former first lady Carla Bruni told W that Brigitte "has a good silhouette."
That's no doubt because, while in office, Trump has continued to take as many liberties when it comes to talking women's bodies as he did before he came president—like, you know, the times he's referred to women in only the most derogatory terms, or, of course, when he told Billy Bush that he feels free to grab women "by the pussy." Lately, Trump has continued not to shy from mincing words when it comes to women he doesn't like: Last month, he got back at the MSNBC host Mika Brzezinski, who'd dared to criticize his Twitter account, by recalling to his 33 million Twitter followers the time he reportedly saw her "bleeding badly from a face-lift."
On Thursday, though, Trump seemed a bit shier with his comments: Rather than the French government's live stream, which captured Trump's comments to Brigitte, Trump opted for a different clip to share his Parisian sojourn with his followers—one with the audio conveniently turned down.
Brigitte diplomatically played along, unlike Polish First Lady Agata Kornhauser-Duda, who prominently spurned a handshake with Trump at the G-7 meeting and briefly became an internet celebrity.
Brigitte Macron, Carla Bruni, and More: A Brief History of France's First Ladies and Their Front-Row Affair with Fashion
First lady from 1969 until her husband's death in 1974, Claude Pompidou—née Cahour—was instrumental in founding the Centre Georges Pompidou, the contemporary art museum in her husband's name. A noted patron of the arts and avid fashion lover, she was also frequently spotted in the front row of shows like Chanel (pictured here, Spring 1979, with Bernadette Chirac, wife of then-Paris major Jacques Chirac) and palling around with designer Karl Lagerfeld.

PIERRE GUILLAUD/Getty Images
In addition to her public support of the arts and fashion, Pompidou also experimented with her own looks, favoring ensembles by the likes of avant-garde designer Courrèges and Pierre Cardin and opting for then-scandalous pantsuits.

Keystone-France/Getty Images
In addition to her devotion to fashion, Pompidou was also an art aficionado. She redecorated the Élysée Palace with contemporary, of-the-moment pieces; she and her husband regularly visited local galleries; and, a fan of the artist Yves Klein, she was also instrumental in negotiating the look of the Centre Georges Pompidou, which opened after her husband's death.

J. Cuinieres/Getty Images
Pompidou and Chirac, who would eventually become first lady herself, were frequently spotted at Chanel shows together—as here, at Fall 1985—up until Pompidou's death in 2007.

PIERRE GUILLAUD/Getty Images
Following Pompidou, Anne-Aymone Giscard D'Estaing, wife of president Valéry Giscard D'Estaing (1974-1981) picked up the mantle of fashion's first lady. Though never as much of an insider as her predecessor—and far less the art fan, as she and her husband dismantled much of the Élysée Palace's contemporary décor—she nevertheless frequented Givenchy shows. Here, she's pictured with the designer Hubert de Givenchy himself, September 1997.

Bertrand Rindoff Petroff/Getty Images
Though designer Jean-Louis Scherrer's label has since closed up shop, it was a favorite of French politicians throughout the late 20th century; here, Giscard D'Estaing poses with the designer and his daughter, November 2005.

Pascal Le Segretain/Getty Images
President from 1981 to 1995, François Mitterrand was the longest-serving president in French history. His wife, Danielle Mitterrand, focused primarily on human rights issues, pushing the role of first lady beyond its traditionally domestic bounds—yet she was no less chic for it, befriending designers like Yves Saint Laurent, pictured here in 1992.

Bertrand Rindoff Petroff/Getty Images
Each first lady seems to have favored a particular French fashion legend—and for Mitterrand, that legend was Yves Saint Laurent. Here, she sits front-row at the label's Spring 1986 couture show.

Bertrand Rindoff Petroff
And while for Mitterrand, fashion week was less of a pressing concern than for predecessors like Claude Pompidou, she still frequently attended the most exclusive shows. Here, she embraces Pierre Bergé, business and romantic partner of Yves Saint Laurent, before the label's Fall 1992 show.

Bertrand Rindoff Petroff/Getty Images
After cutting her teeth in the front row as the first lady of Paris (her husband Jacques was the mayor for nearly 20 years, from 1977 to 1995), Bernadette Chirac ascended to first lady of France when Jacques was elected president in 1995. He was succeeded by Nicolas Sarkozy in 2007. From Dior to Chanel to Yves Saint Laurent, Chirac took in everything, with friend Claude Pompidou by her side. Here, Chirac is pictured with designer Yves Saint Laurent at the designer's Musée des Arts de la Mode restrospective in Paris, May 1986.

MICHEL GANGNE/Getty Images
As recently as Spring 2013, Chirac has been spotted in the front row, still posing with designer Karl Lagerfeld as if it's 1985 all over again.

Bertrand Rindoff Petroff/Getty Images
Cécilia Sarkozy married French president Nicolas Sarkozy in 1996; they divorced, causing quite the scandal in France, in 2007. (Sarkozy remarried, to the supermodel and singer Carla Bruni, the following year.) But despite her short reign as France's first lady, Sarkozy nevertheless found a place in fashion; here, she's front row with the late designer Sonia Rykiel at the Yves Saint Laurent Fall 1993 show.

Bertrand Rindoff Petroff
After divorcing Cécilia, Nicolas Sarkozy remarried, wedding Carla Bruni, the French-Italian supermodel and singer who had walked many of the same runways at which she'd later sit front row. Here, she walks Chanel Spring 1989 during Paris Fashion Week, October 1988. (She didn't marry Sarkozy until 2008.)

Victor VIRGILE/Getty Images
Bruni's eye for fashion was among the most remarked of recent first ladies; arriving in London for a state dinner, she wore a Dior ensemble complete with a pillbox hat that, at the time, many noted for looking like a contemporary update on the Jackie Kennedy image of a first lady.

Olivier SANCHEZ/Getty Images
And, of course, the selfies—here, with Karlie Kloss, September 2016.

Victor Boyko
Though she never married president François Hollande, who presided over France from 2012 to 2017, Valérie Trierweiler nevertheless took up the front-row place of honor occupied by most first ladies. Here, she appears with designer Raf Simons, then of Dior, at the Dior Spring 2014 show.

Rindoff/Dufour/Getty Images
Pascal Le Segretain/Getty Images
Incoming first lady Brigitte Trogneux, wife of president-elect Emmanuel Macron, already has the requisite front-row credibility befitting a first lady. Here, she sits front-row at Dior's Fall 2015 couture show.

Rindoff/Le Segretain
Trogneux is nearly 30 years Macron's elder; as has been amply reported, she was a teacher at his high school and advised him on a play when he was a young drama student. They married in 2007; she's still a teacher, albeit one who also lands coveted spots at fashion week—here, alongside actress Léa Seydoux at the Louis Vuitton Fall 2016 show.

Rindoff/Le Segretain/Getty Images
Related: Women in Sleeveless Shirts are Now Being Barred From Parts of the US Capitol
See 62 Fashion Insiders Speak Out for Women's Rights: