The Eiffel Tower and More Landmarks Go Green in Protest of Trump's Withdrawal from the Paris Climate Agreement
Government buildings and landmarks in cities like Paris, Mexico City, and Montreal spotlit their disagreement with Donald Trump on Thursday night.
---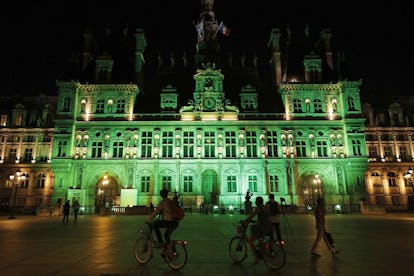 Courtesy of @carbon.tv
There isn't too much in this world that nearly the entire world can agree on, but one of those things is the Paris Climate Agreement, a global commitment that, since 2015, has held 195 countries accountable in confronting the realities of climate change. Unfortunately for Earth, though, in a historic turn of events, President Donald Trump happens to be one of the rare few who aren't on board with the accord, which is why he announced his decision to withdraw the United States from it on Thursday, despite lobbying to persuade him otherwise from leaders around the world. (Even the combined efforts of Germany, France, Japan, Canada, Italy, and the United Kingdom at the G7 summit last week weren't enough to get through to the president.)
And, just like Leonardo DiCaprio, Katy Perry, and more celebrities, those leaders are not about to take Trump's decision lying down. In the hours following his announcement, the leaders of Italy, France, and Germany—Prime Minister Paolo Gentiloni, President Emmanuel Macron, and Chancellor Angela Merkel, respectively—joined together to issue a rare joint statement, protesting that the agreement is "irreversible" and "cannot be renegotiated since it is a vital instrument for our planet, societies and economies." Merkel also quickly followed up on that message on Friday: "This decision cannot and will not deter all of us who feel obliged to protect this earth," she told a crowd in Berlin, after having spoken with Trump on the phone the previous day.
On the bright side, though, the seemingly unanimous agreement on the fact that when it comes to climate change, Trump is simply wrong, has proven that the world has the ability to come together over things much graver than covfefe. And, rather than hiding their discontent with one of the world's largest powers that be, on Thursday night, cities joined together to spotlight their continued support of the Paris agreement by bathing government buildings and landmarks stretching from Paris to New York to Montreal to Washington, D.C. to Mexico City in a can't-miss green light. (Lorde, who was among those to point out that the withdrawal process will take four years, meaning it could potentially be reversed depending on the results of the next election, would no doubt approve.) See all the greenery, which of course also made its way onto Instagram, here.
"Women's Rights Are Human Rights": 62 Fashion Insiders Speak Out in a Powerful Video