Carla Bruni on Her New Album, Brigitte Macron's Figure, and Living In a Politics-Free Bubble
Inside her Paris home with the ex-French president Nicolas Sarkozy, the model-musician turned reluctant former first lady has been hard at work on her new album of English-language covers, French Touch.
---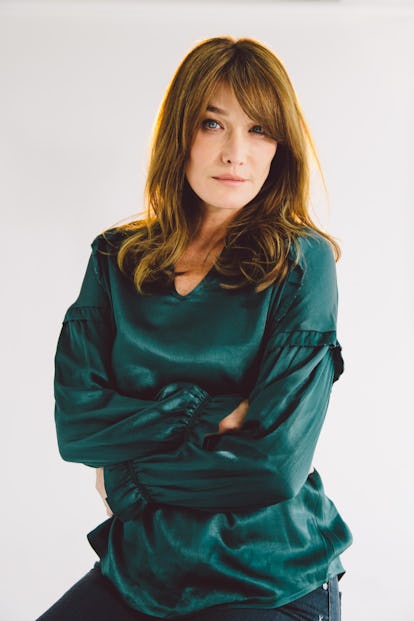 "Would you like to taste it?" Carla Bruni said on a recent afternoon, extending the vape pen she'd been puffing on from the moment she stepped away from the camera in a lower Manhattan photo studio. In the five years since Bruni left the Élysée Palace in Paris, the former first lady of France has clearly gone back to doing things much like she used to—which is to say, her own way. Bruni is famously frank, like the time she declared that "monogamy bores [her] terribly" shortly before marrying Nicolas Sarkozy, then the president of France. Or there was her more proclamation in the '90s that Donald Trump was "obviously a lunatic," after he spread a rumor that the pair were dating in the '90s that ended up on the front page of the New York Post.
These days, though, Bruni, now 49, would rather not talk politics. Instead, she was in town to promote French Touch, her upcoming fifth album (out October 6 and now available for pre-order). Even when Bruni was a top Italian model in the '90s, walking for a who's who of houses, from Chanel to Versace, and turning up on some 250 magazine covers, her mind was on the music industry—and not just because she famously dated Mick Jagger and Eric Clapton.
How Carla Bruni Went From Model Chanteuse to French First Lady—And Back Again
Carla Bruni attends the 11th annual Aids Gala Benefit, hosted by Pierre Berge, at the Pavillon d'Armenonville on February 2, 2005 in Paris, France.

Getty
Carla Bruni attends the 2005 Scopus Awards gala at the Petit Palais, avenue Winston Churchill, November 21, 2005 in Paris, France.

Getty
Bruni wears a sleek blue slip dress to a fashion event.

Getty
Bruni dons an all-brown look, complete with a fur-trimmed overcoat and knee-high boots.

Getty
Carla Bruni shows off her legs in a flirty minidress with strappy heels.

Getty
Bruni during a state visit to France, at the Palais de l'Elysees on March 10, 2008 in Paris, France.

Getty
Carla Bruni arrives at the Cinema Against Aids 2007 in aid of amfAR at Le Moulin de Mougins in Mougings on May 23, 2007 in Cannes, France.

Getty
Bruni-Sarkozy exits the The Metropolitan Museum of Art following the The White House Symposium on Advancing Global Literacy Meeting on September 22, 2008 in New York City.

Getty
Bruni Sarkozy attends the Fashion Dinner for Aids at the Pavillon d'Armenonville on January 29, 2009 in Paris, France.

Getty
Bruni-Sarkozy, wears an outfit designed by Dior to a state banquet at Windsor Castle on the first day of her State Visit on March 26, 2008 in Windsor, England.

Getty
Queen Sofia of Spain and Carla Bruni attend a Gala Dinner honouring French President Nicolas Sarkozy at the Royal Palace on April 27, 2009 in Madrid, Spain.

Getty
Bruni-Sarkozy arrives at a garden party to celebrate Bastille Day at Elysee Palace on July 14, 2009 in Paris, France.

Getty
Bruni-Sarkozy arrives for the Mandela Day: A 46664 Celebration Concert at Radio City Music Hall on July 18, 2009 in New York City.

Getty
Bruni Sarkozi arrives at the Bulgari The Diva Event In Paris at Hotel Potocki on July 2, 2013 in Paris, France.

Getty
Bruni attends 'Bvlgari Celebrates 130 Years In Rome' at Via Condotti on March 20, 2014 in Rome, Italy.

Getty
Bruni-Sarkozy attends the Schiaparelli show as part of Paris Fashion Week Haute Couture Spring/Summer 2014 on January 20, 2014 in Paris, France.

Getty
Bruni-Sarkozy attends amfAR's 21st Cinema Against AIDS Gala.

Getty
Bruni attends the Bulgari and Vogue Party at Apicius Restaurant as part of the Paris Fashion Week Womenswear Spring/Summer 2014 on September 28, 2013 in Paris, France.

Getty
Bruni arrives at the Bulgari flagship store reopening on New Bond Street on April 14, 2016 in London, England.

Getty
Bruni attends the Gala event during the Vogue Fashion Dubai Experience 2015 at Armani Hotel Dubai on October 30, 2015.

Getty
Bruni attends Chopard presenting The Garden of Kalahari at Theatre du Chatelet on January 21, 2017 in Paris, France.

Getty
Bruni-Sarkozy attends the Christian Dior show of the Paris Fashion Week Womenswear Spring/Summer 2017 on September 30, 2016 in Paris, France.

Getty
Bruni performs during U.S. showcase on June 13, 2017.

Getty
She quit modeling in the late '90s to release her debut album, Quelqu'un m'a dit (Someone Told Me), which quickly hit no. 1 on the French charts, and spent more than eight months in the top 10. So committed has Bruni been to songwriting ever since that she even released an album while serving in office, despite the expected uproar in the press. ("I didn't kill anybody!" Bruni protested to me.)
It seems whether or not Sarkozy's short-lived bid to recapture the presidency last fall succeeded, Bruni would have gone ahead full steam with her music-making—especially now that she's singing in English, which she's eased into for the first time on this album by covering her most beloved tracks by everyone from Depeche Mode to AC/DC to Willie Nelson to the Clash. Now that she's not in the same position as Brigitte Macron (to her great relief, it turns out), Bruni took time to talk about the new French first lady's style, letting loose at rock shows, working into the wee hours, and creeping on Marc Jacobs's vape 'grams, here.
How did you end up working with David Foster on this album, who's produced everyone from Madonna to Michael Jackson?
He actually came to visit me when I was singing in L.A.. He said to me that he likes my voice and my music, but it's so French—couldn't I write something in English? I told him I can't write in English—I've tried, but it just comes in French. You know, English was not in my childhood enough for me to write, because I learned it when I was 18 or 20 when I was modeling in New York. So he said, "What about covers?"
Then, a few months after—this was about two years ago—he came to Paris and we had lunch, and then I played him some songs. We chose some together; there were maybe 20 and we kept 11. And then I did a lot of demos at home, the way I make my own demos because we wanted to make the songs sound as if we wrote them. We went to a Parisian studio to record all the songs's structures—the tempo, the tunes, the tonalité. And then six months we finished it with the vocals and the strings and some trumpets in Los Angeles. It was very natural and very cool. Nothing stressful.
What were some of the songs that were cut?
A Beatles song… [sings] There are places I remember… All my life... I didn't want to have 13 songs, because I'm Italian, and I don't like the number 13. So some of the songs we're releasing as bonus and or keeping on the side.
Were you at all intimidated covering legends like the Beatles and Lou Reed?
Yeah, but that's something you can't think of. You're better doing the songs not as if they're made by these genius people you've admired forever and ever, but more like songs you sing yourself. It was easier for me because I played most of these songs for my own pleasure for so many years, and I tried to sing them that same way.
See Carla Bruni cover Depeche Mode's "Enjoy the Silence":
Right. I was the same way when I started playing guitar. Were any of these songs you played going back to the very beginning?
Do you still play guitar? That's cool. It's nice, it's such good company. It's such a wonderful thing to do, even if it's not your job—and then it can become your job if you write songs sometimes. That's how I did it: I started playing at nine, and then I played for 10 or 20 years, and then I made my first album at 33. So I spent years playing other people—that's why I'm so familiar, really, with those songs, because of that pleasure of playing. I was definitely singing "Moon River," for example, when I was a child, because I saw the film [Breakfast at Tiffany's] with Audrey Hepburn when she sings it with a ukulele on the little fire steps in New York. It's so charming, I could never forget it. The way she sings is so simple and lovely.
How long have you been listening to AC/DC for? That was a surprise to me.
Well, I listened to AC/DC like the whole world would listen to AC/DC—on the radio. I've seen a concert once, whew, but I really started that song as a joke, because they're the masters of metal rock 'n roll, so it was really funny for me to sing AC/DC and that song in particular as a jazz tune. [sings "Highway to Hell" jazzily] Playing it the way they play it is impossibl, anyway—we don't have the sound, we don't have the voice, we don't have the band.
Would you ever want to experiment with that type of sound?
No. [Laughs.] It wouldn't suit my voice, and I would have to scream. I don't have the power of it. I love to go to that sort of gig and just get like a kid in the crowd, but I would never dare to be on-stage and to make that big, strong sound. You have to be them—or the Stones, or Led Zeppelin, or Bon Jovi, or Guns n' Roses, you know. Those people who have a very fat rock 'n roll sound.
What's a typical day like for you? How much time do you get to devote to music, and where do you normally write or record?
I actually work at home, which is so comfy. I have a tiny little room—well, not so tiny, but a little room on the ground floor in Paris. I live far from traffic, so I don't have car noises and all that. It's quite silent, so I can really go quite far in my recording things. I work at night when my kids are in bed—I don't really do mornings. I really tried to switch it and try the daytime, but I don't get anything done. There's too much practical life, with the phone and children coming in from school. They don't even know I'm a songwriter—they just see me as their mother. But at night, everything disappears, and there's this sort of mystery that comes into life. So I write from, you know, 11 p.m. until 2 or 3 in the morning, and then I go to bed. And during the day I do regular girl's life—practical things and sports and children. My man, you know.
How much were you able to work on music when you and your husband were in office?
When I was out of obligations, it was exactly the same. Obligations were not daily—I would have a week, and then I would be free. So every time I was free, I'd just rush home and work. I actually released an album when I was in office, and the press was like [feigns outrage]. But I didn't kill anybody—it's just music. [Laughs.]
Have you found that the experience of being in office has affected your songwriting at all?
Nah. Not much. Because I'm not a very social or political writer, you know. I use old types of emotions and old types of poetry. I'm very much reliant on tenderness and nostalgie, these kind of things. That's what moves me. So I'm having a hard time being moved by world politics or… [makes fart noise] I'm very not a political person. I never was interested in it.
So the covers weren't a move to get away from writing personal songs because you'd become a public figure? Would you still write personal songs like you used to?
Yeah, yeah, yeah. But it is very personal all the time.
How did you feel when your husband ran for office again last year? Were you worried at all that it would take you away from your musical career?
No. He does what he wants, and then I do what I want. We're very cool about it.
Have you been keeping up with politics?
Not much, because we've been working quite a lot. We rehearse a lot, and we were shooting the videos for this album. We're not going on tour now, but the boys [in the band] are all over the place with other people—you know, they're musicians—so we needed to rehearse exactly at that time. So I didn't really follow much. I do live in a bubble. But I always did, so that didn't change.
Even when you were younger, too, you mean?
Oh, yeah. That's just the way I am, I don't know why. I never watched the news. Of course I know what happens in the world, but I'm not really following it. I'm not very interested.
Brigitte Macron, Carla Bruni, and More: A Brief History of France's First Ladies and Their Front-Row Affair with Fashion
First lady from 1969 until her husband's death in 1974, Claude Pompidou—née Cahour—was instrumental in founding the Centre Georges Pompidou, the contemporary art museum in her husband's name. A noted patron of the arts and avid fashion lover, she was also frequently spotted in the front row of shows like Chanel (pictured here, Spring 1979, with Bernadette Chirac, wife of then-Paris major Jacques Chirac) and palling around with designer Karl Lagerfeld.

PIERRE GUILLAUD/Getty Images
In addition to her public support of the arts and fashion, Pompidou also experimented with her own looks, favoring ensembles by the likes of avant-garde designer Courrèges and Pierre Cardin and opting for then-scandalous pantsuits.

Keystone-France/Getty Images
In addition to her devotion to fashion, Pompidou was also an art aficionado. She redecorated the Élysée Palace with contemporary, of-the-moment pieces; she and her husband regularly visited local galleries; and, a fan of the artist Yves Klein, she was also instrumental in negotiating the look of the Centre Georges Pompidou, which opened after her husband's death.

J. Cuinieres/Getty Images
Pompidou and Chirac, who would eventually become first lady herself, were frequently spotted at Chanel shows together—as here, at Fall 1985—up until Pompidou's death in 2007.

PIERRE GUILLAUD/Getty Images
Following Pompidou, Anne-Aymone Giscard D'Estaing, wife of president Valéry Giscard D'Estaing (1974-1981) picked up the mantle of fashion's first lady. Though never as much of an insider as her predecessor—and far less the art fan, as she and her husband dismantled much of the Élysée Palace's contemporary décor—she nevertheless frequented Givenchy shows. Here, she's pictured with the designer Hubert de Givenchy himself, September 1997.

Bertrand Rindoff Petroff/Getty Images
Though designer Jean-Louis Scherrer's label has since closed up shop, it was a favorite of French politicians throughout the late 20th century; here, Giscard D'Estaing poses with the designer and his daughter, November 2005.

Pascal Le Segretain/Getty Images
President from 1981 to 1995, François Mitterrand was the longest-serving president in French history. His wife, Danielle Mitterrand, focused primarily on human rights issues, pushing the role of first lady beyond its traditionally domestic bounds—yet she was no less chic for it, befriending designers like Yves Saint Laurent, pictured here in 1992.

Bertrand Rindoff Petroff/Getty Images
Each first lady seems to have favored a particular French fashion legend—and for Mitterrand, that legend was Yves Saint Laurent. Here, she sits front-row at the label's Spring 1986 couture show.

Bertrand Rindoff Petroff
And while for Mitterrand, fashion week was less of a pressing concern than for predecessors like Claude Pompidou, she still frequently attended the most exclusive shows. Here, she embraces Pierre Bergé, business and romantic partner of Yves Saint Laurent, before the label's Fall 1992 show.

Bertrand Rindoff Petroff/Getty Images
After cutting her teeth in the front row as the first lady of Paris (her husband Jacques was the mayor for nearly 20 years, from 1977 to 1995), Bernadette Chirac ascended to first lady of France when Jacques was elected president in 1995. He was succeeded by Nicolas Sarkozy in 2007. From Dior to Chanel to Yves Saint Laurent, Chirac took in everything, with friend Claude Pompidou by her side. Here, Chirac is pictured with designer Yves Saint Laurent at the designer's Musée des Arts de la Mode restrospective in Paris, May 1986.

MICHEL GANGNE/Getty Images
As recently as Spring 2013, Chirac has been spotted in the front row, still posing with designer Karl Lagerfeld as if it's 1985 all over again.

Bertrand Rindoff Petroff/Getty Images
Cécilia Sarkozy married French president Nicolas Sarkozy in 1996; they divorced, causing quite the scandal in France, in 2007. (Sarkozy remarried, to the supermodel and singer Carla Bruni, the following year.) But despite her short reign as France's first lady, Sarkozy nevertheless found a place in fashion; here, she's front row with the late designer Sonia Rykiel at the Yves Saint Laurent Fall 1993 show.

Bertrand Rindoff Petroff
After divorcing Cécilia, Nicolas Sarkozy remarried, wedding Carla Bruni, the French-Italian supermodel and singer who had walked many of the same runways at which she'd later sit front row. Here, she walks Chanel Spring 1989 during Paris Fashion Week, October 1988. (She didn't marry Sarkozy until 2008.)

Victor VIRGILE/Getty Images
Bruni's eye for fashion was among the most remarked of recent first ladies; arriving in London for a state dinner, she wore a Dior ensemble complete with a pillbox hat that, at the time, many noted for looking like a contemporary update on the Jackie Kennedy image of a first lady.

Olivier SANCHEZ/Getty Images
And, of course, the selfies—here, with Karlie Kloss, September 2016.

Victor Boyko
Though she never married president François Hollande, who presided over France from 2012 to 2017, Valérie Trierweiler nevertheless took up the front-row place of honor occupied by most first ladies. Here, she appears with designer Raf Simons, then of Dior, at the Dior Spring 2014 show.

Rindoff/Dufour/Getty Images
Pascal Le Segretain/Getty Images
Incoming first lady Brigitte Trogneux, wife of president-elect Emmanuel Macron, already has the requisite front-row credibility befitting a first lady. Here, she sits front-row at Dior's Fall 2015 couture show.

Rindoff/Le Segretain
Trogneux is nearly 30 years Macron's elder; as has been amply reported, she was a teacher at his high school and advised him on a play when he was a young drama student. They married in 2007; she's still a teacher, albeit one who also lands coveted spots at fashion week—here, alongside actress Léa Seydoux at the Louis Vuitton Fall 2016 show.

Rindoff/Le Segretain/Getty Images
So I take it you're not jealous of Brigitte Macron, then?
Oh no. [Laughs.] Not at all. I think she's nice, but I don't know her. She looks nice.
Do you like her style?
Yeah. It's good. She has a good silhouette. I like your shirt, though: "I hate parties." [Reporter's note: I was wearing a sweater that read, in entirety, "I hate parties."] This is for me. [Laughs.] I hate them. I want to be home, reading my book, eating my soup.
Did you like them when you were younger?
I liked them when I was really young—let's say from 15 to 18, I liked parties. But also because I didn't know about them. I also like parties in strange cities, like I'd love to go to a party on the beach in Brazil. What I don't like is parties in cities with people from a certain social thing—then it's boring, because it's nothing new, and the music is what you know. And also I'm a loner. [Laughs.]
By the way, is that a vape?
Yeah, that's a vape. I'm trying to quit tobacco completely. This one is a strong mint. Would you like to taste it? It's nice, huh?
It's very refreshing.
Yeah, it's refreshing! So it's the opposite of a cigarette, for me. But I still get the sensation from it, and the pleasure. Stopping cigarettes is really a good thing, you know. This, I think, is harmless.
How long you been vaping?
A few months. I saw a picture on Instagram of Marc Jacobs saying "23 days off cigarettes," and #VapeLife is the hashtag. [Laughs.] I want to be completely on vape—but last night I had a real one [inhales] through the window. But this one has almost no nicotine. And it's harmless. It's difficult in America and for your generation, but you don't want to become a smoker—it's hell to get rid of it. Really hell. It's much more addictive than heavy drugs or alcohol, because you can't do those without losing your life. You can do this and keep your life together—and then get a nice lung cancer, thanks.
Do you still drink?
I drink, but I try not to drink every day. My husband doesn't drink, so it makes it easier. I'm not going to open a bottle on my own, so I'm like, "Okay, okay, I'll get diet Coke or herbal tea." [Laughs.] It's dangerous, because it makes you really feel good—it gives you a lot of serotonin, the happiness hormones. But it's better to be prudent with it. Wine is delicious, and I like beer—fresh Corona beer when it's warm out. So you know, a little from time to time.
Related: A Brief History of France's First Ladies and Their Front-Row Affair with Fashion
Take a Look Back at Princess Diana's 8 Most Iconic Looks: