George Clooney Denounces Harvey Weinstein's Behavior as "Indefensible"
The actor leads the charge of men speaking out against Weinstein and the Hollywood complicity that kept these accusations quiet for decades.
---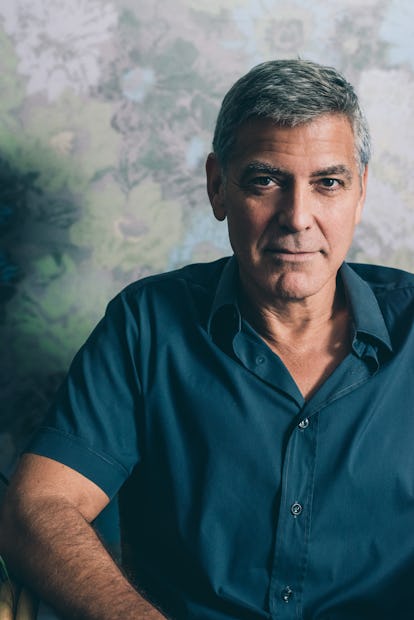 Caitlin Cronenberg.
On Friday, the New York Times published a long-awaited story outlining decades of sexual harassment accusations against the mega-producer Harvey Weinstein. In the immediate aftermath of the report's publication, a number of actresses—including Lena Dunham, Brie Larson, Amber Tamblyn, and Rose McGowan—released statements condemning both Weinstein and the culture of silence in Hollywood that allowed this allegations to go largely unreported for three decades.
"Very often, women with allegations do not or cannot bring charges. Very often, those who do come forward pay dearly, facing off against a justice system and a culture designed to take them to pieces," Ronan Farrow, who published a new story further delving into Weinstein's insidious history in the New Yorker Tuesday, wrote in the Hollywood Reporter last year. He was, ostensibly, speaking about his own family—his father, Woody Allen, has been plagued by allegations of sexual abuse, including by Farrow's sister Dylan—but he could just as easily have been referring to the accusations against Weinstein.
It was, perhaps, this overwhelming silence—by the women near Weinstein, often afraid to speak out for fear of retaliation; by the men, either unaware of or deliberately overlooking his behavior—that prevented even Meryl Streep and Judi Dench to remain unaware of the accusations against Weinstein for so long, even when, as actress Emma de Caunes told the New Yorker, "I know that everybody—I mean everybody—in Hollywood knows that it's happening."
Now, male actors are also coming forward with their own comments on the allegations. George Clooney, who spoke at length about the accusations against Weinstein in the Daily Beast this week, asserted, "I've never seen any of this behavior–ever."
Clooney, who said he had been aware of some of the allegations against the producer in the past ("It seemed like a way to smear the actresses and demean them by saying that they didn't get the jobs based on their talent," he said), was unrestrained in denouncing Weinstein, with whom he has worked on several films: "There's nothing to say except that it's indefensible," he said. "I don't think that people were looking the other way; I think that people weren't looking, because in some ways, a lecherous guy with money picking up younger girls is unfortunately not a news story in our society."
"There's an argument that everyone is complicit in it," Clooney said. "I suppose the argument would be that it's not just about Hollywood, but about all of us—that every time you see someone using their power and influence to take advantage of someone without power and influence and you don't speak up, you're complicit," he added. "There's no question about that."
Clooney's candor is, unfortunately, a welcome departure from the response of many men whose careers have benefited from Weinstein's involvement. (The response has been inherently gendered, as it so often is in response to allegations of sexual abuse. As Farrow pointed out in his op-ed last year, his sister's first-hand account was largely buried; his own essay went viral.) As Marlow Stern, the writer who interviewed Clooney, wrote in the Daily Beast earlier in the week, "those who have benefited from professional relationships with the embattled film mogul, from directors and actors he launched to stardom to agents and producers who got their cut, have remained deafeningly silent." The Guardian, for example, reached out to 26 actors and directors who had worked with Weinstein who declined to comment on the situation or did not respond to the outlet's requests.
However, celebrities frequently do not respond to this kind of request for comment; after all, Clooney was also among the Guardian's list. But that's not to say they don't have their own platform: After the Guardian requested a comment from Lin-Manuel Miranda and one Twitter user asked why he hadn't responded, the actor and Hamilton creator took to Twitter to decry Weinstein's actions, writing, "I'm as appalled and repulsed by the Weinstein news as anyone with a beating heart. And forever in awe of the bravery of those who spoke out." (He also apologized for the delay, as apparently he had "asked my reps to keep any press non-Puerto Rico relief-related off my desk.") Ben Affleck was another; shortly after the Guardian story, Affleck posted a statement on Facebook and Twitter in which he wrote he was "saddened and angry" and that "we must support those who come forward, condemn this type of behavior when we see it, and help ensure there are more women in positions of power." (Of course, some Twitter users responded by pointing out Affleck's brother Casey's own alleged history of sexual misconduct; on Monday, Rose McGowan simply tweeted, "Ben Affleck Casey Affleck, how's your morning boys?")
Mr. Robot actor Christian Slater posted a lengthy statement on his Twitter, writing, "It can sometimes be easy for a man to live without challenging his entitled and distorted views about right and wrong, especially when he experiences success." He continued, "It's a challenge to recognize our privilege and use our platform to even the playing field."
Clooney is also one of the most established actors to have spoken out this week. He joins Jennifer Lawrence, who won an Oscar for the Weinstein-produced Silver Linings Playbook and who released a statement Monday denouncing Weinstein: "I was deeply disturbed to hear the news about Harvey Weinstein's behavior," she wrote in a statement to Variety, echoing the words of Streep and Dench, both of whom denied knowing about the charges surrounding Weinstein. "I worked with Harvey five years ago and I did not experience any form of harassment personally, nor did I know about any of these allegations. This kind of abuse is inexcusable and absolutely upsetting."
But others in Hollywood were well aware of Weinstein's reputation, or had experienced his unwelcome advances first-hand. "I was warned from the beginning. The stories were everywhere. To deny that is to create an environment for it to happen again," Chastain wrote on Twitter. "Im sick of the media demanding only women speak up. What about the men? Perhaps many are afraid to look at their own behavior….."
Gwyneth Paltrow and Angelina Jolie told the New York Times, in a story published Tuesday, that Weinstein had also harassed them: "I had a bad experience with Harvey Weinstein in my youth, and as a result, chose never to work with him again and warn others when they did," Jolie wrote in an email to the Times. "This behavior towards women in any field, any country is unacceptable." Paltrow recalled an incident when she was 22, shortly after she had been cast in Emma, during which Weinstein suggested she give him a massage; when she told others, including then-boyfriend Brad Pitt, about the incident, Weinstein blew up at her.
"This way of treating women ends now," Paltrow said.
Related: How Brie Larson, Amber Tamblyn, Lena Dunham, and More Have Responded to the Accusations Against Harvey Weinstein