How Brie Larson, Amber Tamblyn, Lena Dunham, and More Have Responded to the Accusations Against Harvey Weinstein
"As always, I stand with the brave survivors of sexual assault and harassment. It's not your fault. I believe you," Larson wrote.
---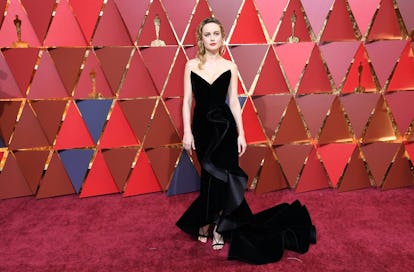 ANGELA WEISS/Getty Images
Just several hours after the New York Times published its deeply reported story on the decades of sexual harassment accusations levied against film mogul Harvey Weinstein, New York magazine writer Rebecca Traister published an essay exploring why Weinstein's alleged history of sexual harassment had taken three decades to drag into the light. Traister, after all, witnessed one of Weinstein's legendary flashes of rage first-hand, while on assignment at a party in November, 2000, during which Weinstein called her an expletive and pushed her then-boyfriend, the reporter Andrew Goldman, down a flight of stairs at the Tribeca Grand hotel.
"That kind of force, that kind of power? I could not have won against that," she wrote. In Weinstein's case, as in the cases of Bill O'Reilly, Bill Cosby, Roger Ailes, and Donald Trump, she continued, "the history of allegations has been an almost wholly open secret, sometimes even having been reported in major outlets, and yet somehow ignored, allowed to pass, unconsidered."
But with the publication of the Times's investigative piece Thursday, figures across Hollywood have spoken up on social media in solidarity both with the women who went on the record and the myriad others who did not, or could not, come forward. Brie Larson, a staunch advocate for sexual assault survivors (who, notably, did not clap for Casey Affleck when he won the Best Actor Oscar at last year's Academy Awards), Lena Dunham, Judd Apatow, and Rose McGowan, who settled with Weinstein in 1997 "after an episode in a hotel room during the Sundance Film Festival," the Times reported, all posted on Twitter in the wake of the story's publication.
"Our consciousness has been raised," Traister wrote. "We have had a public conversation that has helped those for whom telling their stories seemed impossible for so long suddenly feel that speaking out might be within their reach." Here, a few of Hollywood's reactions to the bombshell report.
See Pharrell Williams interviewed by a seven-year-old: