Nicole Kidman and Brie Larson Explain Their Oscar Clapping (and Lack There Of)
Brie Larson has said all she needs to say about Casey Affleck, while Nicole Kidman blames her jewelry.
---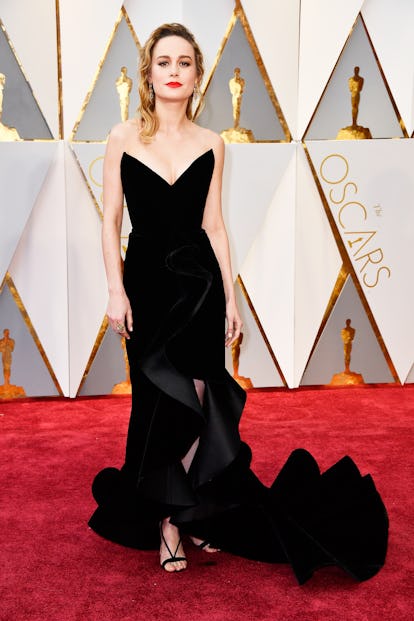 Frazer Harrison
The Academy Awards celebrate movies, but the ceremony itself is a television show. Like so many other television shows nowadays this one came complete with a twist ending. Though, it also left a lot of unanswered questions and plot holes that have lead to what might be called fan theories.
Two stray threads that have been unaddressed until now involve clapping. Namely Nicole Kidman's sort of weird version of it, and, more seriously, Brie Larson's lack of applause when she handed Casey Affleck his award for Best Actor.
We'll start with the Kidman angle. The actress was caught at one point during the ceremony using a very idiosyncratic form of hand clapping that involved all palms and no fingers. The camera angle and lens seemed to only bring attention to off methods. The moment was quickly turned into a .GIF and made its rounds as an internet meme. A Kidman fan account, not associated with the actress, responded on Twitter with a message that went viral.
As it turns out though, the real Kidman's response was actually pretty similar.
While guesting on the Kyle & Jackie O radio show in her native Australia, Kidman revealed that it was indeed her jewelry that lead to the awkward clap.
"I was like, 'Gosh, I want to clap. I don't want to not be clapping,' which would be worse, right?" Kidman explained. "'Why isn't Nicole clapping?' So, therefore I'm clapping, but it was really difficult because I had a huge ring on that was not my own, but was absolutely gorgeous. And, I was terrified of damaging it."
Makes sense. Though, now we're wondering if maybe Kidman does secretly control that fan account after all.
Of course, Kidman's clapping incident may not have been the most notable that involved applause.
Notably, when Brie Larson awarded Casey Affleck with his Oscar, the internet quickly picked up on the fact that she didn't clap.
In 2010, while directing the bizarre Joaquin Phoenix-starring mockumentary I'm Not There, Affleck was sued by two female employees who claim that he lead and fostered an environment of sexual harassment on set. One of the women also claimed that one night while the crew was crashing in Phoenix's apartment after a long day of shooting, Affleck climbed into bed with her and started caressing her before she told him to stop.
Larson has become an advocate for sexual assault survivors. In fact, the actress won an Oscar last year (the reason she was presenting the Best Actor trophy in the first place, as per Oscar tradition) for playing a sexual assault survivor in Room.
The internet figured that her decision to neither hug nor clap for Affleck after presenting him the trophy spoke volumes. Larson seems to agree and doesn't think many more words are needed to explain her actions.
"I think that whatever it was that I did onstage kind of spoke for itself," she told last night on the red carpet of her latest film last night on the red carpet of her latest film Kong: Skull Island. "I've said all that I need to say about that topic."
So there you have it, the 2017 Oscar's two remaining mysteries explained. We'll have to wait an entire year for the next episode of what apparently is everyone's favorite twisty-turny, sometimes poignant, other times goofy dramedy series.
At 49, Actress Nicole Kidman Is Still Quite Impressionable: