Brie Larson, Ready for Another Oscar, Stars in Jeannette Walls's The Glass Castle
A new trailer for The Glass Castle shows off Brie Larson's "serious actress" side.
---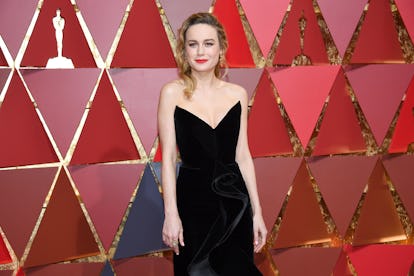 Kevork Djansezian
Back in 2005, when Jeannette Walls's memoir The Glass Castle debuted, Paramount quickly snapped up film rights. Now, more than a decade later, the first glimpse of that movie has arrived with a new trailer, and it has all the trappings of an Oscar winner: Based on the acclaimed book, it stars Brie Larson as Walls, Naomi Watts and Woody Harrelson as her parents Rose Mary and Rex, respectively (All are Academy Award nominees, though Larson, more accurately, a Best Actress winner, for her work in 2015's Room.) It's fortuitously timely, featuring a family living in one of the rust-belt communities that have so transfixed the popular imagination since Donald Trump was elected president (the Walls family briefly resides in Welch, West Virginia, where Bernie Sanders recently gave an address). And it finds Larson reuniting with Destin Daniel Crettin, the director of Short Term 12, which Larson fans remember fondly as the indie that marked her emergence as a Serious Actress. For Larson in particular, The Glass Castle could be the successor to Room that brings her back into the Oscars conversation. (As she signaled with the lavish velvet gown she wore to the 2017 Academy Awards, she hasn't really gone anywhere.)
The narrative of The Glass Castle is divided between Walls's impoverished, troubled past and her adulthood, when she's depicted by Larson living as a journalist in New York. Based on this early look, Larson—post-Kong: Skull Island, a fun romp but a departure from her serious work—is back in peak Oscar-winner form, a side of the actress we haven't seen since her turn as Ma in the adaptation of Emma Donoghue's Room. (Equally, it seems, Larson has a knack for literary adaptations.)
The trailer offers a taste of the thrill and ecstasy—mixed with the fear and loneliness—that punctuates Walls's memoir, which traces her family's nomadic history as they flit from home to home across the country, often moving at a moment's notice as her father's whim struck, or they ran out of money. As she tells it in the book, he dispensed with most of their income drinking, often disappearing for several days before returning to uproot them yet again when bill collectors caught up to them. Still, Walls's father crafted an entire mythology around their circumstances, promising one day to build the family the titular glass castle, blueprints for which he always carried with him.
"City folk live in fancy apartments, but their air's so polluted they can't even see the stars," Harrelson tells a 10-year-old Walls, played by the young actress Ella Anderson, in the trailer. "We'd have to be out of our minds to trade places with any of them." With The Glass Castle, which precedes Captain Marvel in Larson's upcoming film slate, she proves she can still carry both blockbusters and prestige films. Catch you at the 2018 Oscars, Brie.
Brie Larson recalls her Indiana Jones-themed birthday party: