Cate Blanchett: A Rose Without Thorns
Cate Blanchett insists she is not the embodiment of perfection. We beg to differ.
---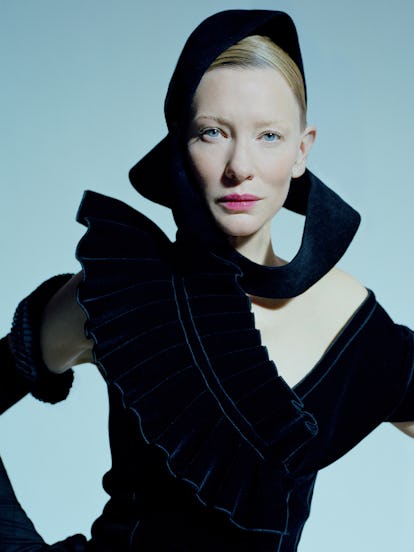 In the fourth gallery of "Picasso Sculpture," a retrospective at the Museum of Modern Art, Cate Blanchett stopped in front of an elegant, elongated woman assembled from wood and wire that looked like her. It was early October, and Blanchett had come to Manhattan from her home in Sydney to attend the New York Film Festival premiere of Carol, a love story between two women set in the 1950s (in theaters November 20). Blanchett, who was nursing a sore throat from too many flights and events, wore loose black slacks, a white shirt, flat shoes, a flower-print blazer, and pink aviator glasses. Her blonde hair was still damp from a shower, and she wasn't wearing any makeup. She looked, as she invariably does, effortlessly beautiful. Unlike most actresses, her clothes had not been chosen by a stylist; they were a manifestation of her personality and current mood.
"I love these women," Blanchett said enthusiastically of the sculpture and its four companions. "They remind me of Giacometti." She launched into a story about male artists and their obsessions. "I read about this artist who left his girlfriend for four years. He wanted to make art away from any distractions, but he came home with four matchboxes filled with dust. He was so obsessed with her and with art that he ended up creating nothing. Every time I start a project—and I certainly felt this way with Carol—I have to embrace the fear that it might be a disaster. I like that feeling of consequence." Blanchett gestured around the gallery at the variety of bodies and faces, all of them female. "Like being with these sculptures, making films is a little like existing in a dreamscape. You only reenter consciousness when the shooting is over."
Having seen Blanchett stun the international film crowd in May at the Cannes Film Festival, where Carol received a thunderous standing ovation, and then watching her bond with Picasso at the museum, I began to wonder whether she was, in fact, the embodiment of perfection. She has had a remarkable film career, winning countless awards, including the Oscar for best actress for 2013's Blue Jasmine; she and her husband, Andrew Upton, ran the Sydney Theatre company for five years, where Blanchett starred in productions like A Streetcar Named Desire and The War of the Roses (in which she played King Richard II). She has four children—three boys and a newly adopted baby girl, who is not quite 1 year old. And then there is her vast curiosity, professional courage, sense of style, and innate charisma. I, for one, wanted to know her secret. So, somewhere between Picasso's fantastic bust of a woman that brought to mind a kangaroo, and a beauty with a particularly noble nose, I outright asked her, "What's the key to your perfection?"
She scoffed. "I am not perfect," she insisted. "The wheels are constantly falling off." She paused and then (sort of) changed the subject. "When Andrew and I decided to run the theater company, in 2008, I didn't think I'd have a movie career to go back to. But that was okay: When I consider the characters I might play, I find turning points to be very interesting. There's a line from the novelist Jeanette Winterson: 'What you risk reveals what you value'—and that's always stuck with me."
Carol is based on the novel The Price of Salt, which the writer Patricia Highsmith published in 1952 under the pseudonym Claire Morgan. In the film adaptation, Blanchett plays the title role, Carol, who falls in love with Therese, a much younger woman, portrayed by Rooney Mara. Directed by Todd Haynes, it is not meant to be a gay love story but, simply, a love story. That lack of political message irritated some critics at Cannes, who wanted more explicit sex scenes and seemed disappointed that neither Mara nor Blanchett were actual lesbians. Early in the festival, when Blanchett was asked if she'd ever had "relationships" with women, she replied: "Many times. But if you mean, 'Have I had sexual relationships with women?' the answer is no."
Blanchett still seemed surprised by the mild uproar over the casting of Carol. "I mean, look at this!" she exclaimed, motioning toward a Cubist guitar made of iron wire, sheet metal, and painted tin. "Art is supposed to be a provocation, not an education. In 2015, the point should be: Who cares if I had lesbian relationships or not? Call me old-fashioned, but I've always thought that my job as an actor was to raise and expand the audience's sense of the universe."
She paused, perhaps worried that she was being conceited by comparing herself to the legendary artist. "I so admire Picasso's unwillingness to be predictable," Blanchett said, overwhelmed by six large wooden figures, bathers that he created in 1956. There was something primitive about the works—most of which had distinct faces and faint genitals. "They look like refugees," Blanchett observed. "Or audience members." She smiled. "I am sure that these sculptures were not understood at first. And I have always found criticism interesting. Like art, film should never be absolute or bow to a market survey of 'correct intentions.' "
Blanchett's belief in cinematic invention can be traced to her first major role, as the virgin queen in Elizabeth (1998). The director, Shekhar Kapur, had no interest in historical accuracy. "I realized then that I wasn't making documentaries," Blanchett said. Having originally trained as a stage actor, Blanchett also learned on Elizabeth how to create a character for the screen. "Films are a very different thing. For instance, I love working with the costume designers on movies. You can visually represent the character through a dress or a bag or shoes. In Blue Jasmine, clothes illustrated my character's demise. If I can pair a Birkin bag with a knockoff sweater from Wal-Mart that looks like Chanel, I can subtly reveal the character, and I don't have to play that emotion."
During the shoot for this story with Tim Walker, when Blanchett slipped into Prada pajamas, she immediately transformed into Antoine de Saint-Exupéry's Little Prince. As Carol, Blanchett wears a strikingly huge mink coat with a shawl collar that symbolizes her wealth and social status. Carol is not only older and more sophisticated than Therese, who works as a clerk in a department store, but she's from a different world altogether, a point the coat conveys without words. "The mink was old and it kept falling apart," Blanchett told me. "Between takes, Sandy Powell, the costume designer, would sew it back together by hand. I considered changing coats, but when you find the right thing, you know immediately: That coat was the one to tell Carol's story. It was perfect."
Perfectly Chic Cate Blanchett
Emporio Armani top; Patricia Underwood hat; Yohji Yamamoto Femme gloves; Angels Costumes ruffle cuff (on arm).
Comme des Garçons dress, shoulder pads, and shoes; Falke socks.

Photographer: Tim Walker Styled: Jacob K
Alberta Ferretti cape, blouse (underneath), and bloomers; Alexander Wang top; Gareth Pugh collar; LaCrasia Gloves gloves; Angels Costumes ruffle cuffs; Atsuko Kudo stockings; Balenciaga brooches (on top and shoes); shoe covers from the National Theatre Costume Hire, London. Beauty note: Accentuate a flair for the dramatic with Nars Hot Sand Illuminating Multiple highlighter.

Photographer: Tim Walker Styled: Jacob K
Stella McCartney dress, cage skirt (underneath), earring, and rings; Yohji Yamamoto Femme gloves; Marc Jacobs boots.

Photographer: Tim Walker Styled: Jacob K
Dior coat; Angels Costumes top; bows from the National Theatre Costume Hire, London; Stella McCartney earring; R.J. Graziano brooches; Gucci rings. Custom made head piece by Johanna O'Hagan.
Versace archival dress, 1989; Marc Jacobs boots.

Photographer: Tim Walker Styled: Jacob K
Photographer: Tim Walker Styled: Jacob K
Photographer: Tim Walker Styled: Jacob K
Gucci coat, shirt, and pants; Vicki Sarge star shoulder pads and brooch; Turnbull & Asser cravat (worn as belt); Vetements boots.

Photographer: Tim Walker Styled: Jacob K
Photographer: Tim Walker Styled: Jacob K
Boss dress; David Samuel Menkes Custom Leatherwear gloves; Calvin Klein Collection shoes.

Photographer: Tim Walker Styled: Jacob K
Louis Vuitton blouse and skirt.

Photographer: Tim Walker Styled: Jacob K
Celine coat and skirt.
Hair and headpiece by Julien d'Ys; makeup by Val Garland at Streeters; manicure by Anatole Rainey at B Agency. Set design by Shona Heath at CLM.
Produced by Jeffrey Delich at Padbury Production. Local Production by Brachfeld Paris. Lighting Director: Ed Bramfitt. Photography Assistants: Emma Dalzell, Max Cornwall, James Stopforth. Gaffer: Julien Lefebvre. Printed by Graeme Bulcraig at Touch Digital. Fashion Assistants: ClEmence Lobert, Katy Fox, Sam Walker. Hair Assistant: Ilker Akyol. Makeup Assistant: Joey Choy. Set Design Assistant: Francesca O'Brien. Set Builders: Pete Jenkins, Joshua Douglas Warne, Sam Francis, Murray Dale.
Hair and headpiece by Julien d'Ys; makeup by Val Garland at Streeters; manicure by Anatole Rainey at B Agency. Set design by Shona Heath at CLM. Produced by Jeffrey Delich at Padbury Production. Local Production by Brachfeld Paris. Lighting Director: Ed Bramfitt. Photography Assistants: Emma Dalzell, Max Cornwall, James Stopforth. Gaffer: Julien Lefebvre. Printed by Graeme Bulcraig at Touch Digital. Fashion Assistants: ClEmence Lobert, Katy Fox, Sam Walker. Hair Assistant: Ilker Akyol. Makeup Assistant: Joey Choy. Set Design Assistant: Francesca O'Brien. Set Builders: Pete Jenkins, Joshua Douglas Warne, Sam Francis, Murray Dale