Jessica Chastain Speaks Out About Female Stereotypes in Hollywood, and Why All Women Are "Strong Women"
The actress talks, freckles, veganism, and red carpet beauty.
---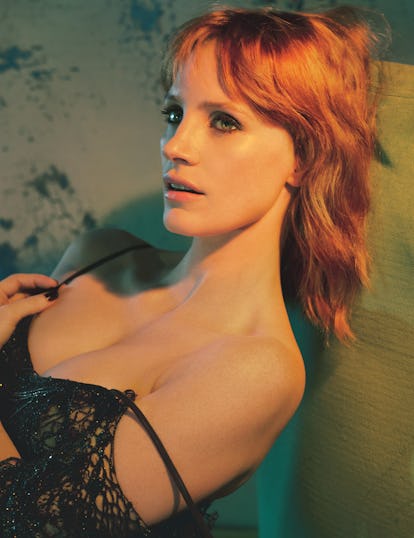 Photograph by Mert Alas & Marcus Piggott. W Magazine, March 2017.
Actress Jessica Chastain has long been a vocal advocate for women in the film industry. Most recently, she's made news for speaking out about the "disturbing" depiction of women in films at the Cannes Film Festival, how she negotiates a salary that's equal to those of her male-costars, and why she's making it a mission to work with at least one female filmmaker a year. So, it only makes sense that Chastain is the new face of Ralph Lauren's fragrance, the appropriately titled, Woman. "It's the modern scent," she explains. "It moves away from the idea that femininity is only softness, tenderness and delicacy. It includes all those things, but also adds to the equation that one can be strong and bold and aggressive as well. We define what femininity is, and for me the perfume does that." Similarly, Chastain is seeing more and more women define what femininity means in movies today. Here, the award-winning actress opens up about being a woman in Hollywood, why she named her production company after freckles, and how being vegan has changed her skin for the better.
What was it like when you were first starting out as an actress? I couldn't get an audition for a film and I think it's because I didn't know anyone in the business. So it's a very strange thing to say, "Okay, I want to be an actor," and then I had no way of really getting into the industry. I got accepted to Julliard here in New York, and that was so helpful in terms of my education. In New York, if you go to Julliard you can get your foot into a door, and there's a lot of theatre in New York. But in terms of Los Angeles, they could've cared less! The film industry didn't really pay any attention to that, and it wasn't until I did a play in L.A. opposite Al Pacino, and that's what really changed my life in terms of auditions.
You always choose such interesting roles. Did you have to turn down a lot of parts to get to that point? I did turn a lot down…and I made probably a lot of mistakes in turning things down, and sometimes I'll see a movie and I'm like, "Oh, why didn't I do that? Damn, it's so good." But I also had to realize part of the reason that film was so good is because someone else played a role, and that they were probably in some way more right for it than I was. When I turn something down I'm very good at saying, "Okay, it's meant for someone else." Right now it's tough because I just want to do everything. I love my job so much that it doesn't feel like work. Because of that I tend to be on a set more often than I should be.
You also have your own production company. How are you using that to help advance the careers of women in Hollywood? Well, I created a production company called Freckle Films. We're working to develop projects for women about women and hire more female writers and directors, and also minorities who haven't had the opportunity to tell their stories. That's very important to me. Also, I try to work with a female filmmaker every year. This year I'm taking a break from acting a little bit, so I might only do one film. But if that's the case, because it is a big passion of mine, I might try to do a short film with a female filmmaker that is looking for experience. So if they don't have the time for a feature I'll do something like that. It is very important for me to take all the gifts that I've been given, because I've been given a lot of attention very fast, and spread the wealth a little bit, and now maybe point everyone in a direction of incredible female filmmakers or writers that I feel should be getting more work.
Do you see a difference in films that have a woman as directing or a female screenwriter involved? I don't see a difference in terms of the filmmaking because I don't think filmmaking is gender-specific. Like you know, a woman can direct an action film just like a man can direct a romance, and for some reason, I don't know why it's been mutually exclusive where they're say, "Well, you know, it's not really a woman's point of view."
Why not? Why not? If romance and all that are…if men can do it, why can't women do things too? I think we're realizing in this modern world that gender lines are being blurred of what a woman is or what a man is, and it's important for me to acknowledge that a woman on set can do anything a man can do on set. I mean if you looked at my last film, The Zookeeper's Wife, what's so interesting about that character is, yes, she's very feminine, very compassionate, but then you see how courageous and brave and strong she was also, and I like the idea of looking at society and saying we need to get rid of these stereotypes of what we interpret a woman to be and allow ourselves to ask the woman who she is. I'm so tired of people saying to me, like you play so many strong women. I get that question a lot. Like everyone is a strong woman, but what does that mean? I think when you say there's not enough roles like that, it's that I choose roles that they're well written. So I think people are interpreting well-written roles as strong female roles instead of going, well, actually the other roles aren't really realistically women because they're just the objects of the male characters, right? But the women in my life are subjects not objects, and so I think we are at a time right now where women are understanding the power that they have to influence society.
How did you choose the name Freckle? I chose it because I tried to think up a name that would represent something that was unique about me. In the beginning I felt I needed to hide because I wanted to be just like everyone else. When I was younger, I really did not like my freckles. I had a lot of problems with that, and so I thought, this is a great example of why we need to celebrate our differences. No matter what your gender is or your sexual identity or preference or where you come from, what your ethnicity is, you're important and should be celebrated.
Freckles in the fashion world have gotten a lot of play over the last kind of few seasons. Not only are they there…they're getting enhanced. I've noticed. It's funny because it used to be when I was thinking about freckles, you know, Charlize Theron is one of the most beautiful women I have ever seen. I had the opportunity to work with her and I was like, "Are you kidding me, who is this person…how is this real?" And I used to joke to people, what they did in Monster to make her look like… they gave her freckles.
You were a juror at the Cannes Film Festival this year, and at so many events per day. What is the red carpet like for you? Do you enjoy it? I enjoy it. I go up with people that I really like, have a long relationship with, and I love fashion. Especially when there's been a collaboration between me and the designer. Maybe I saw something from a current collection or something that they've done in the past and it's a re-imagining of the dress, it makes me more excited to wear it because then it becomes a very personal almost communication between the designer and myself, so I do enjoy it.
Do you have a team that you love working with for hair and makeup? The team that I've worked with a lot recently is Renato Campora and Mary Greenwell. They're kind of family because they've seen so much in my life. Mary was with me on the red carpet in Cannes, so she saw my life change completely. I think the first time I ever with Renato it was maybe for that Los Angeles Critics Awards in 2011, like I've done like 10 films since then and they've seen a lot of change in my life.
Do you regret any of your red carpet looks through the years? Sometimes. I have so much respect for artists. I love editorial, I love shooting magazines, I love very strange and cool photo shoots, but on a red carpet I remember a few times where the makeup artist tried something on me and it was really strange and it would've looked amazing in a photo shoot, but on the red carpet it wasn't me. That's the difference. On red carpet, I now feel comfortable enough to say this actually me. We need to create something that is still creative and that someone feels like they're not just a technician making me an artist, but it needs to be a representation of me.
Well, you always very much look like yourself. Oh, well, good. That's the thing I want to always go back to because I never feel like I have to play a part in my real life.
Your red hair is so iconic, is that something you'd ever experiment with? Well, in my movies, I'm a brunette in The Debt and in Crimson Peak. I'm a blonde in The Keeper's Wife and The Help. I change my hair color a lot in films, but in my everyday life I've always been a redhead.
Did you always love being a redhead? You know, I think any time a child is different from the pack it's something you have to get used to. It took me a while to understand that what is unique about us is actually what we should cherish, and what we will cherish when we're older.
Absolutely. In terms of products, I've heard you're into natural beauty. Is that right? Yeah. For me, the simpler, the better, like I love coconut oil. I love coconut oil for my food, but I also love it for my skin and my hair. I'm very much a nature girl and if I can find things that are simply made I prefer it. What you eat determines everything for your skin.
And you're a vegan. How did that come about? It was because I was really low on energy. I love cheese and shellfish. I mean I've always had some problems, like my cholesterol was very high and the doctor wanted to put me on medicine. I said that seems crazy! This was like 12 years ago, so yeah, I was in my 20s, and I thought I don't want to start taking cholesterol pills.
So I realized the shellfish I was eating was high in cholesterol, and my diet was not helping me out, so I changed that thing, and then I found myself going to veganism because a friend of mine had a two week vegan food delivery program she wasn't going to use so I used it, and immediately I just had more energy than I've ever had in my life. Then when I finished it, it wasn't like I'm going to be vegan. I went to the restaurant and I ordered fish and risotto and immediately I felt bad, like not emotionally but physically, and so I said okay, I'm going to just listen to my body now. Being vegan was not anything I ever wanted to be. I just really was listening to what my body was telling me.
Did you notice a difference in your skin? Completely. Your skin is where all your toxins live, and so if you're not getting enough sleep you see it in your skin, if you're not eating well you see it in your skin, and when you eat a clean diet you feel like you don't have to cover up your skin or hide things.
Yeah, which we all want. So, you're 12 years as a vegan. That's way ahead of the curve, it's so buzzy now. Yeah, I was a vegan before Beyoncé.
Watch a Video Interview with Jessica Chastain:
Jessica Chastain's Boldest Hairstyles, From The Help to Miss Sloane
Arriving at the HFPA Salute To Young Hollywood Party, Jessica Chastain wears her famous red locks in soft curls with a pink berry lip. (2008)

Photo by Getty.
Chastain wears swept over bangs with a subtle grey smoky eye and a nude pink lip at the InStyle Magazine's 8th annual Summer Soiree. (2009)

Photo by Getty.
Wearing her hair in a tousled up do with loose curls framing her face and luminous skin, Chastain arrives at the Los Angeles film premiere of Somewhere. (2010)

Photo by Getty.
With a hint of blush on the cheeks, natural waves and a rosy pink lip, the actress keeps her look minimal at the Take Shelter film premiere at the 2011 Toronto International Film Festival.

Photo by Getty.
At the New York Film Critics Circle Awards, Chastain wears her shoulder length locks sleek straight with a taupe smoky eye and a nude lip. (2012)

Photo by Getty.
At the 69th Annual Golden Globe Awards, Chastain glows with luminous skin while keeping her hair swept back in soft curls. (2012)

Photo by Getty.
Chastain radiates at the 84th Annual Academy Awards , keeping her hair in a middle-parted, wavy half up do with a subtle cat eye and a nude lip. (2012)

Photo by Getty.
Celebrating her Golden Globe win for her role in Zero Dark Thirty, Chastain wears her hair in sleek, yet elegant curls with berry lip at the 70th Annual Golden Globe Awards . (2013)

Photo by Getty.
At the Interstellar film premiere in London, Chastain wears her hair in a sleek, side-parted low bun with a dark grey smoky eye. (2014)

Photo by Getty.
Wearing her red rocks swept over in sleek curls with a coral red lip, Chastain arrives the Los Angeles film premiere of Interstellar.

Photo by Getty.
Wearing her hair in a tousled high pony with an exaggerated smoky eye, Chatain attends the Interstellar New York film premiere. (2014)

Photo by Getty.
At the 16th Annual Warner Bros. And InStyle Post-Golden Globe Party, Chastain wears her long, soft curls side-parted with a golden smoky eye and a glossy nude lip. (2015)

Photo by Getty.
Keeping her hair in a simple top knot with a bold cat eye and a soft pink lip, Chastain attends the Jameson Empire Awards in 2015.

Photo by Getty.
At the 2015 Costume Institute Gala, the starlet wears her red locks in sleek 'S' waves with a shimmery gold eye and glossy red lip.

Photo by Getty.
With her shoulder length locks in natural waves, Chastain wears an exaggerated taupe smoky eye and luminous skin at the 2015 National Board of Review Gala.

Photo by Getty.
At the 74th Annual Golden Globe Awards, Chastain wears her hair in a sleek, side-parted braided bun with a frosted silver eye and a sheer pink lip. (2017)

Photo by Getty.