Why You Should Get On Board with the High-Fashion Fanny Pack Trend
Everyone's doing it, not just your mom.
---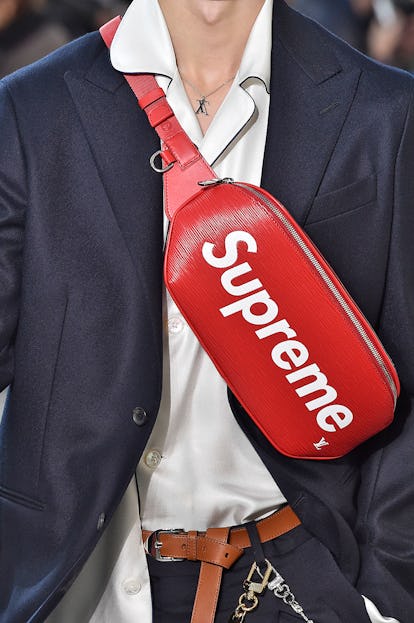 Getty Images
My first fanny pack had legs. Literal legs. It also had eyes, ears, and polka-dotted fur, as it was in the shape of a Dalmatian, presumably one of the 101. This was back when I was too young to care what people thought of me, and a few years later, I would not only discard my four-legged waist bag friend in a fit of self-consciousness, but also shun my own mother for wearing one.
Hers was black leather with a magnetic clasp. I can still remember the sound of it clicking with each open and close, which was frequent. Situated front and center on her hips, it symbolized motherhood to me: Money, house keys, and tissues. I swore I would never, ever grow up to look like that. But looking back, it was actually a very chic and sophisticated fanny pack, all things considered. And, of course, we all grow up to be our mothers. Whether we like it or not.
But this summer, I not only ordered a fanny pack; I had it shipped overnight. In 2017, fanny packs are hot again, thanks to luxury fashion brands like Gucci, Louis Vuitton, and Alexander Wang, as well as celebrity adopters like Kendall Jenner, who have been around town lately looking like young Carrie Bradshaws.
Fanny packs started trickling into mainstream fashion during the Fall 2016 men's shows, when we first spotted them as a street style trend. Supreme was the brand of choice, so when Louis Vuitton collaborated with the streetwear pioneer for its Fall 2017 men's wear show, the accessory finally got the high-fashion treatment.
Gucci, in all its quirkiness, was bound to show a fanny pack at some point, and for the Alexander Wang party girl, a fanny pack is the perfect "hands free" purse. Both brands included the accessory in their most recent Resort and Pre-Fall collections, and they'll no doubt fly off the shelves.
Kendall Jenner and Cara Delevingne Prove that Fanny Packs Are the Hottest Summer Accessory
Kendall Jenner steps out wearing a vintage Louis Vuitton fanny pack with a romper on June 1, 2017 in New York City.

Gotham/Getty Images
Sarah Jessica Parker wore a Chanel fanny pack over a little back dress to a gala at Gotham Hall in 2014.

Taylor Hill/Getty Images
Sofia Richie wears a Louis Vuitton fanny pack over red sweatpants while at the 2017 Coachella Music Festival in California.

Thaddaeus McAdams/Getty Images
Sofia Sanchez Barrenechea wears a yellow Chloe fanny pack while attending the brand's Paris Fashion Week Fall 2017 show last year.

Bertrand Rindoff Petroff/Getty Images
Kendall Jenner wears her favorite vintage Chanel fanny pack with an Issey Miyake jumpsuit while out shopping in New York City.

Ignat/Bauer-Griffin/Getty Images
Cara Delevingne takes a more practical approach to the fanny pack, wearing one while attending Day 2 of the Glastonbury Music Festival in 2016.

Danny Martindale/Getty Images
Kate Bosworth attends an event in New York City wearing a small leather waist bag over a blue dress with thigh-high boots.

Robert Kamau/Getty Images
Rihanna wore an extra-large dollar sign fanny pack with a full denim outfit while out in New York City in 2012.

Ignat/Bauer-Griffin/Getty Images
Actress Anne Hathaway wears a leopard-print fanny pack while out for a spring stroll in New York City in 2015.

Ignat/Bauer-Griffin/Getty Images
Kendall Jenner goes shopping at a flea market in Paris, France while wearing her favorite vintage Chanel fanny pack with high-waisted jeans.

Pierre Suu/Getty Images
Kendall Jenner agrees. "The best place [to wear a fanny pack] is the club, it keeps your hands free and you are not afraid of losing anything," she told W last month.
"I don't think there is a 'worst' place [to wear one]," echoed her sister, Kylie Jenner. Together, they designed fanny packs for the latest collection of their namesake brand. "We're loving the fanny pack comeback!"
So, there you have it: Just as we wanted, these are not our mother's fanny packs. But we might still owe them an apology.
20 Hands-Free Summer Bags That You Can Wear Anywhere
Paris Hilton Breaks Down Her 13 Favorite 2000s Trends, And Why They're Still Hot