Undercover's Jun Takahashi on the Relevance of Stanley Kubrick's 2001: A Space Odyssey Today
"It's a story about how computers fight humans. We have to coexist, but I have no idea of what's going to happen."
---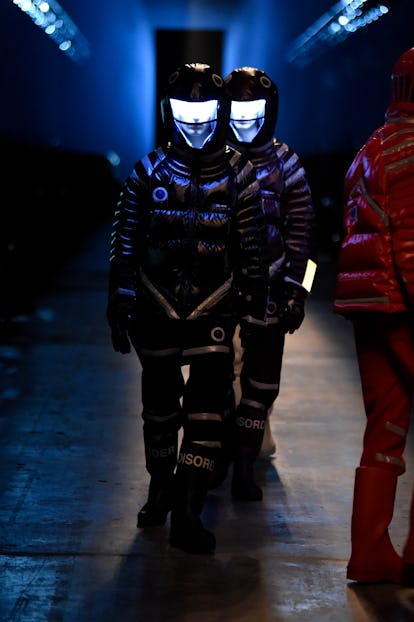 Pitti Uomo, the annual men's wear trade show in Florence, Italy, has become a hub for conceptual fashion. This season, that was best embodied by two of Japan's hottest design stars, Jun Takahashi of Undercover and Takahiro Miyashita of The Soloist, who staged a joint show.
Takahashi has collaborated with other designers before, notably last year at Tokyo Fashion Week with Chitose Abe of Sacai, but it was a first for Miyashita, who is famously reserved and rarely appears on the runway after shows to accept applause. Although they agreed on a common theme, Takahashi and Miyashita kept their work secret from each other for months. Neither saw the other's output until they arrived in Florence two days before the Thursday night show.
While Miyashita's fine tailoring and futuristic tech-wear drew inspiration from "The Day The World Went Away," a song by Nine Inch Nails, Takahashi took his cue from Stanley Kubrick's "2001: A Space Odyssey," covering basics with references to HAL 9000, the film's menacing robot.
Here, Takahashi explains talks about his inspiration, and more.
Since you launched your brand Undercover 25 years ago, what has been the biggest change?
I visited Paris for the first time in 2001. But back then I never thought I'd sell outside of Japan. None of the journalists in Tokyo criticized what I'd done and my friends liked it. Everything was so positive so pretty soon I began to want to see if I could get people outside of Tokyo to wear my clothes.
How have you changed over the years?
I always like to try new things, but fundamentally I think my ideas about design have stayed the same. I never do something because it's simply beautiful or fun. If it was just that I wouldn't be attracted to it. I'm naturally drawn to things that are kind of twisted. When I made those PJs [above] I was probably thinking: "Well, maybe I would have a bad dream wearing those." I think everyone is attracted to the dark side.
As a teenager you were the lead singer in a tribute band called the Tokyo Sex Pistols and you've referenced Vivienne Westwood and Malcolm McLaren's designs in past collections. How does punk influence your work today?
I'm not listening to punk music now, but when I was exposed to punk as a teenager it inspired me to break stereotypes. And that kind of philosophy still influences me today.
One of your past collections was based on Star Wars. What attracts you to space?
I don't want to go into space at all. I must have seen that film in 1977 when I was about eight years old and then again later. I thought the image was catchy. It stayed with me.
This show marks the second time you've referenced a film by Stanley Kubrick. Why were you inspired by 2001: A Space Odyssey?
I had tried to watch 2001: A Space Odyssey several times before, but I never got beyond the first 20 minutes or so. Finally, last year after we started this project I was able to see the whole film and I found it amazing, brilliant.
What is your perspective on the world today? Do you think we have a future, or are we lost in space?
That gets back to the collection being inspired by 2001. It's a story about how computers fight humans. I think we have to learn to live together. We have to coexist, but I have no idea of what's going to happen.
It's been almost nine years since you staged a men's show. Why so long?
Well, part of that is financial. If we had a bigger budget we could do more shows. But I also think men's wear doesn't need to be as conceptual as women's wear, so it's okay not to show so much. And until a few years ago I didn't think I knew how to design men's clothes. I'm only beginning to figure out how to do it now.
The Most Stylish Men in the World Take Italy by Storm for Pitti Uomo
Street Style at Pitti Uomo Fall 2018 in Florence, Italy. Photo by Adam Katz Sinding for W Magazine.

Adam Katz Sinding
Street Style at Pitti Uomo Fall 2018 in Florence, Italy. Photo by Adam Katz Sinding for W Magazine.

Adam Katz Sinding
Street Style at Pitti Uomo Fall 2018 in Florence, Italy. Photo by Adam Katz Sinding for W Magazine.

Adam Katz Sinding
Street Style at Pitti Uomo Fall 2018 in Florence, Italy. Photo by Adam Katz Sinding for W Magazine.

Adam Katz Sinding
Street Style at Pitti Uomo Fall 2018 in Florence, Italy. Photo by Adam Katz Sinding for W Magazine.

Adam Katz Sinding
Street Style at Pitti Uomo Fall 2018 in Florence, Italy. Photo by Adam Katz Sinding for W Magazine.

Adam Katz Sinding
Street Style at Pitti Uomo Fall 2018 in Florence, Italy. Photo by Adam Katz Sinding for W Magazine.

Adam Katz Sinding
Street Style at Pitti Uomo Fall 2018 in Florence, Italy. Photo by Adam Katz Sinding for W Magazine.

Adam Katz Sinding
Street Style at Pitti Uomo Fall 2018 in Florence, Italy. Photo by Adam Katz Sinding for W Magazine.

Adam Katz Sinding
Street Style at Pitti Uomo Fall 2018 in Florence, Italy. Photo by Adam Katz Sinding for W Magazine.

Adam Katz Sinding
Street Style at Pitti Uomo Fall 2018 in Florence, Italy. Photo by Adam Katz Sinding for W Magazine.

Adam Katz Sinding
Street Style at Pitti Uomo Fall 2018 in Florence, Italy. Photo by Adam Katz Sinding for W Magazine.

Adam Katz Sinding
Street Style at Pitti Uomo Fall 2018 in Florence, Italy. Photo by Adam Katz Sinding for W Magazine.

Adam Katz Sinding
Street Style at Pitti Uomo Fall 2018 in Florence, Italy. Photo by Adam Katz Sinding for W Magazine.

Adam Katz Sinding
Street Style at Pitti Uomo Fall 2018 in Florence, Italy. Photo by Adam Katz Sinding for W Magazine.

Adam Katz Sinding
Street Style at Pitti Uomo Fall 2018 in Florence, Italy. Photo by Adam Katz Sinding for W Magazine.

Adam Katz Sinding
Street Style at Pitti Uomo Fall 2018 in Florence, Italy. Photo by Adam Katz Sinding for W Magazine.

Adam Katz Sinding
Street Style at Pitti Uomo Fall 2018 in Florence, Italy. Photo by Adam Katz Sinding for W Magazine.

Adam Katz Sinding
Street Style at Pitti Uomo Fall 2018 in Florence, Italy. Photo by Adam Katz Sinding for W Magazine.

Adam Katz Sinding
Street Style at Pitti Uomo Fall 2018 in Florence, Italy. Photo by Adam Katz Sinding for W Magazine.

Adam Katz Sinding
Street Style at Pitti Uomo Fall 2018 in Florence, Italy. Photo by Adam Katz Sinding for W Magazine.

Adam Katz Sinding
Street Style at Pitti Uomo Fall 2018 in Florence, Italy. Photo by Adam Katz Sinding for W Magazine.

Adam Katz Sinding
Street Style at Pitti Uomo Fall 2018 in Florence, Italy. Photo by Adam Katz Sinding for W Magazine.

Adam Katz Sinding
Street Style at Pitti Uomo Fall 2018 in Florence, Italy. Photo by Adam Katz Sinding for W Magazine.

Adam Katz Sinding
Street Style at Pitti Uomo Fall 2018 in Florence, Italy. Photo by Adam Katz Sinding for W Magazine.

Adam Katz Sinding
Street Style at Pitti Uomo Fall 2018 in Florence, Italy. Photo by Adam Katz Sinding for W Magazine.

Adam Katz Sinding
Street Style at Pitti Uomo Fall 2018 in Florence, Italy. Photo by Adam Katz Sinding for W Magazine.

2017 Katz Sinding
Street Style at Pitti Uomo Fall 2018 in Florence, Italy. Photo by Adam Katz Sinding for W Magazine.

Adam Katz Sinding
Street Style at Pitti Uomo Fall 2018 in Florence, Italy. Photo by Adam Katz Sinding for W Magazine.

Adam Katz Sinding
Street Style at Pitti Uomo Fall 2018 in Florence, Italy. Photo by Adam Katz Sinding for W Magazine.

Adam Katz Sinding