Dan Levy Just Wants to Escape
Dan Levy, who is nominated for his first acting Emmy this year, on learning to love reality television and binge-watching The Great in quarantine.
---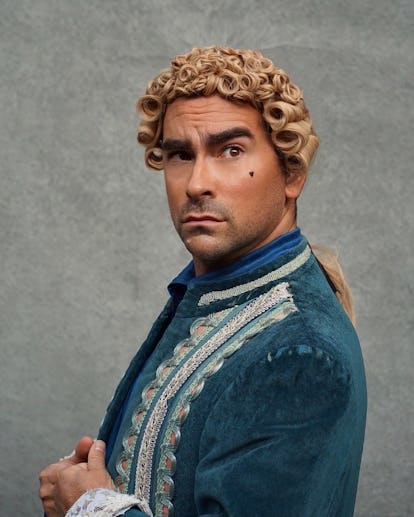 Schitt's Creek's Dan Levy dresses as Nicholas Hoult as Emperor Peter II of Russia from Hulu's The Great. Dan Levy photographed by Ana Sorys for W magazine, September 2020. Dan wears clothing by Theatrix Costume House and Wig by Ana Sorys. Makeup by Lucky Bromhead. Backdrop by Caroline Pandeli.
For W's 2020 TV Portfolio, we asked 21 of the most sought-after names in television to embody their favorite characters from their favorite shows of the past few months—and to explain why we should all be (re-)watching The Sopranos, Ozark, Schitt's Creek, and, yes, Floor Is Lava. To see all the images and discover their picks, click here.
For six seasons, Dan Levy played David Rose—the spoiled, formerly rich son of a video-rental store magnate—on Schitt's Creek. The Canadian riches-to-rags story nestled itself into the hearts of many viewers over the course of five years, thanks to standout performances from the hilariously out-of-touch Rose family, including Catherine O'Hara, Eugene Levy, and Annie Murphy. The series aired its final episode in April of this year and nabbed six Emmy nominations, including Supporting Actor in a Comedy Series for Levy. If you ask Levy how he feels about the end of the show that turned his sarcastic vernacular into oft-quoted catchphrases, he might say it's a bittersweet moment, but ultimately, he's thrilled to go out on top.
During this lockdown period, the actor has been spending his time wading "trepidatiously" into the world of reality television and queuing up episodes of Hulu's The Great, a series that he says fed him the exact amount of political satire he was hungry for during a particularly trying time for all of us. Here, he gets deep on escaping through the television screen and paying homage to Nicholas Hoult as Emperor Peter III of Russia.
What was it about The Great that got you through lockdown?
I've always been a longtime subscriber to anything that Tony McNamara was writing. I loved The Favourite. I loved his ability to write about the frivolity and the ridiculousness of power, and satirizing it in such a fun and funny and ridiculous way. For me, it was a level of escape. There was an ability to kind of escape into this bizarre world that he created, while at the same time getting the satire that I needed. Because in so many ways, I feel like The Great is essentially mocking power-hungry politics. I was able to sort of get away from what was going on in my own backyard but still feel like there were some jabs at what was going on in government. Not to mention the fact that I thought the performances were gorgeous, and it was just so beautifully shot, and the scope of it—it was just such a beautiful series to watch. At its heart, very few people have the ability to do what he does in terms of just the sharpest, funniest plays on period politics.
What do you think it is about television specifically that continues to bring people a lot of comfort and pleasure and joy and optimism in a time when that is such a rare feeling to access?
I think because we can't get to movie theaters, because we can't go out and distract ourselves in other ways, we are in some capacity kind of bound to the television as a means of transporting us. In addition to kind of watching everything that's ever been released over the past 90 years since quarantine, I have noticed that so much of the content that I've been watching has been escapist, has been travel-related, has taken place in new and exciting locations. I think for the most part, we're looking to distract as best we can. I think that's why we've seen such a rise in unscripted television.
What unscripted television do you watch?
I started watching unscripted television this year for the first time. I never watched a Real Housewives franchise. I never watched dating shows. And yet, now I can't name one that I haven't watched. I think just the priorities, in terms of wanting to sit down in front of something that is so mindlessly distracting that you don't have to think, is either a sad indication of where I'm at or just the reality that I'm listening to my heart and my brain at this point and saying, Okay, pick what you want, and let's do what we can to try and make the most out of a pretty trying time.
I don't think that it's necessarily sad. As you said, you are still tapped into engaging that intellectual and critical side of yourself; otherwise you wouldn't have chosen The Great, a show that really does, like you said, critique power structures and mock them. Doesn't it feel good to watch those people in power fail?
Yeah, or just look like fools. For me, it was just a way of being away, while at the same time being able to understand the similarities and laugh at them, and the absurdity and the stupidity of it all.
Can you describe the choices behind your look for this photo shoot?
Well, I'm dressing up like Nicholas Hoult in full period costume, with a wig. I don't have the delicate features of Nicholas Hoult, so I can't say that I'm going to look as good in the clothes. And I'm hoping that there's going to be a level of irony to seeing me dressed in a time when I don't think my people would be celebrated necessarily.
It's always really interesting to me when some people are very easily able to point to a time period or era that they wished they lived in or could escape to, especially when so many of us who come from marginalized identities can't engage in that level of escapism all the time. How do you straddle the line between remaining aware of that fact and allowing yourself the freedom to play in this imaginary realm?
So interesting that you bring that up, because I never really even thought about it that way, and yet you're absolutely right. I've never looked at these shows as anything that I would want to escape into at all, I think for that precise reason. So this is an aha moment for me happening right now. To that point, I think it's really just about how when I'm not working, I'm traveling, and that is what brings me inspiration and a tremendous amount of joy. So I have been watching things that visually have been sort of taking my mind places, not necessarily things that I can see myself in, but rather just, does it have a beautiful location? A lot of food shows that I've been watching right now are traveling all over the world.
Which food shows are you into at the moment?
Chef's Table is a prime example of marrying travel with food and people's personal journeys. That's been a way of staying inspired and keeping me excited. Because who knows when we'll be able to travel again. It's a pretty daunting reality. At the same time, you're also having to decipher and filter news in ways that we've never had to do before. That is in and of itself a job, to question everything, to cross-reference everything, to be sure that what you're sharing on social media and what you're ingesting on your television is real and is not slanted, which is what we've come to realize most media is doing at this point. Responsible journalism is a tough thing to navigate right now, but one that I think is proving to be quite crucial in keeping conversations alive and trying to effect active change when people are not necessarily, in certain parts of the country, able to leave their house to be a physical body when it comes to active change.
It's a little unexpected to hear that this quarantine period was your first deep engagement with reality television. You're a very critical and conscious audience member—what is the most fascinating or interesting reality television show that you've discovered in this period?
Gosh, I've watched too many. I'm currently watching Below Deck, which I'm pretty sure is a mistake. [Laughs] I trepidatiously wade into the waters of reality television not having a huge foundation of knowledge. So I go off of recommendations. I would say the greatest gift I have been given was the Real Housewives of Atlanta franchise, which was some of the greatest ups and downs I have experienced in reality television in my short time with it.
What is it about Real Housewives of Atlanta that you enjoy?
I think what I loved about it was that even when it was mean, people were laughing, and there was a kind of joy to it, even in the hysteria, and a level of self-awareness, which to me—I just don't want to know that people are getting legitimately upset. The world's too dark, which is why watching that show just brought me so much joy.
Schitt's Creek has brought so much joy to so many people for six seasons. You've received Emmy nominations for the show before, but this is your first acting nomination for playing David Rose. How are you dealing with being recognized for years of hard work in the show's final season? Is it bittersweet, or are you excited to put it away after this fall?
In a way, it's the greatest possible outcome that we could have ever seen with the show. For many shows that get to experience the kind of longevity that we have—and we're halfway to the legacy shows that are, like, 12, 13 seasons—but you are constantly fighting for ratings. By the time a show goes off the air, oftentimes it's not even the choice of the show, it's the choice of the network. So for us to have the freedom to choose to go off the air—and not only go off the air by choice, but to go off the air by choice literally at our peak—is such a rare gift. And then to have the Television Academy acknowledge not just key cast but so many of our crew members, that to me is the great joy. It really is a group exercise, and we are so dependent on our crew. In TV, crew members don't often get to be recognized, because they're in the background, and the cast takes the focus. To have our hair and makeup departments, casting departments, costume departments, our sound department all recognized at this level, I could never have seen it coming, but I am totally thrilled for everybody.
Related: Catherine O'Hara Took Moira's Wigs From the Schitt's Creek Set