Victoria and David Beckham's Photos From Family Vacation in Croatia Are Envy-Inducing
A new standard just got set for family vacations.
---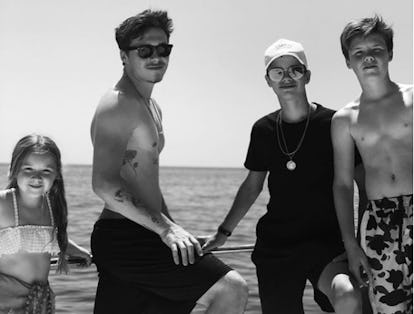 instagram.com/victoriabeckham
David and Victoria Beckham know how to live life to the fullest. Days after ringing in their 19th wedding anniversary, the Beckhams have embarked on a family vacation to Croatia—and it is wanderlust-inducing.
Thankfully for those looking to plan a trip to the land of Game of Thrones, Victoria and David Beckham have provided some inspiration. The couple have been spending most of their time on the water, alongside their children 19-year-old Brookyln, 15-year-old Romeo, 13-year-old Cruz, and 7-year-old Harper. To take in some of the beautiful scenery, the Beckhams rented a boat, which Victoria shared moments from on social media.
Beckham may be one of the most famous soccer players in the world, but his coordination with Instagram-baiting floats could use some work. "Embarrassing dad slide," his wife captioned one photo of him falling off an inflatable swan. "No wonder they sailed off and left him!" Beckham later shaded his son Romeo, though, returning the favor, by posting a photo of his jump with the sarcastic caption "Good form."
Harper and Cruz also dabbled in water sports, posing together with their siblings on a paddleboard. Beckham shared another photo of her children on Instagram, where she wrote, "Kisses from us all x Happy Summer! VB x ?"
Beckham opened up about her family life to Ellen DeGeneres back in 2015, saying, "I work and I'm at home looking after the kids, so I don't tend to do a lot of TV…. All the kids are amazing. They're really good kids. They work hard at. school. They're happy; they're funny…. For me and David, we work a lot, but the kids are everything to us and we're very, very present."
More recently, in May, she talked about how—despite their celebrity status and privilege, such as getting to go on vacations like these—she and David have prioritized teaching her children a good work ethic. "It's never been an option not to work hard. They see Mummy go to work, they see Daddy go to work, and they go to school and they have to work," she told the Evening Standard. "But at the same time they're happy children. I believe that children should be children, and have fun."
Related: Victoria and David Beckham Revel in their 19th Wedding Anniversary, Shutting Down Divorce Rumors