For Beef Star Young Mazino, Playing Paul Cho Was Almost Too Real
The 31-year-old relates deeply to his breakout role as the aimless but lovable brother on the hit Netflix series.
---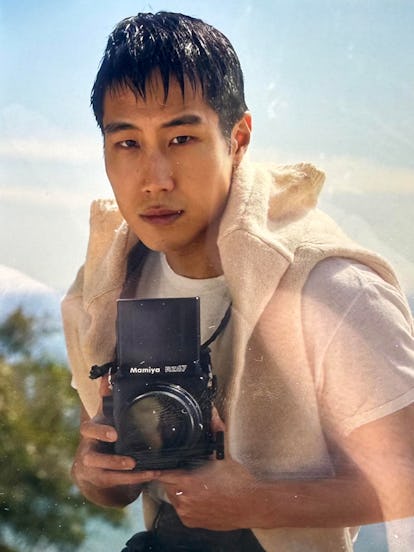 Photo by Alvin Kean Wong
In Netflix's Beef, all the characters are lost in the matrix of modern life in some way, with varying degrees of self-awareness about the cages they find themselves in. For Young Mazino's character Paul Cho, the aimless younger brother of bitter elder millennial Danny (Steven Yeun)—whose wild road rage incident with Amy (Ali Wong) serves as the central thrust of the show—life is simply a series of days spent alone in his room playing video games, monitoring his crypto wallet and begging his older brother for construction work. That is until Paul starts chatting online with Amy, who is posing as her younger employee in an attempt to further mess with Danny after their feud escalates to absurd heights. Paul is totally unfazed when he discovers that Amy is a catfish, telling her that he prefers her to her younger avatar anyway, and the two fall into a charged love affair that eventually leaves Paul heartbroken but with a renewed sense of purpose.
Mazino, in his first major role, portrays Paul with an earthy physicality and naive sincerity that has left viewers swooning. And yes, he's seen the Tweets. "I've been reading a lot of comments about Paul and there's a whole range of things from some of the most lewd things I've ever read," he says on Zoom from his home in Los Angeles. And while the 31-year-old actor is being lauded as the show's breakout star, Mazino is most proud to have been a part of creator Lee Sung Jin's story—especially since so many aspects of the project felt familiar. Growing up with Korean American parents in Montgomery County, Maryland, Mazino's family pushed him to pursue a steady, stable career and life.
But even as a young kid, Mazino struggled to focus in school and found himself instead escaping into the fantasy world of movies. "Because I was raised in a very safe and suburban comfortable environment where it's not too volatile, I craved more drama in life. I thought I was an anomaly because the people around me, they picked a major after high school, they went to college, they got the job, did the nine to five, got the 401k, the salary benefits, got married and then had kids, got a house. They did it perfectly by the book. And it was impossible for me to even get half of that, a quarter, not even 10% of those things done. I felt like there had to be more."
A true child of the '90s, Mazino looked forward to the weekends when he got to take his pick of films from the miles of VHS tapes at Blockbuster. Aside from family movie night, though, Mazino found himself on his own a lot, with his parents busy at work and his two older sisters spending time with one another. He created his own form of play in obsessively rewatching movies and acting out scenes by himself.
"I watched Mel Gibson's Braveheart and Patriot probably like, 50, 60, 70 times," Mazino says. "Even now, I can conjure up exact scenes frame by frame. In a way, it was a scene study."
In Beef, Danny (Yeun) feels the weight of the world on his shoulders when his parents are forced to move back to Korea after experiencing financial hardship. As he tries to string together enough money by doing construction work, odd jobs and shady deals with his felonious cousin to buy back his parents' property, Paul drifts, unsure of where he fits in. When we first meet him, he's telling Danny he just bought a $2,000 chain with his crypto earnings, and the two trade barbs about who is the more irresponsible brother. Mazino relates deeply to his character.
"It's so easy to judge someone like Paul who never went to college," he says. "A lot of Korean Americans value that, because our parents value having stability and an education. It's so easy to look at Paul with that kind of judgment without realizing the root of all his struggles and problems, and the psychology that exists underneath all of that."
Mazino himself dropped out of the University of Maryland to pursue acting, a decision that he says disappointed his father, who has multiple master's degrees. (While his parents were proud of his work on the show, they declined his invitation to the South by Southwest premiere, ribbing him that they'd only travel when he starts winning awards). Like so many aspiring creatives, at 21 years-old he "ran away to New York," where he supported himself with a number of odd jobs, including bartending, catering for Bar Mitzvahs and corporate parties, and eventually working as a Senior Business Intelligence Analyst at Fresh (the skincare and fragrance company) while taking acting classes at the Stella Adler Acting Studio. Like Paul, he also dabbled in crypto and cannabis stocks. "Shoutout to Wallstreetbets lmao," he jokes in a later email. Before making that major investment in his dream, he describes severe bouts of depression and existential crises in his late teens, after picking a random college major and seeing a road of confinement ahead of him.
"There's a flashback of Paul when he's 17, 18," Mazino says, "and there's a distinct difference in the person you see him as in the beginning of the show. Something happened where he regressed and became stagnant in his life. I think that's the defining difference between me and Paul—when you face that abyss, you have to either make a decision to leap into something totally different to escape your circumstances, or you hunker down and just find what's safe, which to Paul is Danny's world and what Danny wants. He feels like he can't face the void by himself, so he shrinks away from it. I understand that, because I was so close to that."
But whereas Paul is mostly left to fend for himself, Mazino ultimately did feel supported by his parents to explore and develop his artistic capabilities. And he's extremely aware of the way Korean history influenced their desire for him to join the stable ranks of the American upper middle class, especially considering Hollywood's complicated history with Asian representation. It's all part and parcel of having "immigrant parents from Korea, which is a country that for generations has been invaded, attacked, suppressed, oppressed, divided in half and left in utter shambles," he says. "A lot of Korean families left to find a better life in America, only to be faced with all the men being emasculated by media and the women being fetishized. The parents are just trying to survive and have a place to sleep and eat. There's something lost in that expedition to find a better life, which is a lot of the cultural things."
That awareness of Western entertainment's history of racist Asian depictions is certainly part of what made Beef so satisfying to make—and watch. The opportunity to dig into the layers of characters who historically might have been flattened into stereotypes was "refreshing" to Mazino. "We don't have to respond to these false allegations of what people think we are."
For the role of Paul, Mazino literally beefed up, going to the pull up bars at the Santa Monica piers and cranking out calisthenic workouts to get in shape. He also changed his posture throughout filming, standing up straight and stretching to his full six-foot frame to embody the swell of confidence Paul gets from his relationship with Amy. This physicality didn't go unnoticed by viewers, who openly lusted after Paul online. And while Mazino finds the attention flattering, being a sex symbol was never his goal. "My only intention was to bring Paul to life from Sonny [Sung Jin]'s vision, with as much honesty as possible," he says. "But that's cool, appreciate the love."
Aside from Beef, Mazino says, "I just want to continue to be me and make art. I've been actively trying to just exist without all these confines and boundaries of time and space. I will have a guideline for sure of career trajectory, but I'm just trying to continue to ride the flow of whatever's led me to Beef and follow serendipity as long as it continues to rain for me."