How Beef's Costume Designer Created an Authentically Asian L.A. Wardrobe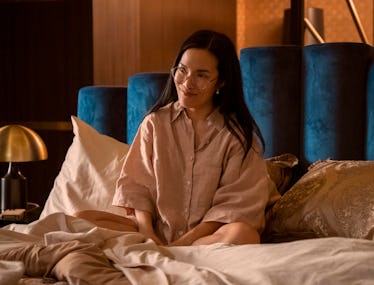 Courtesy of Netflix
From the moment costume designer Helen Huang got her hands on the script for Beef, the new Netflix and A24 series that's become something of a cultural phenomenon, she felt she knew one of the lead characters, Danny (Steven Yeun) intimately.
"He was like my stepbrothers, growing up in the San Gabriel Valley," Huang tells me over Zoom from her office in New York City. "I was friends with guys like him in high school. I knew the identity, and knew that someone like him had never been put on screen before."
Huang set out on a mission to create a wardrobe that authentically captured the spirit and lifestyle of Asian Americans living in the Los Angeles area. That was an end goal shared by Beef creator Lee Sung Jin, whom Huang refers to by his English name, Sonny. The result: an organic and genuine depiction of Asian American, Southern California culture in Beef, which is being hailed as one of the best new shows on TV, especially for the way each Asian character is a fully formed individual rather than the sidekick comic relief or a bit player. "You never see that on TV," Huang adds. "Asian men's likes and dislikes, their preferences, let alone a backstory, are never shown. It's pretty insane how shallow they're written sometimes."
In the case of Beef, Lee assembled a nearly all-Asian cast, with members of the Asian diaspora working on the show behind the scenes, to infuse characters like Danny, his brother Paul (Young Mazino), Amy (Ali Wong), and her husband George (Joseph Lee) with complex character traits. That's especially true when it comes to the plot for the show, which centers Danny and Amy, who become entangled in a road rage incident that ends up tearing their personal lives to shreds.
"They're layered individuals," Huang adds. "I like the fact that, even though Danny and Amy get embroiled in this stuff and do terrible things, you can sympathize with them." Below, the costume designer—who previously worked on American Horror Story, Station Eleven, The Shrink Next Door, and many more projects over the course of her 25-year career—breaks down each of Beef's characters' looks, from Amy's signature wire-rimmed glasses to the importance of getting Danny's house slippers just right.
Danny
Danny is a character consumed by bitter rage and regret, feelings of inadequacy and guilt over not being able to provide a better life for his parents in Korea. He's also a character stuck in the aughts, style-wise. "I was talking to Steven about it, and Danny is one of those guys who stopped buying clothes when he was 25," Huang says with a laugh. When Danny goes out to a club in K-town, he wears a DKNY outfit (replete with a belt from the Express apparel brand Structure, donated by Lee from his personal closet)—for church, a cornflower blue button-down from JC Penney.
But "Danny does understand what he's presenting to the world, since he took a lot of care with how he presents himself at work," Huang adds. Still, the clothing he wears at home is standard West Side L.A. fare: loose basketball shorts, white t-shirts and tank tops, and a pair of house shoes very specific to Asian men. "We had to do a lot of costume hunting because slippers don't come like that anymore," Huang adds. "We did try extra hard to thrift those things so they felt more authentic." In a nutshell, Danny is a bit of a scrub—and Huang wanted to show that side of him through "free t-shirts." "In one of the scenes, we actually reprinted a Sprint shirt for him," she says. "Steven and I thought he might have gotten it from a job fair or something."
Amy
Ali Wong's character, Amy, is Calabasas art mom personified: her closet is populated by minimal, muted, oversize, and comfortable clothing that could be purchased at any COS location. "You could say Ali's character is more stylish, has more taste. But for me, the bigger idea is exploring whether these characters are aware of the niche they're part of," Huang explains. "It's more to dial into their worlds and make everyone see how caged they are in those individual worlds. That's what the style is supposed to do."
As for Amy's signature outsize, octagonal glasses, Huang says she wanted to "divorce her" from the actress Wong, who typically wears cat-eye glasses during her stand-up specials. And Amy's woven hat, which she has on in the very first scene of the first episode during the road rage incident, is an "exclamation point for her clothing," according to Huang. "For the first half of the episode, she's in her car, and you don't see the rest of her outfit. What could tell you that this woman is very curated from just one glance?"
Paul
Paul, played by Young Mazino, is Danny's younger brother—who appears to mooch off his older sibling and is tenuously employed. But more importantly, he is a product of his environment, Huang says. "Growing up Asian, your hometown really defines your style and your outlook," she adds. "When Asian men are younger, because of how ostracized they can feel, they tend to latch onto subcultures." As such, Paul is a gamer with a hint of mall-skater—he rocks a thick gold chain that's quintessentially Asian and is still stuck on joggers. "We wanted to make his jeans super mall," she says. "He wears a lot of Champion, a lot of flannel, skinny jeans. To me, that was just enough to show geographically where he's at."
Isaac
David Choe's Isaac is "an aggressive character—with a temper and a rap sheet," Huang says. "I knew as soon as they cast David, who's such an artistic person, that was a great opportunity to do whatever I wanted." But the costume designer was mindful of reducing Isaac to simply being "the Asian villain." She imagined his interests included "crystals and astrology," and his idiosyncratic "import-export" business as a way to feed his passion for tchotchkes. "Isaac is this guy who goes all around the world and comes back, like 'Look at this rock I bought for a thousand dollars! It's a dinosaur rock!'" Huang says. "He values things other than gold and silver."
Isaac was also the only character whose entire wardrobe was sourced from costume houses: beaded necklaces, old-head hip-hop garments like throwback Sean John jerseys. "It lends itself very well to his character: he's not a part of Amy's world, he's not a part of Danny's world," Huang says. "He's very much himself. And even a guy who's supposed to be a villain can be creative."
George
Ah, George: sweet, not-so-innocent, a little lost puppy. Amy's husband, an artist hell-bent on selling his turd-like sculptures, is blissfully unaware of his wife's unhappiness—either that, or he's choosing to ignore it. But he is always one thing: stylish. Played by Joseph Lee, George's hair is well-coiffed, his comfortable, relaxed clothing coming from the likes of Nanamica, Needles, or Dries Van Noten. "Asian men like dressing up—that's another point I wanted to get across on the show," Huang says. George presented an opportunity to illustrate how "Asian men care about the way they look, and they can look so many different ways—and they're fun to dress up and to look at."
"George's dad was an artist," Huang adds. "I did want him to look a little bit more international. He needs to match Amy in the type of aesthetic in their house, because that's a big element of them. They only go to certain stores, they only buy certain potteries for their house, they only buy certain chairs and they're very aesthetically curated people. A friend text me the other day and said 'George looks specific bougie.' You're on a certain economic level if you're dressing like that, but still keeping it casual. He's definitely a fashionista."
Jordan
Jordan (Maria Bello) is one of the only white characters in the series—and that detail is made very clear by her interest in foreign cultures and peoples ("You have this serene, Zen Buddhist thing," she tells Amy.) "We were thinking—what does Jordan value? And how could we show that she is really rich?" Huang says. "We decided we could show that with the things she curates from all around the world." Jordan is a wealthy art collector whose gigantic, cavernous home is filled with global artifacts. "She's the kind of person who is supporting textiles in India or something, and it's a very heartfelt interest, but she doesn't see that at the level she's collecting, she's collecting cultures, and that's appropriation."
In addition to rare crowns, Jordan also collects people—including Amy and the character Naomi, played by Ashley Park. "Jordan has a slight element of bohemian," Huang adds. "She's not really pleasant, but there is a sincerity about her that sometimes makes you uncomfortable. She's very firm and believing in her world. And so she does display all these things that she has collected—and she wears 'em."