Anok Yai Knows How to Deliver a Model Off-Duty Look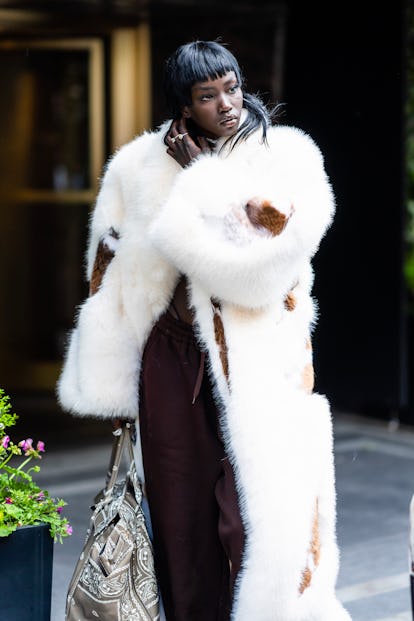 Gotham/GC Images/Getty Images
The only thing better than a supermodel absolutely delivering at the Met Gala is a supermodel following up said successful red carpet appearance with an equally fabulous (yet much more casual) street style look. On Tuesday morning, W's 50th anniversary cover star, Anok Yai, was spotted exiting her hotel in New York City looking excessively stylish, even in sweatpants.
It seems like the paparazzi may have caught Yai on her way to the airport, as she's likely heading back to the UK following Monday night's event. The 25-year-old emerged on to the street in a look only an off-duty model could pull off, and pull off she did. Yai wore a pair of brown Jehucal sweatpants with the straps of her black thong emerging from the waist band. On top, she wore an ultra-cropped top in a slightly lighter brown hue. It was the addition of the white and brown fur coat from UK designer Poster Girl, which topped this otherwise ultra-casual outfit, though, that made it so noteworthy, putting it in direct contrast to the "stealth wealth" aesthetic so heavily discussed these days. To double down, Yai then carried what looks to be a paisley bandana Birkin customized by Jay Ahr, breaking up her brown and white outfit with a muted green.
These photos could be used as a campaign for the sweatpants, bag, coat, really anything she's wearing, but no, it's just Yai throwing on something easy to wear to leave the house. The likely unintentional serve comes after a much more deliberate one at the Met Gala a day prior, which the model attended in a custom Prabal Gurung dress. Yai could not be missed in her look, which featured a bodice covered in gold paillettes that grew larger and turned to silver as they reached her structured, pannier skirt. From there, more paillettes, and bugle bead fringe fell from the hem, as did a black silk tulle train that followed behind her. Yai and stylist Carlos Nazario then added a brown veil on her eyes, Mindi Mond NY jewelry, and Jimmy Choo heels to complete the look, allowing Yai to prove that whether in atelier Prabal or sweats, she always delivers.