AAPI and Asian-Owned Brands to Shop Now and Always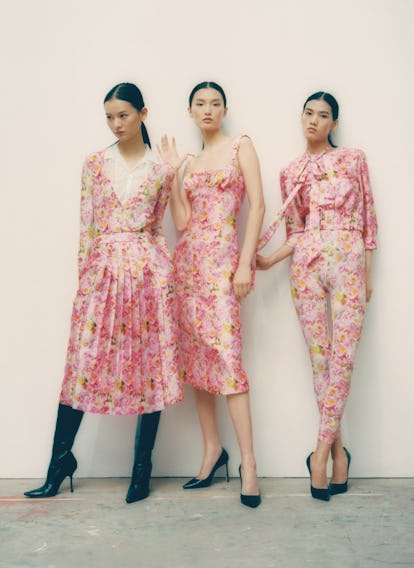 Photographed by Charlie Gates; Styled by Allia Alliata di Montereale.
We may receive a portion of sales if you purchase a product through a link in this article.
May is Asian American and Pacific Islander Heritage Month in the U.S., which recognizes the contributions people of Asian, South Asian and Pacific Islander descent have made in American culture. During a period in which Asian Americans have faced a rise in discrimination and hate crimes, it feels especially important to highlight and celebrate the positive impact that so many diverse global cultures have made on creative industries—not just here, but all around the world. The fashion industry in particular has been enriched by countless Asian designers, from innovators like Issey Miyake and Comme des Garçons' Rei Kawakubo, to up-and-comers like Commission and Tank Air, all of whom incorporate elements of their heritage into their designs in different ways. Here, a primer on some of our favorite Asian, South Asian, and Pacific Islander-owned brands from around the world to know and shop—now, and always.
Commission
This New York-based brand was established in 2018 by Huy Luong, Dylan Cao, and Jin Kay, all of whom draw inspiration from the ways their Asian mothers dressed in the late 80s and early 90s.
Supriya Lele
British-Indian designer Supriya Lele's slinky, modern designs made her a finalist for the 2020 LVMH Prize, and landed her on the short list for this year's Vogue Fashion Fund.
Minju Kim
Minju Kim, a Korean designer and winner of Netflix's first season of Next in Fashion, designs easy, mood-lifting womenswear that's perfect for parties.
Issey Miyake
Issey Miyake's signature pleating technique has inspired countless other designers since its inception in the early 1990s. Miyake passed away in 2022, but the brand is still going strong (and vintage Pleats Please pieces are treasured by collectors).
Sandy Liang
New York City-based Sandy Liang draws inspiration from her Chinese roots for her sporty-femme designs. Her ballerina-inspired Mary Janes have become a fashion girl favorite.
Hyein Seo
Drawing on his design background, the Antwerp-based Korean designer Hyein Seo puts a Y2K spin on technical fabrics for just the right amount of edge.
Yuhan Wang
Yuhan Wang's ethereal, artistic pieces are inspired by traditional Chinese ideas of femininity. But they're never too sweet—even her floral cocktail dresses feel fabulously subversive and modern.
Peter Do
New York-based designer Peter Do immigrated from Vietnam to the US when he was 14. After working at Celine and Derek Lam, he started his own brand that focuses on precise tailoring and construction. Peter Do has also recently been named the new creative director of Helmut Lang.
J.Kim
Zhenya Kim's collections for her brand, J.Kim, are rooted in traditional Korean garments—which she presents with a modern twist.
KkCo
KkCo makes sporty, playful designs in limited batches in Los Angeles (think utility vests with ruffled accents, popcorn bike shorts, and terry cloth wrap skirts).
Rui
Known for her cut-out knitwear, designer Rui Zhou makes wearable pieces that balance fragility and strength.
Rokh
Rokh designer Rok Hwang was born in Seoul and raised in Austin, Texas. His innovative pieces—now designed in London and shown in Paris—reflect a wholly modern outlook.
Notte
Chinese-American designer Jessica Tse makes playful, delicate jewelry inspired by a life spent between New York City and Florence, Italy.
Kara
Chinese-American designer Sarah Law's handbag line, Kara, embraces a sense of fun, pairing minimalist silhouettes with opulent textures.
Sacai
Sacai, founded by the Japanese designer Chitose Abe in 1999, feels just as cutting-edge today as it did then.
Anna Kikue
After showing her first collection as part of Chromat's SS19 Saturation Show, Anna Kikue continues to create classic pieces with the right amount of edge.
Bad Binch TONGTONG
New York-based Chinese fashion designer Terrence Zhou creates voluminous, body-hugging silhouettes that are truly one of a kind.
Labucq
Half-Chinese designer Lauren Bucquet started her buzzy accessories line in 2018, after 10 years as the lead shoe designer for Rag & Bone.
Misho
Designer Suhani Parekh's pieces are inspired by her interactions with contemporary art and the various architectural styles of the many cities she's traveled to.
Simone Rocha
Simone Rocha continues to pave the way for a "youthful, rebellious aesthetic" with ladylike embellishments that are always a welcome touch.
Comme des Garçons
The pioneering Japanese label headed by Rei Kawakubo remains an innovative, radical force in the fashion world.
Private Policy
Private Policy, a label based between Shanghai and New York from Chinese designers Haoran Li and Siying Qu, is an elegant fusion of Chinese heritage and New York street style.
Kijun
Inspired by the street style of '80s and '90s Seoul, Hyunwoo Kim and Myungjun Shin design everyday pieces with a twist.
SVNR
Chinese-American designer Christina Tung's jewelry and accessory brand SVNR mixes natural materials with found objects to create pieces inspired by the color palette of Kyoto and the porcelain craftsmanship of Indonesia.
Rhee Studio
Korean-Kiwi designer Cherry Kim founded Rhee Studio in 2020, a label titled after her mother's maiden name. Kim's notable illustrations and raw talent have caught the eyes of many including StockX, A24, and most recently le PÈRE, for whom she designed a nine-piece collection this past fall.
Tank Air
Inspired by the strong women in her family, founder Claire Robertson-Macleod's brand, Tank Air, is an ode to the women in her family and her Thai and English heritage. The brand offers simple sustainable basics that have been worn by the likes of Bella Hadid and the Kardashians.
Tae Park
Founded by Brooklyn-based designer Taehee Park, Tae Park's designs are reminiscent of romantic vintage silhouettes combined with Park's Southeast Asian roots.
Ratio et Motus
Latin for "Sense and Emotion," Ratio Et Motus was founded by Chinese-Americans Angela Wang and Shenghao Li. Each collection explores the balance between functionality and luxury through an array of striking leather handbags.
Anita Ko
Anita Ko is well renowned for her timeless pieces that remain versatile for any occasion. Ko is the 2023 recipient of the Gem Awards Jewelry Designer of the Year award.
Ashlyn
Drawing on her experience at Yohji Yamamoto and Calvin Klein, Japanese-American designer Ashlynn Park's designs feature strong tailoring and silhouettes as well as a firm zero-waste luxury initiative.
LỰU ĐẠN
Lu'u Dan, Vietnamese for "dangerous man," is a menswear label started by Kwaidan Editions designer Hung La. The brand's designs are sleek and minimalist, with subtle nods to Japanese streetwear.