Blackpink's Lisa Goes Full Rebel Girl in Lingerie and Fur Coat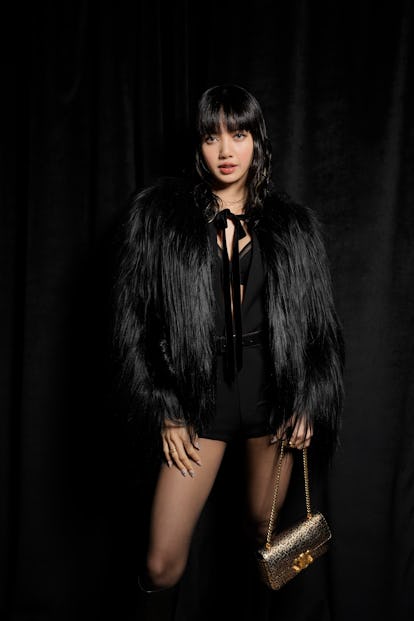 Courtesy of Celine
If you know little else about Blackpink, then you know that their genre is K-pop. But in the world of Celine artistic director Hedi Slimane, almost everything has a rock & roll edge. And after years of dressing in the brand, Blackpink member and Celine Global Ambassador Lisa showed up at yesterday's fall 2023 menswear show in Paris in what may be her punkiest Celine look yet.
Though Lisa had to miss out on the brand's recent womenswear-focused show at The Wiltern in Los Angeles, she made up for it by assembling her outfit from pieces shown on that runway. She paired a flirty black jumper that was belted at the waist but left a little undone to reveal a black bra with sheer paneling. Of course, most of the outfit was hidden under a shaggy black coat. Appropriately, she paired it with black knee-high boots. For just a pop of color and pattern, she carried the brand's Triomphe shoulder bag in leopard print.
Though Lisa has been a global ambassador for the French luxury house since 2020 (and a frequent fan of the brand even before that), this may be the furthest yet she's delved style-wise into Slimane's punk-rock side. Which was appropriate considering the show was not only held at Paris's legendary underground club La Palace, but also soundtracked by music from the iconic proto-punk band Suicide (perhaps somewhere a Blink is listening to "Ghost Rider" for the first time and having their lives changed a bit).
The rest of the front row was filled with other notable rock royalty, including Jack White, 2000s icon Pete Doherty (for our younger readers: the guy who was always with Kate Moss in those pictures on your festival style Pinterest board), British band New Hope Club, Jane Birkin, and Wiz Khalifa. We're not holding out hope for a collaboration between Blackpink and Doherty's band The Libertines, who performed at the afterparty, but perhaps Lisa left with a little rock & roll inspiration.