On the Streets, Stage, or the Red Carpet, Cardi B's Style Always Makes a Statement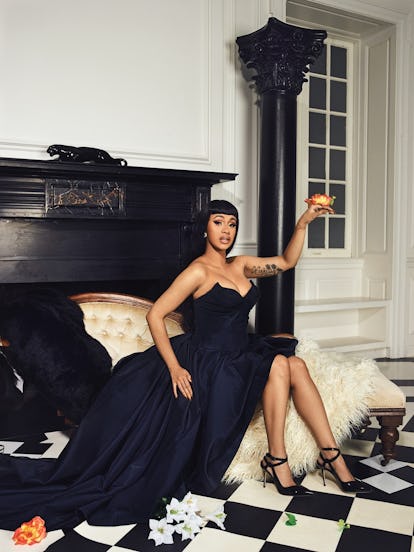 Rapper, actress, and all-around cultural phenomenon Cardi B has had an incredible career trajectory. For Bronx natives and the Latinx community in particular, watching her rise from Vine comedian to Love & Hip-Hop star to Grammy-winning rapper inspires a groundswell of pride. Her music is uplifting, indulgent, and speaks to the truth of women's sexuality in a way that is honest and celebratory.
Her style reflects her music powerfully. Cardi B loves bright colors and statement looks, taking up the female hip-hop tradition of experimenting with fashion in artistic, eye-catching magnificence — and nipple pasties. Infusing sexuality in her looks, she glorifies her curves with cut-outs, plunging necklines, and crop tops that demand our attention. But in the years since she's become a global superstar, Cardi has also become a muse to many fashion designers, including Thom Browne who outfitted her in a grey suit with unconventional padding, or her iconic green printed Marc Jacobs dress and boa in full-on Hollywood Regency glamour.
While her style has become more splashy as her fame grew, she's also stuck to a few constants. Cardi loves vintage shapes and silhouettes; she's played with midi dresses, sleek mod bob hair styles, and giant fully gowns, in a nod to the Latinx quinceñera tradition. At her first Grammys appearance in 2018, after "Bodak Yellow" took over the world, she was a princess vision in a cool white Armani gown with layers of tulle. In 2019, at the next Grammy Awards, she won that coveted golden phonograph in an archival white Mugler gown with fringed gloves that reached down to the ground. As Cardi continues to shatter barriers for rappers and Latinx women, here's a look back at her style as she star power began shining.
This article was originally published on