Christopher John Rogers' Style Icons? Bert and Ernie.
The designer known for his dramatic red carpet looks opens up about making dresses at home and shares how children's drawings inspired his next collection.
Photographs by Hugo Scott
---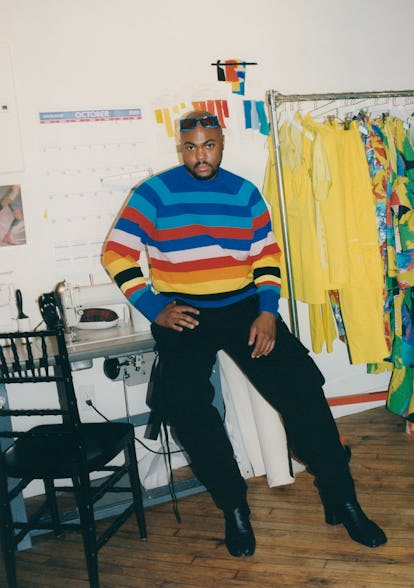 For our annual "The Originals" portfolio, we asked creatives—pioneers in the fields of art, design, fashion, comedy, activism and more—to share their insights on staying true to themselves and pushing the creative envelope in a chaotic year. Read all the Q+As from this year's group here.
You just won the CFDA Emerging Designer of the Year award for your bold, dramatic designs in saturated, luxurious colors. You also dressed Zendaya for the Emmys this year, Lady Gaga wore a gown you designed to the VMAs, and Lizzo recently said that the lime green dress of yours that she wore to the GLAAD Awards in 2019 is her favorite fashion moment ever.
Yeah, which was hilarious. And also amazing.
Why was it hilarious?
I literally made that dress in, like, three days. I sewed it in my living room. So I guess it's less funny and more amazing that she considers that one of her favorite moments.
Why do you think celebrities are so drawn to your clothes for the red carpet?
I think the work that we do carries a lot of nuance to it—a lot of color, a lot of volume, more often than not. It definitely requires people to look at you; whether or not they enjoy what they're looking at is a different story. It's polarizing. It makes a statement. It's unapologetic. You can wear the biggest, pinkest, brightest thing, but still also be the most intelligent and the funniest and the most kind person. When you wear the clothes and when you're in person with them and when you really think about it, there are a lot of layers that go into how it makes you feel. It's great that people in the public eye have gravitated toward my clothes. I also really enjoy the fact that they're all such different types of people: Michelle Obama is not a Zendaya, is not a Lizzo, is not a Kacey Musgraves.
Speaking of Zendaya, how did the Emmys look come about?
Her stylist, Law Roach, was at my show in February, and he sent me a photo of the look immediately afterward. He was like, "I need you to hold on to this for Zendaya. I'm not sure where she'll wear it, but I need you to hold this for me." He was like, I need this. I was like, Okay, girl.
What are you inspired by for spring '21?
At the beginning of quarantine, I obviously wasn't able to come to my studio, and a lot of my drawing utensils and stuff were left here. So I ordered some colored pencils online, and I just started doodling. It wasn't really anything representational; it was more abstract shapes and the idea of just putting color on the page and having fun. It reminded me of being in elementary school, drawing things. This season was mostly inspired by children's drawings. I love the idea of the immenseness of the sun and how formidable it is and the fact that it's gas—and kids will reduce that to a yellow circle on the page. I think it's really funny. That energy is what ignited this most recent collection.
What was your style like as a teenager?
Major, but also kind of embarrassing. It was like, geek chic, maybe? So scary. Button-up shirts with ties and vests to school, skinny jeans, Converse. I always wore blazers; everyone else wore hoodies. I was trying to look very fashion.
Who are your style icons?
Bert and Ernie. They're always wearing color and stripes, which I love to wear. They're always having fun, usually more casual than not, but always making a statement.
Related: Christopher John Rogers Is Inspired by Horror Films and Trash Bags